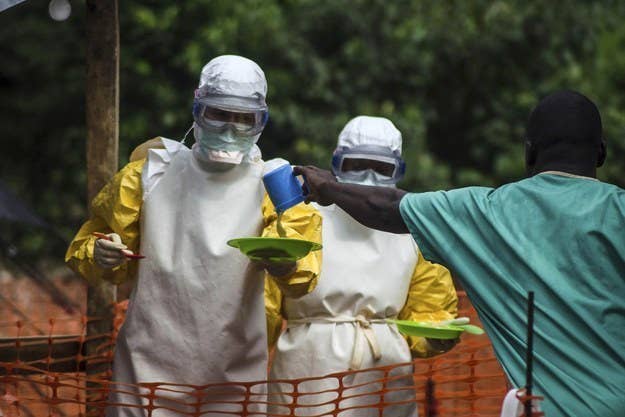 NAIROBI, Kenya — Nigeria has begun medical testing at all ports of entry for passengers coming from Ebola-affected countries after a Liberian traveler died of the disease in Lagos on Friday.
Passengers from Guinea, Sierra Leone, and Liberia — as well as any passenger from any departure point who appears ill upon arrival — must be tested for Ebola, an often fatal virus. Anyone positive will be quarantined.
"What they're doing at airports is red alerts," said Dr. Fatima Zahra Mairami, the vice chairman of the Nigerian Medical Association's branch in the capital of Abuja. "They've warned the airlines; airlines are very vigilant now. Anyone who seems ill will not be allowed to board an aircraft and come into Nigeria."
Patrick Sawyer, a 40-year-old Liberian who worked in the national finance ministry and was set to attend a regional conference, fell ill on his flight between Lome, Togo, and Lagos last week. He was taken immediately to a private hospital where he tested positive for malaria, Mairami said.
But he didn't respond to the treatment, and when he began hemorrhaging blood — a telltale symptom of Ebola — he was isolated, Mairami said.
The hospital where he was treated has been closed and will be disinfected, she added.
Nigeria's health ministry said Friday that a Lagos laboratory had confirmed Ebola in the case. Reuters reported that the state health minister and the World Health Organization were awaiting second confirmations from a laboratory in Dakar, Senegal.
Mairami said the Senegalese lab confirmed Ebola this morning.
Ebola is a rapidly moving virus with symptoms that include fever, weakness, and internal and external bleeding, according to the World Health Organization (WHO). The global health body says it is transmitted through contact with an infected patient's bodily fluids, or exposure to environments where those fluids have been.
Nearly 1,100 people have been infected and nearly 700 have died this year in the biggest outbreak of the disease on record and, according to a WHO official, the first to cross international boundaries.
Lagos is the biggest city in Africa, and one of the largest and most dense in the world — making Nigerians and outsiders alike nervous at the prospect of Ebola's first appearance there.
But Mairami said the progression of Sawyer's Ebola symptoms, which didn't appear until he arrived at the hospital, gives hope that the health community has contained the disease.
"It was on admission that he started vomiting, so hopefully by the time he came out of the aircraft, through the airport and into the hospital, he was still quite reasonably not contagious," she said.
Dr. Nestor Ndayimirije, the top WHO representative in Liberia, said Sawyer's sister died of Ebola in early July, and that Sawyer had been in contact with her. Ndayimirije said Sawyer was already feeling ill before he left Liberia, "but unfortunately against advice he traveled."
Mairami said there were approximately 200 passengers traveling with Sawyer, and local health officials in Lagos said at a press conference Monday that nearly 60 people, roughly two-thirds of them health workers, may have had contact with Sawyer after he landed, according to local media.
Health workers' exposure — and their fear of exposure — has become a crucial challenge in containing the spread of the disease. The international medical organization Doctors Without Borders and WHO reported that health professionals refused to come to work in the earliest days of the epidemic.
"Even today there are not all the health workers" in hospitals, Ndayimirije, of WHO, said. "They are still afraid."
The fear is not unfounded. Liberia lost one of its most high-profile doctors to the disease, and Sierra Leone's own Ebola specialist contracted the virus last week; three nurses working with him have already died of the disease, according to Reuters. An American doctor and an American aid worker in Liberia have also contracted the disease and are undergoing treatment.
Mariano Lugli, a deputy director of operations for Doctors Without Borders, said the absence of health workers puts more than patients at risk. It "risk[s] the real collapse of the whole health institution," he said.
Ndayimirije said there's another factor making the disease difficult to stop: its spread to urban centers. Ndayimirije said the "first wave" of the outbreak was fairly easy to control, but when it hit urban areas, controlling it became much more challenging.
"You know, these epidemics [are] for the first time involving several — three — countries at the same time. This is the very first time this is observed as Ebola is concerned," he said. "This is also the first time that this epidemic affects the capital cities."
In rural communities, meanwhile, there is confusion and disbelief about what Ebola is and how it is transmitted. Ndayimirije said that Liberia's president, Ellen Johnson Sirleaf, yesterday chaired the first meeting of a joint task force she appointed to tackle, among other things, misconceptions about the disease. The committee includes traditional councils, labor unions and market women who will advise technical teams about how to explain the epidemic to rural communities.
If many ordinary people don't understand or believe in Ebola, even those who hear the messages do not appreciate its severity. Health workers often explain that the disease is "transmitted through bodily fluids," much like HIV/AIDS.
But Ebola moves more rapidly, there's no treatment, and mortality rates can be near 90%.
"For AIDS, now there is therapy and they live much longer, and there is hope," Lugli, of Doctors Without Borders, said. "For Ebola, at the moment there is no hope."