GALKAYO, Somalia — Often the men show up first, because they're afraid they're bad at sex.
They don't always have the vocabulary to explain the problem, but they know there is one. And they come looking for Dr. Abdul "Dhegacaade" Giama.
Dhegacaade — he goes by that middle name, a nickname that means "white ears," because his ears were lighter than the rest of his face when he was born — is warm and friendly, the kind of guy whom you immediately trust. He's a gynecologist, and he's spent more than 20 years setting up and running a hospital in a rough city in central Somalia. Here, in Galkayo, danger is white noise: There's clan feuds. There's pirates. There's the occasional explosion from al-Shabaab, the Islamist terrorist group slowly relocating to the region from its former stronghold. Sometimes, people show up in Dhegacaade's emergency room with gunshot wounds or other battlefield-style traumas.
But the problem that brings the men who lack words — that's far more common. They come to Dhegacaade as a last resort: Talking about sex is taboo in this conservative Muslim town, but the only other option is divorce.
The problem for Galkayo's men is what is done, in the name of their own masculinity, to their women, when those women are little girls.
Some people here say it's to keep a girl from becoming promiscuous. Some say it's because of religion. Others say it's neither, and they wouldn't even do it if they had a choice, but if you try to marry off a daughter who's not "cut," you'll never get any camels for her.
"Cutting" is the polite shorthand for what is known in Somali as gudniin (literally, circumcision). International advocacy groups talk about this as "female genital mutilation," or FGM, but Dhegacaade uses the medical term, "infibulation."

None of these words make clear to anyone who doesn't live with this reality exactly what's going on. It sounds brutal, because no matter what the motivation or justification, the act itself is brutal: Every bit of female genitalia is removed, with a knife or a razor, and a girl is stitched from where the clitoris was down to the vagina. Nothing is left except a very small hole, for urine and menstruation. With time, the wound heals — as all stitched wounds do — and the skin grows back, covering up what had once been exposed.
The idea — the ideal — is to keep a girl's vaginal opening small, her body sealed up. It's supposed to keep her "pure," but from what the staff in this hospital have seen, cutting girls is very much a matter of masculinity. "At the time of first intercourse, everyone is expecting the man should break what has been closed," explained Abdullahi Dubsahare, Dhegacaade's assistant.
But when the procedure goes wrong, which is often, so does this moment of male prowess. Girls can be left with cysts or scar tissue that grows and hardens over years, and their husbands — who know virtually nothing about their own bodies, let alone their wives' — can't do what they are expected to do.
Here's how one man, nearly two years into his marriage, put it, according to Dhegacaade's medical notes: "I found her vagina totally closed and I feel sexual failure … Now I am disappointed and feel psychologically affected. If I go to bed with my wife, my erection is totally zero, and I believed it was my manhood, is why I came to the hospital."
Dubsahare, the assistant, translates the pressure of cultural expectation simply: "If the man can't open it, the man is nothing."
"We've spent a hell of a lot of money, time, resources on FGM but...the real problem is [the] taboo."
FGM is a difficult, sensitive subject — but it's hardly uncommon. An estimated 130 million women and girls worldwide have been cut, according to the World Health Organization. Some variations of FGM are less severe than others; infibulation, sometimes called "pharaonic" FGM, is the most severe, and it is practiced almost universally across Somalia. It can bring on a slew of medical complications, including kidney failure, that endanger a girl's life, and the practice makes childbirth especially difficult: Rates of hemorrhaging, which is life-endangering during labor, are 69% higher for women with this kind of cut, and rates of infant mortality are 55% higher, according to a 2011 WHO report.

No one knows the origins of the ritual, which is mostly practiced in parts of Africa, by Christians and Muslims. It's often misunderstood, both by outsiders and by communities that keep the ritual, as being a religious requirement, but experts say there's no mention of cutting in any Muslim or Christian sacred text. Historians have found written evidence of the practice as early as 163 B.C. — well before either religion existed.
Eliminating FGM has been a feature of global advocacy for decades, although there's been debate even in the aid world about how to approach a "cultural practice" many communities regard as an important rite of passage. The United Nations' newest plan for global progress, launched earlier this year, explicitly called for ending FGM worldwide.
In August, Somalia's women's minister, Sahra Mohammed Ali Samatar, called for a ban on the practice, and lawmakers are drafting a bill that is expected to be considered next year.
In Galkayo, though, some Somalis have been making that call for decades. Dhegacaade is one of them. Twenty years ago, he interrupted his comparatively easy life in Italy, where he'd studied medicine, to spend long months in Galkayo and set up a hospital. Ten years ago, he returned permanently to his hometown, recruited and trained other doctors, and built up a facility that's roundly acknowledged as one of the top in the country.
He treats all manner of illnesses, but he's most passionate about women's health care. In the two decades since he opened his hospital, Dhegacaade says, a few things have changed a lot. There's far more global attention on FGM now, and more engagement by donors. But neither of those things has had much impact on his city.
"We've spent a hell of a lot of money, time, resources on FGM but the impact is not satisfactory," he told BuzzFeed News in his office, flanked by United Nations posters demanding FGM's end. "The real problem is [the] taboo. We give it taboo ... How are you going to [end] this if you don't break the social barrier?"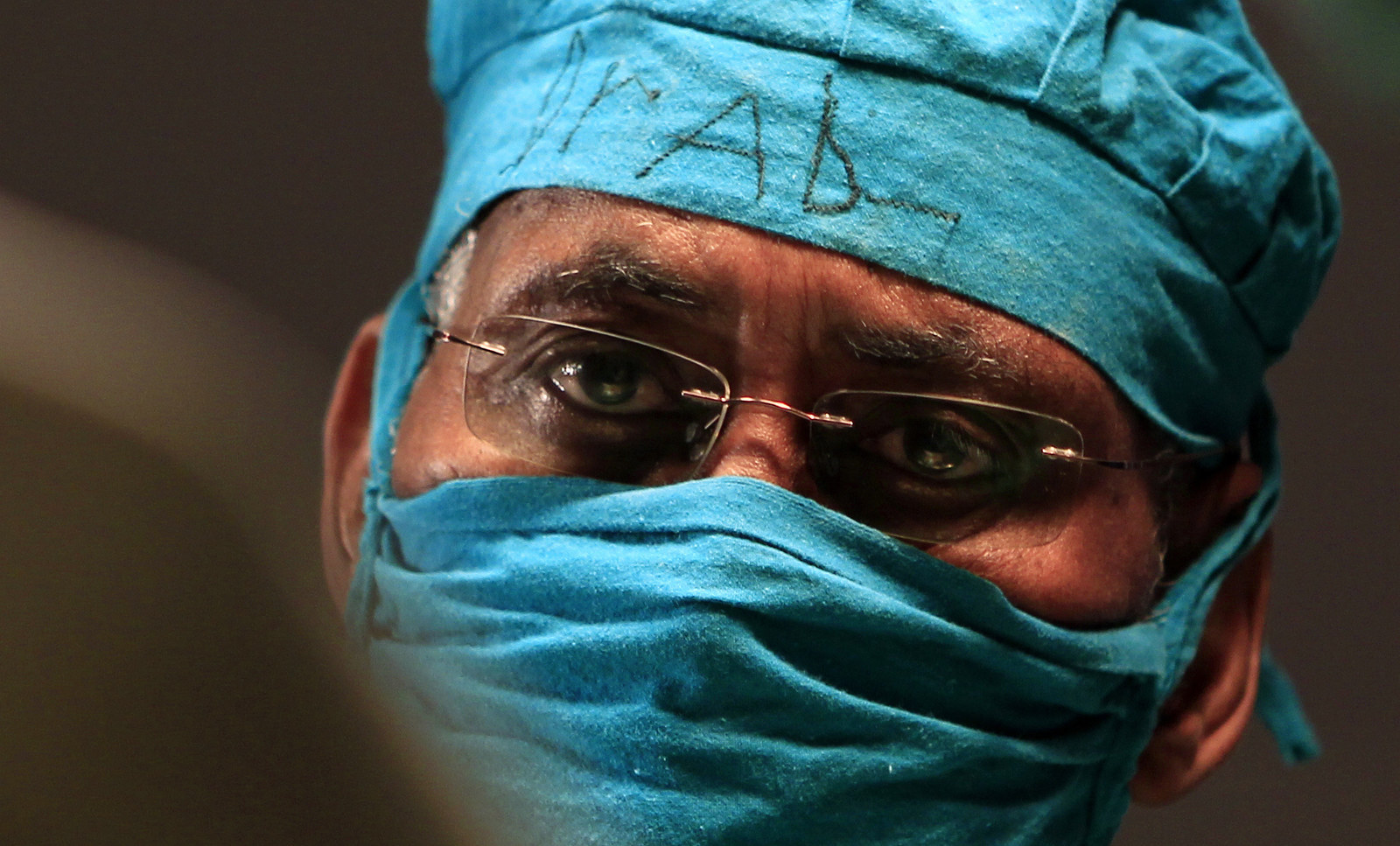 Galkayo can be an inhospitable place, even apart from the violence — dusty, barren, hot. The city is divided by an invisible line. You're as safe as you can be if you are where your clan is, which means that if you're safe in north Galkayo, you aren't safe in the south, and vice versa. Sometimes you're not even safe when you follow the rules: Gun battles and mortar fire erupted in late November, apparently after a dispute over a road construction project along that invisible line, and one of Dhegacaade's ambulances was ambushed and burnt, killing its injured patients and hospital staff. Only the driver and one nurse survived.
When things are quiet, though, they're very, very quiet. In north Galkayo, there's not a lot of restaurants, and there are no bars, of course. Except for the market and the matatu, there's not much in the way of public space. On the streets, men seem to mosey, and women seem to hustle. By 5 p.m., the roads empty, even though there's still a few more hours of pelting sun to be had.

Galkayo Medical Center sits along the city's only real road, paved so long ago and kept up so poorly, it's better just to drive alongside it. It's an impressive, sprawling complex with a surgical theater, a top-notch laboratory, and a small university campus, paired up with a leading Italian online university, that offers online degrees, with an emphasis on medical training.
Most of the patients who come to Dhegacaade travel from remote villages; some come from IDP camps, the tented communities for the "internally displaced people" pushed out of their homes by al-Shabaab's violence in southern Somalia and in Mogadishu, the capital. All of the care at his hospital is subsidized, and sometimes it's free, depending on the case, the patient, and the whims of donor funding. The results are often stunning: The leading cause of death for Somali women is childbirth, but at Dhegacaade's hospital, the maternal mortality rate is only 1% — better than some parts of the United States.
Much of his medicine is about repairing women's wounds — especially with what's called a "reversal." It's not restorative — with these kind of cuts, there's no way to repair what's been removed. But with an easy, five-minute procedure, Dhegacaade can open a woman's scar tissue and eliminate the sometimes excruciating pain that comes from menstruation or intercourse. The procedure costs around $150, all told, but Dhegacaade does it for free — and as he tells it, it rapidly, dramatically changes lives. "You don't have to give them any sutures. There's no bleeding, nothing. Straight to the bed!"

Which is, usually, what they want: The women who seek his help are trying to please their husbands, in part because that pleases their families. A woman's marriage is crucial for her parents, who will have received a lot of livestock in the marital exchange, and for her in-laws, who will complain if a wife doesn't seem "worth" all the camels his family paid in dowry. Marriages can also be alliances between sub-clans, which makes their success important for the communities the marriage binds.
Last year, Dhegacaade saw a 20-year-old woman who had already been divorced once. She was afraid her second husband would leave her, too, because she couldn't have sex: Her scar tissue was too strong for him to break. But that's not how she understood it. "I have a stone inside," he remembers her saying. That's what her neighbors told her, and because there's no conversation about sex, even between brides-to-be and their mothers or their aunts, she believed it.
Dhegacaade set her straight. "I said, 'There's no stone; there's not even such thing as a stone,'" he said. A five-minute procedure solved the problem.
Often, Dhegacaade removes cysts that can grow, over years, where a woman scars. Dhegacaade says the cysts might spring from a local medicine called malmal, which is used as an antibiotic cream. (Some medical studies say these cysts come when the cutting mixes surface-layer skin cells with deeper tissue.) Untreated, the cysts just keep expanding. They can be painful and embarrassing. Last year, one of Dhegacaade's nurses noticed that her neighbor was turning down worthy marriage offers. "She was such a beautiful lady that every man went [to propose to her], and every time, she refused. They kept getting better until she refused even one who is like the king of the area," he said. Her family was furious, and she was terrified to tell them about her injury. When the nurse brought her to the hospital, Dhegacaade's team removed her nearly 2.5-pound cyst.
But it's the fistula operations that the doctor thinks are his truly most transformative work. A fistula is a tear in a woman's vaginal wall. It can have many causes, and its consequences, when untreated, are life-altering: A woman can't control her urine or feces, and without a simple surgery to repair the torn tissue, she's usually shunned.
There's ongoing debate about the relationship between FGM generally and fistula, but Dhegacaade doesn't doubt that FGM's most extreme form, so common here, is a factor in the high number of fistula cases he sees: If the infibulation is done poorly, and the baby can't easily get out, the pressure of prolonged labor can tear tissue, he says.
The good news is that it's easy to fix: Last year, Dhegacaade did 79 fistula repairs, all of them thanks to UN Population Fund money (that funding has been cut this year, but Dhegacaade's hospital still offers the procedure free of charge). The transformative power of the surgery still impresses him. He remembers one recent fistula patient, who'd been abandoned by her family. "She was horrible-smelling, and the skin around the vagina was so hard," he remembers. The repair was successful, and she went to the market. When she told Dhegacaade the story, she couldn't stop laughing. He remembers her saying, "I realized people are not looking at me and saying, 'Why do you not clean yourself?' I'm like any other woman."
"I said to her, 'Are you mad? All this laughing!'" he recalled, with warmth in his voice. "She said, 'Yes. Yes, I am mad from happiness.'"
"I knew we do FGM ... but I didn't know how bad it was."
It's the fistula repairs that brought Dhegacaade back to Galkayo. He'd trained in medicine in the '60s, on a World Health Organization scholarship to Italy. While he there, an old friend — "my first love," he confessed — asked him for help. She had a fistula, and she didn't know what to do. At the time, neither did Dhegacaade. "I never knew this situation. I knew we do FGM, we do infibulation, but I didn't know how bad it was," he said.
He was troubled that so brutal a problem, with so straightforward a solution, was also so secret. He wanted to help end this — both the practice, and the taboo — so he came back to Galkayo, during Somalia's civil war. In 1993, warring clans trying to replace an ousted president were talking peace; United Nations peacekeepers were deployed across southern Somalia; and Dhegacaade opened a hospital in Galkayo, spending a few months at a time all but living in surgery or consultations.
In 2003, he moved permanently to the city. He left his wife, whom he loves, back in Italy. Somalia's ongoing conflict is far from settled, and Galkayo's local politics made it an especially dangerous place, but Dhegacaade felt an obligation. "I went to public school elementary to high school and the scholarship was for the whole of Somalia, not for me," he said, so he became one of the few people to speak out about a custom he grew up with.
"I used to say that women have three dreams. One is to become a woman, and that starts with her period. The second is to have love with a man. The third is to become a mum. Here, all three dreams are going to be a tragedy for her. And nobody knows."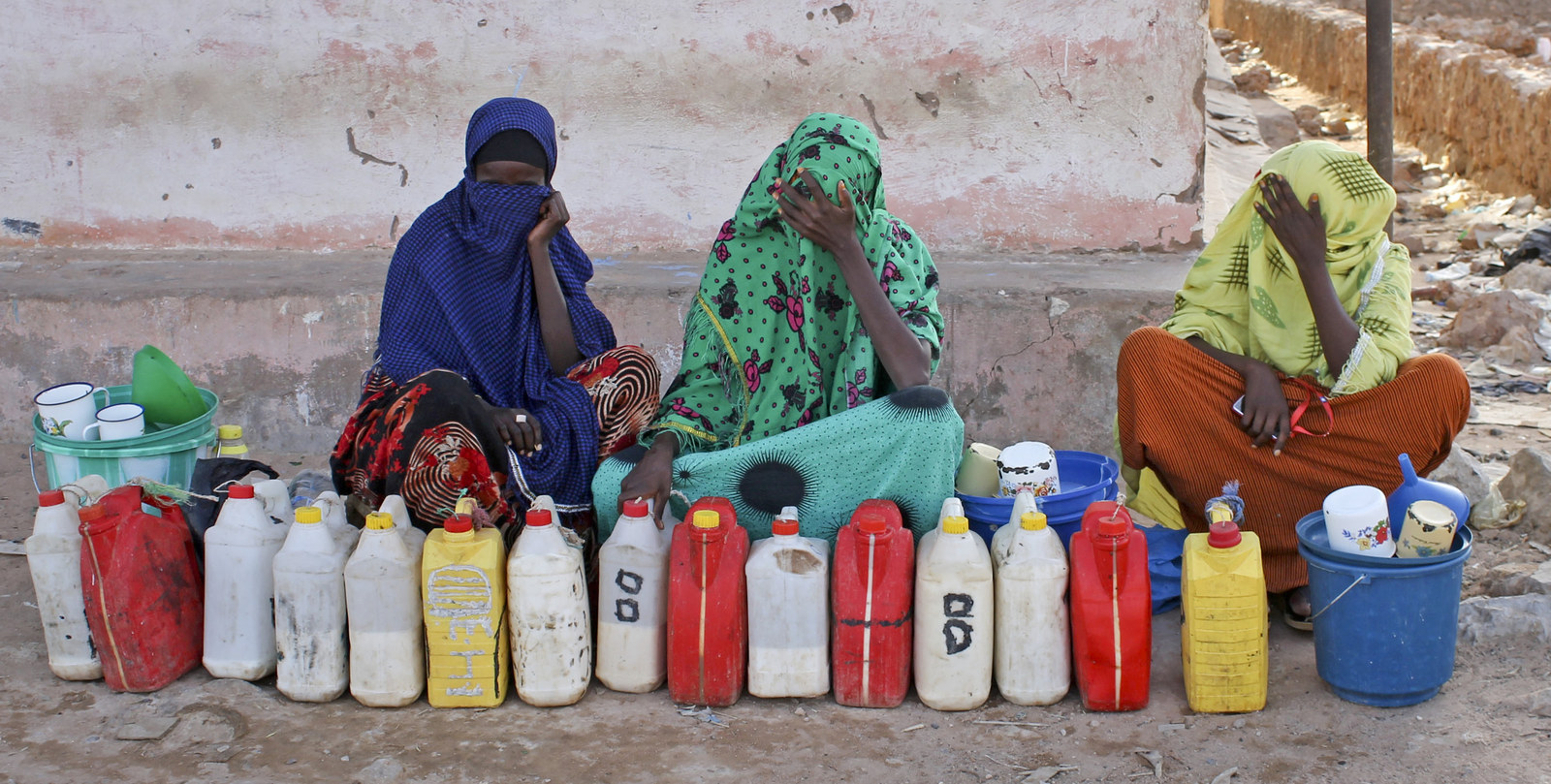 Mama Hawa knows, and she will tell everyone.

Hawa Aden is a small woman who leans on a cane, but she's far from frail. She was born in southern Somalia and moved to Mogadishu because the local school stopped at fifth grade. Later she studied in India and Ghana, and worked as one of few high-level women for the government. "It was the socialist time in Somalia. They didn't know this women-women thing, so they made me the head of women's education and nutrition," she said.
Clan feuds split Somalia in 1991; Mama Hawa fled from Mogadishu to Kenya, via the Indian Ocean, in a boat that broke down for days in the middle of her journey, and later on to Canada. She returned to Somalia, to a southern town called Kismayo, in 1995 and started a girls' school that grew to 300 students. But a new wave of war, in 1999, devastated her work and threatened her family, and she fled to Galkayo.
Today, she runs a nonprofit group that serves hundreds of girls with stories like hers — "IDPs," or internally displaced persons, as the international lingo has it, who've also fled for their lives — and hundreds of other girls born and raised in Galkayo. Aden takes risks on both counts: Most of the IDP camps her organization helps are in the south, and crossing that invisible city line is dangerous work. Mama Hawa's health prevents her from moving around, but her sister regularly drives there.
IDPs aren't beloved on either side of the invisible line in this tight, tough town — and Mama Hawa's messages on women's rights aren't, either. From her first days in Galkayo, she began advocating against FGM.
"Those days we focused on the health aspects, and I would [talk about] exactly what it is — exactly how is the cut, how is the pain, how the pain make you feel sick, how you get infections, which you can heal, but how the pain isn't healing. It always goes with you. I remember it myself, and sometimes I shout."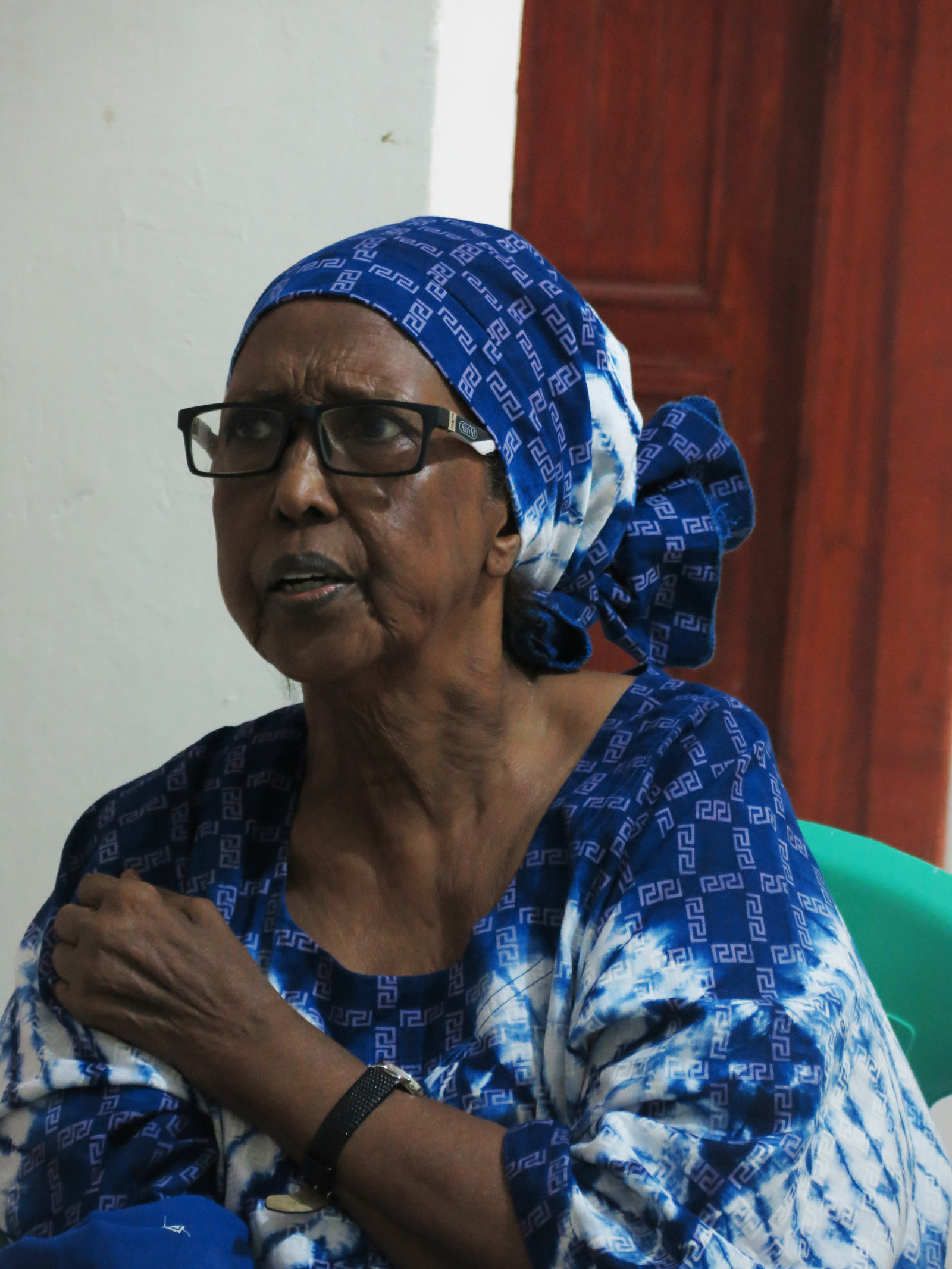 Courage is an easy word, but breaking this silence took mountains of it. "This is not something you find easy-peasy. There were people throwing stones, calling her a Christian, saying she'll ruin our girls," remembered Zamzam Abshir, a 23-year-old Galkayo woman who studied at Aden's school and now teaches in its programs in the IDP camps. Once, others recalled, someone set off an explosion at her office, though no one was hurt.
"They know I have a big mouth sometimes," Mama Hawa agrees. She's managed to help push local conversations about FGM at religious meetings and in official circles, and in 2012, the United Nations High Commissioner for Refugees gave her its Nansen Refugee Award — but she thinks nothing has gone far enough. Last year, the president of Puntland, the central section of Somalia where Aden lives, received international praise for banning FGM — although that's not technically what happened, Aden says.
She brings out a copy the president's decree, which commits to reconsidering cultural norms but does not call for an outright prohibition — so mostly, she says, it's useless. "If I take this to the court, they cannot use it," she complains. "So then, where does this go? It has to go to the cabinet, to the Minister of Justice, and when it gets there, what happens? They say, 'What on earth are they talking about?'"
She doesn't have much more faith, or interest, in the ban the national women's minister has been pushing in Mogadishu since August. "It ends with lip service," she says.
'If I leave this clitoris on my daughter, she will go to the market and become a prostitute.'
She's more interested in girls like Abshir, her former student turned teacher. Abshir holds monthly women-only meetings in one IDP camp, and she uses the forum to discourage women from cutting their daughters. When women share their painful personal stories, Abshir says, it opens a conversation, even if it's a slow one. "Some will even cry in the meetings and react emotionally, but some say, 'If I leave this clitoris on my daughter, she will go to the market and become a prostitute.'"
It's the willingness of women to allow their daughters to be cut that most angers Aden. She sees the cultural complexities better, perhaps, than almost anyone — that what men expect, and what their families will pay a dowry for, are major factors. But she also knows that girls idealize the cut, seeing it as a sign of real adulthood. They know it makes them grown up — the kind of thing a lot of teenagers yearn for — and the conversation they hear doesn't tell them the truth about what's at stake.
"Some of the men dare to say, 'Now it's just a prick of the clitoris, very very small,'" Hawa said. As a girl, though, "what do I know what it is? It's dark, you have your legs up, then you go."
So Hawa has made educating girls a key part of her anti-FGM work. She believes in a girl's right to education, but she also sees it as the best way to open real conversations about FGM. She also knows that a woman with education and skills is a woman who can earn income — and that, in turn, can give her a kind of power that, over time, can help women fight back against being cut.
Hawa has educated more than 300 girls in primary and secondary school since 2010 alone; she's run a "second chance" program for 1,200 more young women whose education was interrupted, but who are much older than their would-be classmates. And she's trained 200 girls in vocational skills, like tailoring, and runs a garment shop where her trainees are offered jobs sewing school uniforms, women's dresses, and other goods, filling local orders or selling directly to merchants.
It's the kind of chance Deqa Abdirizak didn't think she'd have. She fled Mogadishu with her family as a teenager. Her mother was dead but her family was large, and she would chase trucks carrying big bundles of qat, a narcotic leaf men chew, and collect scraps to sell. But older boys would beat her and steal the scraps.
Today, Abdirizak is 18, married, and providing for her two daughters and the rest of her family as a tailor. She can sew a simple dress in 20 minutes, a complicated dress in an hour. When the cooperative had a contract sewing sanitary pads, the tailors kept a dime for each pad they finished. Abdirizak earned $400 in a month — a level of ambition that impressed perhaps Galkayo's most ambitious woman. "She stunned everyone," Mama Hawa said, admiration in her voice.
Zamzam Abshir, 23, is a teacher in Aden's schools, where she was once a pupil. She overflows with appreciation for Aden. "She's like a government," Abshir says. "My eight years of schooling — I didn't pay any of that. Even if she had to sit on plastic bags and teach us, she did … There was no getting out of it. 'Oh you don't have money to send your girl to school? OK, here's a free school.'"
None of this has made Mama Hawa especially popular, but she couldn't care less. "Sometimes they think I'm really crazy," she concedes with a smile. "And sometimes, I am. I am. Because — what else can you do?"
With reporting by Idil Abshir