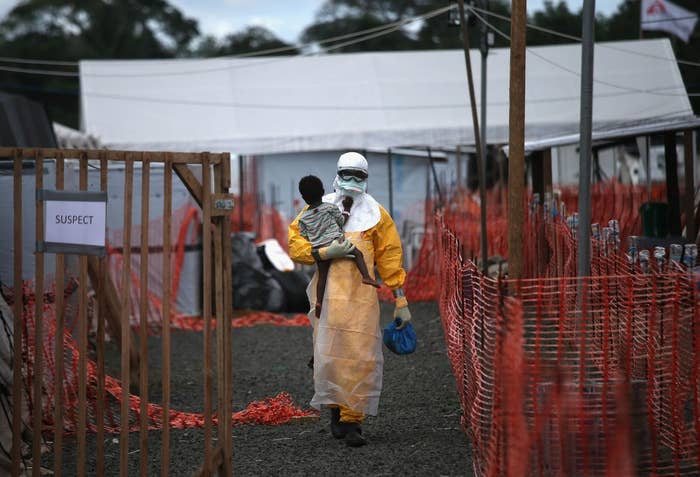 NAIROBI — Dissatisfied health care workers manning Liberia's Ebola treatment wards may not turn up for work next week unless the government increases newly announced hazard pay.
Several health care workers told BuzzFeed News that plans for a strike are in the works after widespread dissatisfaction with a hazard pay scale announced by Liberia's finance ministry on Oct. 1.
Nearly 200 Liberian health care workers have been infected with Ebola since the virus broke out in West Africa in March; 92 have died, according to the latest figures from the Liberian Health Ministry.
Regionally, nearly 7,500 cases have been confirmed or suspected, and nearly 3,500 people have died.
The Liberian government announced last Wednesday that it will offer supervisors in its Ebola treatment centers $850 a month in hazard pay. Doctors will get $825 a month, general practitioners will get $450, and nurses and lab technicians in Ebola wards will get $435, according public remarks by Amara Konneh, the acting finance and development planning minister.
All Liberian health care workers, regardless of their speciality or their location of work, will get a flat $5,000 death benefit; the sum is a dramatic increase from earlier regulations, which offered health care workers' families a year's salary if a worker died from Ebola. The death benefit will be offered retroactively, Konneh said.
The death and hazard benefits are expected to cost $30 million and will be paid for in part with funds from the World Bank, Konneh said.
But Liberia's nurses, hygienists, technicians, and other lesser paid health workers are angry about the disparity in the hazard pay, which offers doctors nearly twice as much money as nurses, assistants, and other lower-level health workers.
"We have been patient, but we will stop coming to work," Alphonso P. Massaley, staff representative at the Island Clinic, which opened in Monrovia late September, told BuzzFeed News. "When they are making decisions, they do not regard us, they sit in their offices and decide, whether it is in our interest or not they do not care."
Massaley said the clinic staff will strike unless the government agrees to adjust the pay scale on or before Friday.
Alex Wiah, a hygienist at the Island Clinic, described cleaning vomit, urine, and other waste left by patients — the kind of bodily fluids through which Ebola is so easily passed, unless a person is wearing expensive personal protective gear.
But Wiah said he hasn't been paid even a base salary for the two weeks he worked in September.
"Government does not feel for us. When you tell a minister no pay this month, no money, they will not agree," Wiah said, "but when it comes to health workers — then they say, 'No money.'"
Last month, pay delays pushed health workers at Liberia's biggest hospital, the John F. Kennedy Medical Center, to strike; workers told Reuters they hadn't been paid in two months. Ebola workers in Sierra Leone also went on strike in early September, to protest poor working conditions and pay delays.
Pay disparities and salary delays have long challenged Liberia's health care sector, even before this spring's Ebola outbreak. The country has only about 340 doctors, according to last year's estimates by the United Nations Development Program. And there are roughly 1,000 nurses and 1,000 physicians' assistants across the country, on whom the bulk of basic rural health care falls.
"Anything a doctor can do, we do. The only thing we can't do is surgery," said Emmanuel Reeves, the board chairman of Liberia's Physician Assistants Association. "Most of the time in Liberia, we don't have a lead doctor, but the physicians' assistants are ... where you find health systems running."
"We've been pushing the government on [so many health] issues since long ago, even asking the government for protective gear before they ever discovered Ebola in Liberia," Reeves said. "This is not a new thing in this country. All these problems were in this country before."
If the disparity in hazard pay isn't necessarily a surprise, the manner in which it was determined and announced nevertheless frustrates some healthcare workers.
"Those [hazard pay] numbers, that is the only thing we heard from the government, because they did not call us into a meeting. It is like they are forcing it on us," said one lower-level health care worker, who did not want to comment on the record out of fear of jeopardizing ongoing conversations.
Konneh, the acting minister who announced the hazard pay scale, did not pick up or reply to multiple phone calls and text messages.
Not all health workers agree that striking is the best way to handle the pay complaints. Gloria Stevens of the Liberian Nurses Association said the group would not participate in any strike action.
"Even if they are upset, that would not be the best course to take. ...You cannot abandon the patients, no. You cannot do that," Stevens told BuzzFeed News by telephone from Monrovia. "If other nurses don't know that, that's very sad, especially so when it's a crucial time."
Massaley, a nurse at the Island Clinic Ebola treatment center, feels differently.
"They can always say we must not strike because we took an oath but we want tell them we did not take an oath to live in poverty, we took an oath to save our people but we must benefit too," he said.
Another nurse, Beatrice Chea, said it's not just the danger of the job that's taxing. It's also working in the airtight personal protective equipment (PPE), which can't be worn for more than 45 minutes at a time.
"When you wear this PPE and go into the center, it is like you are draining water from your body. The sweat! If you are not strong, you will [collapse]," she said.