Liberians With Most Dangerous Job In The World Forced To Sign Away Their Rights
Exclusive: "If you are in the [Ebola] unit and, God forbid, something happens to you, nobody is responsible for it." Jina Moore reports for BuzzFeed News from Monrovia.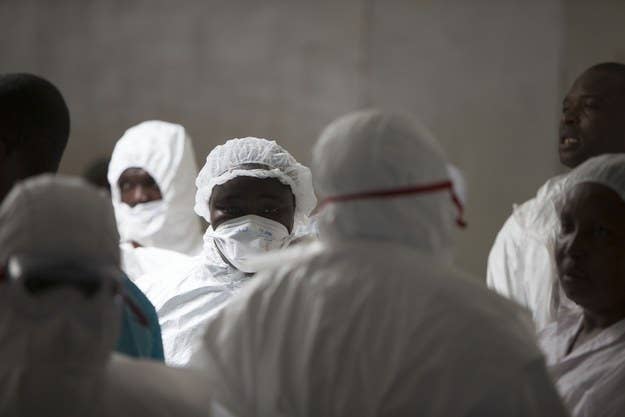 MONROVIA, Liberia — Liberian health workers on the front line of their country's Ebola response are being required to sign away their legal rights should they become infected with Ebola, or otherwise injured, on the job.
"If you are in the unit and, God forbid, something happens to you, nobody is responsible for it," said Cecilia Davis, a Liberian who has been working in Ebola treatment wards since July.
The Ministry of Health and Social Welfare says it employs more than 1,000 local health workers in Ebola treatment units (ETUs) it runs jointly with the World Health Organization (WHO). Most of those workers are on short-term contracts — contracts that include an indemnity waiver so broad that global public health experts say they've never heard of anything like it before.
James Campbell, executive director of the Global Health Workforce Alliance at the WHO, said in an email to BuzzFeed News that the indemnity clause was "clearly a concern." He said employment terms for Ebola health workers should be guided by a joint International Labor Organization-WHO briefing note on occupational health and safety and Ebola. The note, released in early September, specifies that workers who contract Ebola or post-traumatic stress disorder from their professional duties "have the right to compensation, rehabilitation, and curative services."
The contract, obtained by BuzzFeed News and confirmed with the general counsel of the health ministry, technically leaves Liberia's frontline Ebola staff with no health insurance and no legal recourse, even against blatant negligence by local officials or foreign donors, whose money and supplies have significantly ramped up in recent weeks.
But if an organization donates a faulty pair of gloves or goggles, or if someone makes an error in training local health workers how to put on and take off the personal protective suits that provide the best protection against Ebola, the Liberian government's contract essentially says: Tough luck.
"I undersigned contractual employee herein absolutely waive, release, indemnify, defend and forever hold harmless the entire three branches of Government of the Republic of Liberia and its Officials, members and employees and successors in office and/or any foreign Government or local or foreign stakeholders from and against any all loss, damage, injury, death, expense, proceeding of every kind, demand, cost, claim or liability incurred by or arising out of my aforesaid assignment (including, without limitation, claims by third parties or claims by legal representatives, seeds, family), arising out of the acts, errors, omissions, breach or negligence of the Government of Liberia, its officials and successors in office, any foreign government or donors/partners (including the government of the country or countries where donors/partners are located and other local and foreign stakeholders," the contract reads.
Global public health practitioners and experts in human resources for health systems in the developing world say the indemnity clause has no corollary in standard practice that they know of.
The clause is one of many grievances that led to health worker protests, and a brief strike, last month. Workers who refuse to sign the contract have been told they will not get paid.
John T. Wilson, general counsel at the Ministry of Health and Social Welfare and the man who drew up the contract, concedes that the indemnity clause is "almost a take-it-or-leave-it situation." Wilson insisted, however, that even if signed, "that doesn't mean the court will take it at face value."
Wilson said the language for the indemnity agreement is an adaptation of a liability limitation that led directly to the use of an experimental drug called ZMapp in Liberia in August.
An American doctor and aid worker, and a Spanish priest, had been given the drug after they contracted Ebola. The Americans survived; the Spanish priest later died. But the administration of the drug exclusively to Western aid workers provoked cries of inequity in West Africa, where Ebola cases and deaths were skyrocketing.
The Liberian government then brokered an agreement to treat two Liberian doctors and a physician's assistant with the untested drug, on "compassionate grounds," after the infected patients signed an informed consent agreement acknowledging that treatment was "emergency and experimental."
The consent agreement required the recipients to "absolutely waive, release, indemnify, defend and forever hold harmless" a long list of government officials, as well as the companies behind ZMapp and those companies' various offshoots.
Until now, the Liberian government has refused to share the language of the informed consent agreement, which led directly to the first use of ZMapp to treat African patients.
Wilson acknowledged that the ZMapp situation was an unusual one. "The concern of the manufacturers was, 'While we're doing this, we don't want any claim against us,'" he said.
The ZMapp situation was exceptional, by both local and global standards, and involved unproven treatment for sick patients. But the contract most ETU workers in Liberia are being required to sign is about something much more common — the risk workers face on the job — and Wilson said the indemnity clause, which he adapted from the ZMapp case, is essentially non-negotiable.
"In this country we have a lot of ambulance chasers," Wilson said. In the event of an infected ETU worker, "we wanted to limit claims on donors and partners."
ETU workers are exposed virtually every day to contagious Ebola patients, and they are responsible not only for treating the sick, but for cleaning up their highly contagious bodily fluids. So far in Liberia, 300 health workers have been infected with Ebola, and 123 have died.
Wilson said that he drafted both the ZMapp informed consent agreement and the ETU worker contract himself, without assistance from any outside donor or partner.
The WHO supports ETUs that are staffed by Liberian health workers; one of Monrovia's biggest units, staffed mostly by Liberians, is overseen by a WHO-deployed doctor.
An August ruling by a WHO ethics committee approving the use of experimental drugs in Ebola response cleared the way for administering ZMapp to the three Liberians, two of whom survived.
Health workers also objected to what's been billed by the Liberian government as a $5,000 flat-sum death benefit. The benefit only applies to those workers who die of an Ebola infection, and not to health workers who may suffer a stroke or heart attack while on the job, for example.
The contract also says that the $5,000 sum will be paid "in whole or in part" — linguistic wiggle room that health workers say gives the government cover to pay out only a portion of the benefit — to a beneficiary or beneficiaries who are not named in the contract.
"So they tell you 'Write the name on another paper' to attach it, but when you die, those two papers will become unattached," said one health worker, who has been working in a Monrovia ETU since July. He asked not to be named for fear of retribution. "If you go to the media and talk, they will delete your name from the payroll," he said.
The lack of legal recourse for health workers, including in situations where the Liberian government or its partners or donors are shown to have acted negligently, is one of several grievances that led in October to a strike by some ETU workers. Discrepancies over hazard pay scales also fueled dissent, and negotiations on both points have been soured by a long-held distrust among health workers for government officials.
"The health workers have a big problem with the leadership of the ministry," Assistant Health Minister Tolbert Nyenswah told BuzzFeed News. The ETU grievances have only "added to the bigger issues they've [already] been having," he said.
ETU workers' disputes may become irrelevant before they are resolved. Ebola cases in Liberia are dropping, and Dr. Moses Massaquoi, who oversees the country's ETUs, says the health ministry will reassess in November just how many beds — and just how many health workers — the country still needs to serve the sick. He said it's possible that the ministry will cut back on its ETU staff, although he'll keep a force large enough to react rapidly in case of any resurgence.