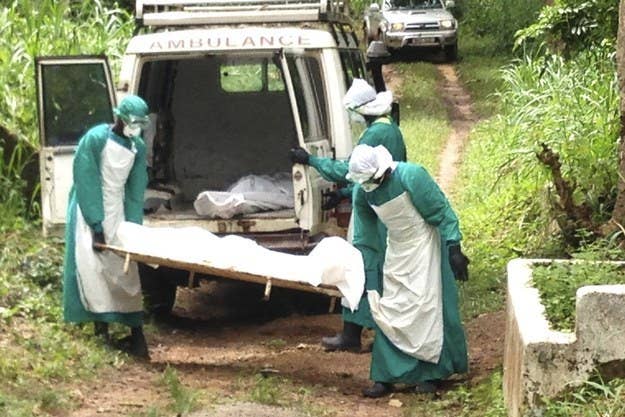 NAIROBI — Twenty symptomatic Ebola patients in the Liberian capital have no beds in the city's treatment unit, even after the death of a government employee abroad forced the West African country to intensify its response to the disease.
Forty-year-old Patrick Sawyer, who worked for the Liberian Ministry of Finance, died on Friday in Lagos, Nigeria. The Nigerian Health Ministry announced on Friday that Sawyer had Ebola; a World Health Organization laboratory on Monday confirmed the diagnosis.
Sawyer's is the first case of Ebola to have traveled internationally by air since the West African outbreak began in Guinea in March. So far, more than 1,200 people have been infected with the virus, which spreads through contact with a victim's bodily fluids, and nearly 700 have died, according to the most recent figures from the Centers for Disease Control (CDC) in Atlanta, Ga.
Sawyer's death in Africa's biggest city, where 21 million people live at an extremely high density, brought renewed international attention to the outbreak.
It also increased the urgency of the Liberian government's response to the disease, which first appeared in rural western Liberia in April.
"Patrick Sawyer has definitely raised the bar" of the government's response, said Sidiki Trawally, the director of media services for the Ministry of Finance, where Sawyer worked. "Definitely. Yes, yes, yes, yes, yes, yes, yes."
President Ellen Johnson Sirleaf on Sunday chaired the first meeting of her newly appointed National Task Force on Ebola. At the meeting, she announced a revised national Ebola protocol the closure of all but three land borders and the screening (and testing, where necessary) of passengers coming into Liberia's airports.
Sirleaf also announced restrictions on the size of public gatherings and the mandated installation of hand-washing stations and other sanitation measures in public buildings.
But in Monrovia, the capital city, there isn't enough space in the specialized isolation unit to hold all of the city's symptomatic cases. The Ministry of Health wanted to expand the unit at Elwa Hospital, on the outskirts of Monrovia, but the local community fought back, physically, making it impossible to secure health staff, a Health Ministry official told BuzzFeed by telephone.
"The Elwa facility is overwhelmed right now as I speak to you," said Tolbert Nyenswah, the country's assistant minister of health. "It was built as a transit point for 18 persons, but as I speak to you we have 25 in the unit and 20 who need to be in the unit but there's no room to put them there."
Instead most are back in their communities, and a few are waiting in ambulances, Nyenswah said.
They are also displaying symptoms of the disease, including vomiting, fever, and, in some cases, bleeding, he said.
Ebola is not contagious until symptoms like vomiting and bleeding present themselves. At that point, it becomes highly contagious.
Nyenswah said the ministry decided two weeks ago to close its original facility, in a more central part of Monrovia, and concentrate all Ebola response in a single, larger unit at Elwa. "But we have faced resistance from the community. Groups are coming [onto] the streets and protesting the building of the new units because of fear, because of ignorance, because of misconception and misunderstanding of the disease and modes of transmission," he said.
"Denial, fear, resistance, and attacks on aid workers are major, major obstacles we are facing in dealing with the disease," he added. Local and international health workers in neighboring Sierra Leone and Guinea, which are also suffering in the outbreak, have also faced resistance and attacks.
Nyenswah said the Liberian government needs to respond with a stronger security presence around the health facilities.
"We need police power ... to quarantine people who have been affected," he said. "In an outbreak like this, you need to use police power so that individuals' health does not threaten population health, does not threaten global health."
In rural Liberia, meanwhile, Ebola cases are on the rise. Doctors Without Borders, which has been a leader in response to the outbreak in the region, is opening a new referral center and isolation unit in Lofa County, where cases have been increasing since May. The group has received reports of people nearby dying of Ebola in their villages.
Dead bodies are highly contagious, and improper burial is a major driver of transmission.
Liberia's Ministry of Finance, where Sawyer was said to have been social with his many colleagues, was closed yesterday to be decontaminated. Anyone who had contact with Sawyer has been asked to work from home for 21 days, which is the length of time the virus takes to develop symptoms.
Trawally said most people came to work when the ministry reopened this morning at 10 a.m., although they had been given permission to stay home if they were afraid.
"There was panic in the building here; people were afraid [after Sawyer's death]," he said. "Even I was panicked at some point. I was like, OK, this Ebola thing, once somebody in the building has it, everybody gets it. But that's not what it is. ... People have to have the right information."
Sawyer's sister died of Ebola in early July, according to World Health Organization officials, and it is likely that he caught the disease through contact with her. But Sawyer and his family kept quiet about the cause of her death — not entirely surprising in a region where there's fear, suspicion and superstition about the disease.
"They kept that a secret. I knew she died, but I didn't know what killed her. They wouldn't say what killed her," Trawally said.
Sawyer himself didn't develop symptoms of Ebola until after he was admitted to a Lagos hospital. He became sick in the airplane and he collapsed at the airport; he was taken to a private hospital and tested and treated for malaria.
But his body didn't respond to the treatment, and shortly after, Nigerian health workers said, he began bleeding — a telltale symptom of the virus.
That would also be the point at which he became a threat to others. "Ebola isn't contagious until symptoms appear," Stephen Monroe, deputy director the Center for Disease Control's infectious diseases program, said in a telephone press briefing in Washington, D.C., on Monday.
The bodily fluids of Ebola's symptoms — blood, vomit, diarrhea — are what spread the virus. If those symptoms didn't develop until Sawyer was in the hospital, it decreases the number of people who may have had dangerous contact with him, narrowing those most at risk to largely health workers. (Of the 59 people the Nigerian government has traced to having contact with Sawyer after landing, 44 are health workers.)
But the Associated Press reported that some witnesses on the airplane said the man was vomiting and had diarrhea onboard the aircraft. (Both can also be symptoms of malaria.)
Meanwhile, Liberia's Ministry of Finance has strict new rules in the wake of their colleague's death. No more than four people can be in an elevator at once. No more than five people can gather in any space, except for meetings held in conference rooms.
No one without official business will be admitted to the building, and those who enter must wash their hands with the water and chlorine provided today by the Ministry of Health. Everyone is encouraged to wear long sleeves.
"Absolutely no clustering on the stairways," the rules also read. "Absolutely no handshakes, hugging or other physical bodily contact."
"Those measures are going to be followed to the letter," Trawally said.
Nigeria meanwhile closed the hospital Sawyer was treated in and began instituting mandatory Ebola testing for passengers from any of the three countries affected by the outbreak — Guinea, Liberia and Sierra Leone. Anyone testing positive will be quarantined.
The CDC has reassigned personnel in Nigeria to assist the Nigerian Health Ministry in tracing passengers who traveled with Sawyer for interviews and testing.
Liberia and Sierra Leone have lost prominent doctors to the disease, and an American doctor and an American aid worker are currently being treated for Ebola in Monrovia.