Kenyan Police Stoke Fear With "Anti-Terror" Sweep Of Migrants
Many are being held in a stadium in the capital, Nairobi.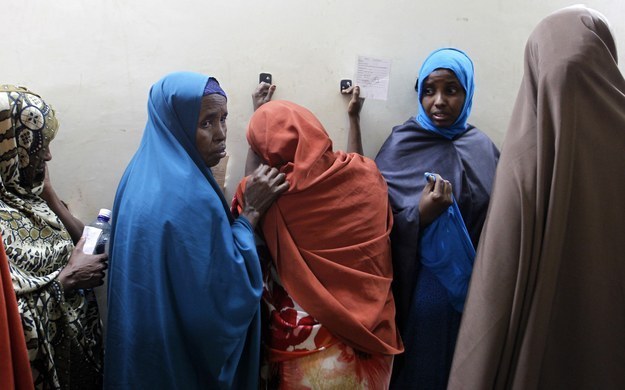 MOMBASA, Kenya — Kenya's so-called "counter-terrorism measures" against immigrants have moved beyond Nairobi, sweeping up Somalis, Eritreans, Tanzanians, and others — including one man who alleges he is American — as police search for illegal immigrants whom the East African nation considers a terrorism threat.
Local media in Mombasa, Kenya's second largest city, estimated 100 people were rounded up in Changamwe, near Mombasa's Moi International Airport; a prosecutor at Mombasa's high court, who refused to give his name, said that only a handful of those arrested faced arraignment for breaking the law.
"Most of the people who were released could bribe their way out," said Hussein Khalid, executive director of the human rights organization Haki Africa. The going price, according to reports Haki Africa has received from those affected, was 10,000 Kenyan shillings, about $120.
Kenya announced earlier this month that it would round up Somali refugees and return them to two refugee camps in the country's northern desert, following a series of attacks blamed on the Somali terror group al-Shabaab. The policy has led to random checks, largely in Nairobi, that many characterize as ethnic profiling, and the detention of several thousand people in a stadium in Nairobi.
On Mombasa Island, police checks began at 5 a.m. on Thursday, and 55 people were taken into custody, and 12 were arraigned for unlawful presence in the country, according to Geoffrey Mayek, the local police officer-in-charge. The arraigned included seven "Swahili-speaking people" who claimed to be Kenyan, he said.
He said he could not confirm whether one Somali man claimed at the station that he had U.S. citizenship, as some local media reported. The U.S. Embassy in Nairobi also declined to comment on the matter, although the human rights group Haki Africa has been in contact with the embassy regarding the matter.
At around 11 p.m. on Monday night, a truck full of officers wearing camouflage and bullet-proof vests blocked a quiet side street in a Mombasa town. Neighbors said the next day that the officers were checking on a house known to be inhabited by Somalis. One shopkeeper said the police returned early Tuesday morning and arrested four Somali women.
Mayek said these officers were part of a "combined police unit" and are not members of the Anti-Terrorism Police Unit, which has been criticized by human rights groups for its extra-legal approaches to handling terrorism suspects.
Mayek also said the checks would continue into the indefinite future.
Mombasa's human rights community criticized the investigations and arrests.
"If anything, [the current] methods are playing into the terrorism. If you carry sweeps of 5,000 people and vet them one by one… of people belong to a particular religious or ethnic group. If you are Muslim and Somali you are obviously a target," said Mwambi Mwasuru, executive director of Muslims for Human Rights, a local (and non-religious) non-governmental organization.
Mwasuru acknowledges the government's need to verify the legality of residents but says there are better methods. "Use current technology and you don't have to harass anybody," he says.
In Mombasa, blunt police action is a bitter, and recent, memory. Police raided a mosque in February, arresting worshippers it accused of being members of the Somali terror group al-Shabaab. The raid sparked a riot in which at one young man and one police officer were killed.
"One of the biggest problems we see is mistrust between the police and the public," said Khalid, of Haki Africa. "They totally, totally, totally don't trust each other."
He thinks that brute police force, combined with what he calls the "laxity and…omissions" of the country's immigration oversight, have stoked insecurity.
"The terrorism we're experiencing is actually manufactured by the government," Hussein said.
Arthur Wafula, a local businessman, sees it differently. He thinks it's perfectly reasonable for the government to verify immigration status, even in nighttime raids, given the security threat in the country.
"There are some Christian Somalis, and those you can do business with. But a Somalia who is a Muslim, and no paper? Those are scary guys," he says.
He also says, with regret, that Kenyans can't trust Somalis any longer.
"If you are a Somali, you are a target. It's not fair, but when people of your country are gunning down churches, gunning down people in buildings, that's the way it is," he says. "It may not be you, but you are part of the community.