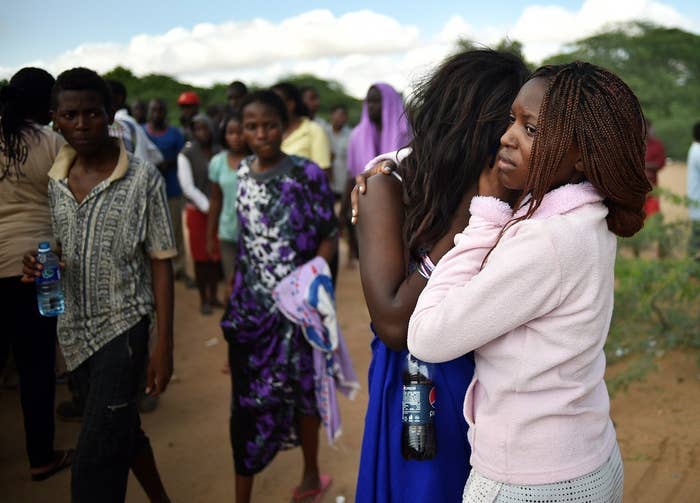 GARISSA, Kenya — The gunmen went room by room.
In one, they tried to coax two boys out of a wardrobe where they were hiding, with promises of safety.
In another, they shot at anything that would splinter — the windowpane, the long fluorescent lightbulb on the ceiling. They tried persuasion, and they tried fear, and eventually, they rounded up dozens of students, maybe more.
"It's not possible to identify an exact number," said Jackson Bowa, an employee of Garissa University, which was attacked on Thursday morning by members of al-Shabaab, an Islamic fundamentalist group based in Somalia. "Nobody can count 1, 2, 3, 4 in such a circumstance." Officials have said that 147 people were killed.
It was Bowa's friends whom masked gunmen rounded up in those early hours, in what would become Kenya's biggest terrorist incident since the 1998 bombing of the U.S. Embassy. But in those early hours, no one knew for sure that the gunmen were Al Shabaab. No one knew exactly what was going on, and no one knew exactly how best to try and survive.
So one of Bowa's friends stayed in the wardrobe, praying the attackers wouldn't find him. They didn't.
They did, however, find another of his friends. They took her down to a campus quad, with the other students. They separated the girls from the boys, she told Bowa, and they told the girls, "Watch how these people will die." Then they shot them.
They didn't shoot the girls — Bowa doesn't know why — but the massacre so bloodied his friend that when the rescue workers finally gained access to the campus, more than 12 hours later, they mistook her for a casualty and brought her, with her dead classmates, to the morgue. Stunned from trauma, it took her a long time to speak up and insist that she was alive.
Bowa had been calling her and calling her and calling her, but he couldn't reach her. She'd left her phone in the dormitory, and she'd been taken to the hospital, after the morgue, to help handle her trauma. He finally reunited with her late Thursday night, when the Kenya Defense Forces (KDF) evacuated hundreds of students and employees of the university in order to put them on buses and send them home.
"She's still traumatized," Bowa said.
By 6 p.m. Friday, several hundred other evacuees from Garissa University still remained sprawled beneath seven white tents pitched at the town's airstrip. They lay on thin foam mattresses and waited for their second night of sleeping outdoors. The tents lack flaps, so the dust blows on them — and if not the dust, Bowa sighed, the rain.
"I am tired," said one young woman, a student who had escaped in the early hours of the attack. She didn't want to give her name, and she didn't want to talk about what happened. "I am one of those who escaped from there, and I am waiting. I'm going to Nairobi, but I want only to go."
Daisy Musyoka also escaped. She woke up in her dormitory ("hostel," in the campus vernacular) around 5 a.m., when the first gunshots were fired, but she didn't understand the sound. "I thought the building was going to fall down, so I ran downstairs," she said. "Somebody said maybe it was a fire, so we were running to the field, and it was exploding, like in an electrical fire."
Several other eyewitnesses in the makeshift tent camp, and in a string of shops near the university, told BuzzFeed News they saw flames. No one, though, knows exactly what may have been burning.
"I'm just in fear," Musyoka said. "Everything, everything is in the hostel. My documents, my ID, my cell phone, my certificates.." She looked at her toes. "I even ran barefoot."
A KDF commander said that a local member of parliament had arranged food, beverages, and clothes for the evacuees, urging local community members to donate what they could. But facing a second night of sleeping outside, most were impatient.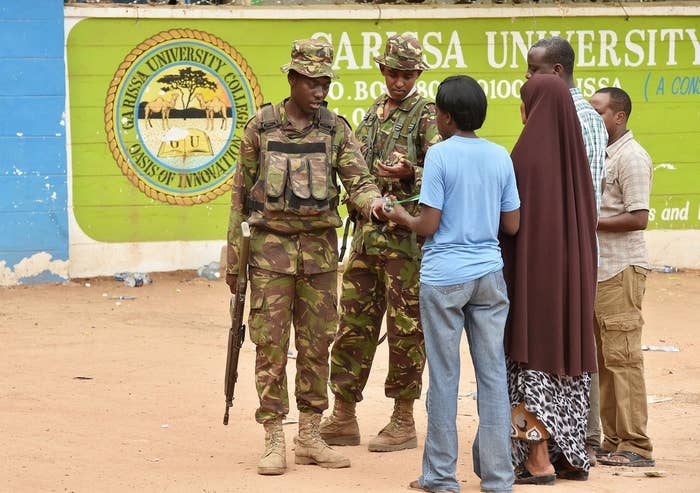 Sleeping outside is exactly what 76-year-old Abdullah Hamdi believes saved him.
Hamdi keeps a shop about 100 yards from the university's front gate, and he lives nearby. He was readying for prayer when the attack began.
"We heard a firefight, and we ran away to the forest. Up to now, there are still people there, sleeping in the forest," he said. They are shopkeepers, like him, and they are students — anyone anywhere nearby who could, just ran, he said.
Hamdi is angry too, but not for the same reason as the evacuees. The arc of his anger is longer, and his rage runs deeper.
"We are citizens of this country," he said, his sinewy body shaking from the force of his speech. "There are external elements threatening us," he said, referring to the Shabaab fighters. "But the government is doing nothing. It's taking no steps [to keep us safe]."
Kenyan officials have said al-Shabaab is looking to start a religious war, after militants from the group attacked a bus in northern Kenya in November, shooting dead all non-Muslims on board — 28 of 60 passengers.
Several months prior, in June 2014, al-Shabaab militants attacked hotels and a police station in the coastal city of Mpeketoni, reportedly killing anyone who couldn't recite the Koran — the same tactic the group used during the bus attack. At least 48 people were killed.
Hamdi, like other shopkeepers on the street near the university's front gate, said he had heard rumors an attack was coming.
On a nearby corner, a woman named Najma stood with a group of other young women watching the commotion in front of the green university gate. A line of television cameras pointed at the entryway, where the attackers shot a guard and ran onto the campus. As the 6:30 p.m. curfew drew near, four dozen soldiers were being trucked away.
Najma is not from nearby, but she knew about the attack, and it scared her. Last night, she said, "We slept under the bed." And tonight, she said, "The same."
She doesn't feel safe — can't feel safe again, she said, until there are more soldiers up here, mounting force in the neglected north of the country. Or even if there's just a new policy, where newcomers to a town have to report to the police.
Most of that security strategy, she knows, is out of her control. Most of what happened here, a young woman like her couldn't prevent.
Despite the attack, Najma said, she'll keep going to school. She wants to study medicine. "I want to save people who are dying for lack of doctors," she said.
Just a few miles down the road, hundreds of casualties moved through Garissa's small hospital, ill-equipped to handle the kind of physical trauma wrought by terrorism.
Daisy Musyoka, who fled the gunmen barefoot, doesn't share Najma's optimism. "I don't have any plan. I don't have any idea what will happen," she said. "I don't know if I will have a bright future."