Here's What's Happening In The Country Where Everyone Is Worrying About Genocide
Most Burundians think genocide is not imminent — but things are still very, very bad. BuzzFeed News' Jina Moore reports from Bujumbura.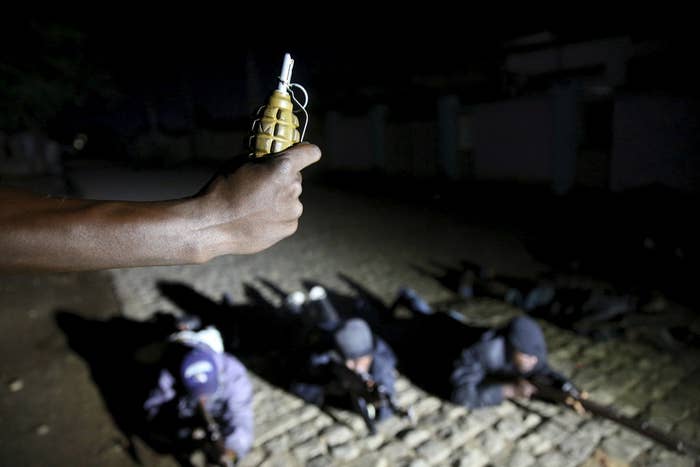 BUJUMBURA, Burundi — No one knows exactly where the nearly 200 men rounded up one day last week — in broad daylight, in the center of the capital — will end up.
They might be photographed, interrogated, and released. That could take a few hours; it could take a few days. In the interim, their phones might go missing. Their money, too. Human rights monitors say this is often what happens during arbitrary detentions, which are becoming common in Burundi, a tiny country in central Africa.
It's also possible those arrests might end very badly. Days or weeks may pass, and some of the men who were arrested could turn up dead, in a river somewhere, probably far from here, or in a field, or along a road. "If you're taken by the police," one local said, speaking anonymously out of fear of retribution, "you'll just end up dead."
This happens now in Bujumbura with increasing frequency, and it's one of the reasons the U.S. government today imposed sanctions on some top government officials and their political opponents.
International and local human rights groups are documenting a rising number of disappearances, assassinations, and other abuses. In the last six months, according to a United Nations human rights official, more than 2,500 people have been arrested. "Tens of cases" of torture in detention have been documented, a United Nations official said. Between 200 and 300 citizens have been killed, including some who had been arrested and then disappeared. More than 200,000 people have fled Burundi as refugees in neighboring countries, and more have been internally displaced.
Recent speeches by party leaders, including the president of Burundi's Senate, have sounded to some observers inside and outside the country like the rhetorical groundwork for genocide, echoing "the language of horrors the region hasn't witnessed in 20 years," as Samantha Power, U.S. Ambassador to the United Nations, put it.

Burundi's capital city, Bujumbura, is a quiet town of just over half a million people, surrounded by mountains on the shores of Lake Tanganyika. The country is tiny, poor, and aggrieved: Most people here are subsistence farmers, and like its neighbor, Rwanda, to the north, Burundi has a troubled ethnic history. Its majority Hutu and minority Tutsi populations have been both perpetrators and victims in a cycle of mass killings going back to the early days of the country's independence from Belgium.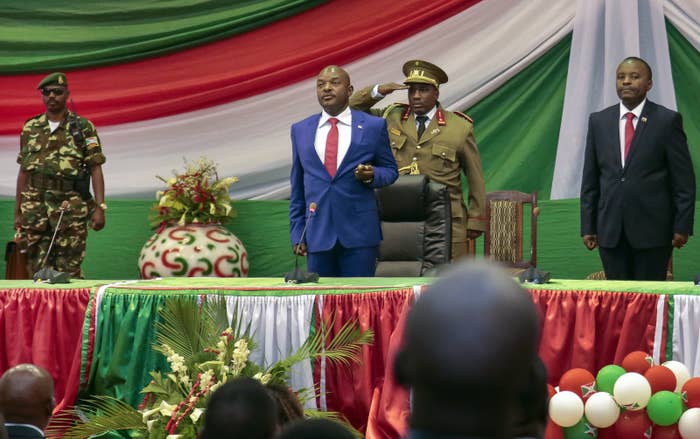 Today's problems began back in April, when protests broke out in several neighborhoods against the president's wish for a third term. In May, there was a failed coup attempt, and in July, President Pierre Nkurunziza won an election both the European Union and the United States roundly decried as "neither free nor fair."
Senior political figures, generals, and human rights activists and their family members have been assassinated. Gunfire and grenades go off at night in neighborhoods where the protests started, despite an attempt by the security forces to disarm the civilian population by Nov. 15. The government denied recent reports of shelling on the president's office. Nkurunziza still holds the presidency; most opposition politicians have fled the country.
The U.S. government opposed the third term early on; the European Union pulled $2 million in aid in the spring; and the Obama administration cut some American funding for security training in July, after Nkuruniza ran and won.
But the increase in assassinations and arrests, and the rhetoric some worry is genocidal, has increased international pressure on Burundi in recent weeks. The United Nations Security Council passed a resolution urging dialogue between the president and his opponents, a message that was repeated on a recent visit by Tom Perriello, the U.S. special envoy in the region. The European Union has threatened sanctions; the U.S. imposed some today. President Barack Obama filmed a video message to Burundians, urging its leaders to dialogue and warning the country to diffuse divisive rhetoric.
Senior opposition politicians, living in hiding or under de facto house arrest in Bujumbura, told BuzzFeed News that international pressure is the only way to prevent the crisis from escalating.
But the government appears to be becoming increasingly antagonistic in response.
"We started thinking maybe some Western countries are behind the coup," said Willy Nyamitwe, a senior communications adviser to Nkurunziza and the brother of the country's foreign minister.
Nyamitwe singled out Belgium, the region's former colonial power, pointing out that some of those the government suspects of planning or knowing about the coup — a list of about 40 people, observers say, which includes journalists who covered the news for local radio stations as it happened — have found asylum there. Among them is Pierre-Clavier Mbonimpa, a leading human rights figure in the region, who was evacuated to Brussels after an attempted assassination attempt in August. His son and son-in-law have both been killed.
Nyamitwe and another close adviser to Nkurunziza who spoke on the condition of anonymity accused Samantha Power, the U.S. ambassador to the United Nations and the Obama administration's most vocal critic of Nkurunziza, of bias. The senator further criticized the U.S. ambassador in Burundi, Dawn M. Liberi, and insisted that the country wants to see both women replaced.
He also wants to see aid restored and bilateral relationships rebuilt. Cutting support, he said, "is like punching a baby, a baby you are supposed to help survive."
---
Genocide is an obvious worry here, especially in the wake of a series of speeches whose language echoed code words used in the 1994 genocide in neighboring Rwanda, when 800,000 members of the minority Tutsi ethnic group were killed by members of the majority Hutu ethnic group in 100 days. Burundi has a similar demographic makeup to Rwanda, and it has similarly suffered cycles of ethnic violence going back to independence. Those cycles are different from Rwanda's — in Burundi's biggest massacre, in the 1970s, it was Tutsis who killed Hutus — and Burundi's postwar politics have been different too, emphasizing openness in discussions about ethnicity.
In early November, Révérien Ndikuriyo, the president of Burundi's senate, addressed local community leaders, urging support for unnamed forces that would "pulverize" violent opposition. "That is to say, exterminate [them]," he said, according to a transcript and audio recording posted by a website with opposition leanings.

He went on to say, "Yes, it is possible to get some plots. I do not know if you grasp what I mean!" — implying, opposition politicians say, that leaders would be rewarded with the houses of those chased away or killed.
And he used a word that brings chills in this region: "work." It's the same verb that was used during the Rwandan genocide to mean "kill."
The police are mostly lying low, he said, "but you will see the difference on the day they receive the message to work. The day they receive the order to truly work on behalf of the country and for the safety of neighborhoods, they will operate seriously!"
The president's office and the senate said the statement, issued on the eve of a deadline for civilians to give up their weapons, was misinterpreted. But the heated rhetoric nevertheless raised concerns, prompting the video statement from President Obama. "From Burundi's painful past, we know where this kind of violence can lead," Obama said.
There's another parallel that has observers worried. The ruling party, known universally by its acronym CNDD-FDD, has a youth wing called the imbonerakure, which some observers worry could function like the youth militia that carried out much of the killing in Rwanda.
Youth wings of political parties are common in Burundi, but international and local human rights observers say the imbonerakure intimidated voters before and during the election. They sometimes work with security forces, including the police, and sometimes in police uniforms; they have arrested busloads of people moving between provinces in rural Burundi on suspicion — without much more evidence than their movement, observers say — of going to join a rebel movement.
But most observers don't think genocide is an imminent possibility.
"I just don't see the popular support," said one United Nations official, who worked in Rwanda in the 1990s and in Cote d'Ivoire, in West Africa, when a group called the Young Patriots perpetrated killings after a disputed election in 2010.
Tom Perriello, the U.S. special envoy to the region, told BuzzFeed News that genocide isn't the only concern. "I tried to make absolutely clear to the government [on a recent visit] that just because you don't commit genocide doesn't mean you're not committing international crimes," he said, referencing torture and arbitrary arrests.
Senior Burundian opposition politicians agreed that so far, popular support for ethnic violence is low, but they worry about what may happen as the political tension increases. The country has never had a tribunal or truth and reconciliation commission to look into ethnic slaughter and other war crimes, and there's fear that revenge crimes could be appealing. Burundi also has a land problem: There's not enough space for its population, most of whom are subsistence farmers, and disputes over ownership of parcels that have traded hands in conflict are wracking the national land commission.
"There are demons in Burundi," one leading political figure said. "You just need a small thing to reawaken them. And you don't know what that may be."
---
For years, there have been signs that a political crisis was coming. Burundi's last presidential election, in 2010, saw a crackdown on opposition that led to all but the ruling party pulling out of the election, making the presidential poll more referendum than vote. Since then, Nkurunziza has been tightening his grip. His government has closed media houses; arbitrarily arrested suspected opponents; and banned group meetings — including, at one point, group jogging.

Despite those signs, "we did not anticipate the situation would deteriorate so far so fast," a United Nations human rights official in Burundi said. Despite last spring's protests, the official said, the ruling party enjoys healthy support. "We were thinking Nkurunziza would understand … [that] anybody from his party could run and win," he said.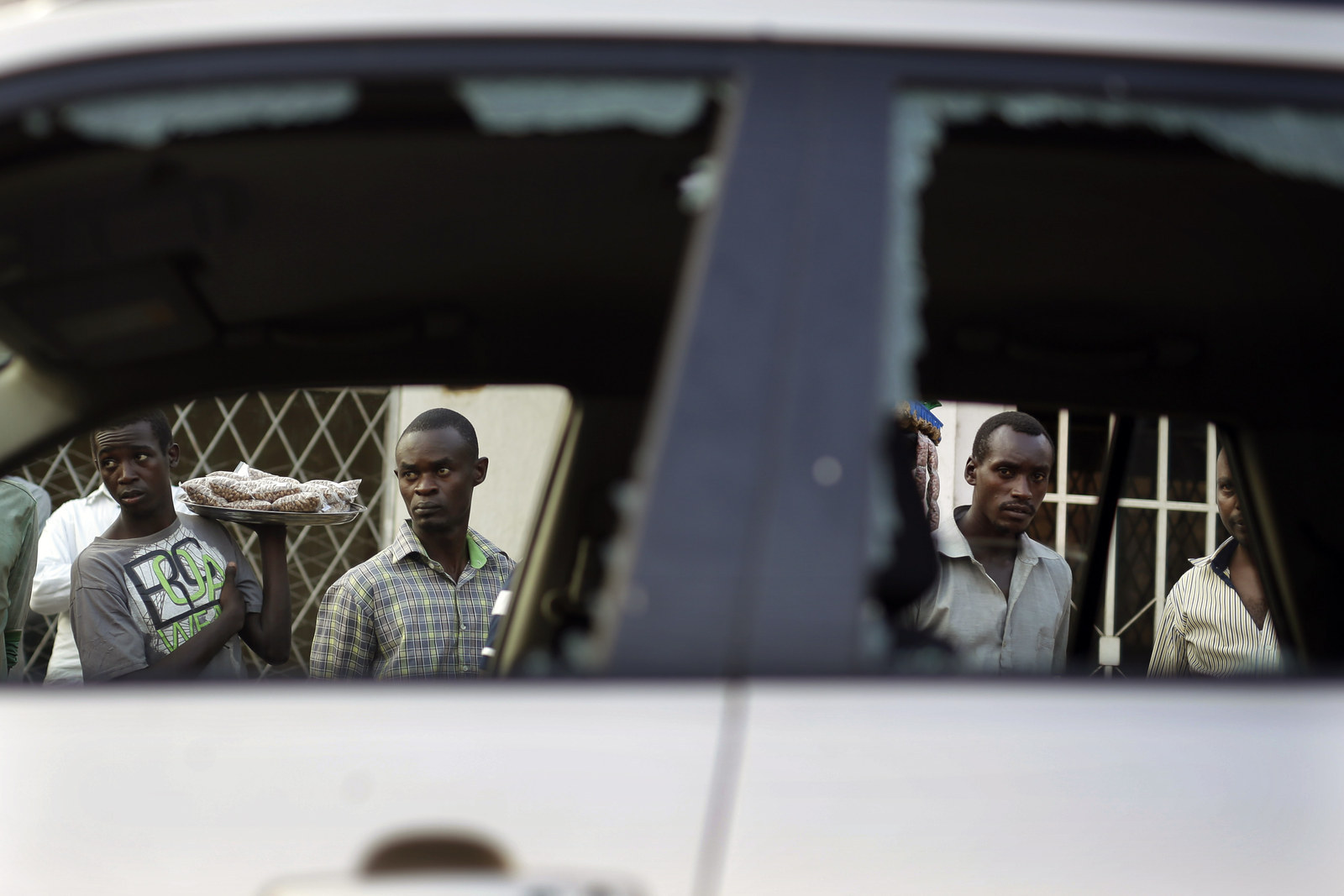 But Charles Nditije says the international community buried its head in the sand. Nditije is the head of the Uprona political party — one of Burundi's biggest and oldest opposition groups, originally a Tutsi party whose membership, like most parties, is ethnically mixed (and Nditije is a Hutu). Even the African Union, he said, "closed its ears" to the problems.
Now the only way forward, virtually everyone agrees, is dialogue. The U.S. has thrown its support behind an East African process led by Ugandan President Yoweni Museveni. Few experts or local leaders think Museveni has the stature needed to mediate the country's most pressing problem, but they see little other choice. "Not many people have been begging to take ownership over the Burundi peace process," as one U.S. official put it.
It's also unclear whether Burundi will engage in the kind of dialogue the opposition says is needed. Nyamitwe says the ruling party is willing to listen to "all Burundians, inside and outside" — but it will not negotiate with any of them. He said any discussion about changing the makeup of the government is a nonstarter.
But opposition politicians inside and outside the country say the government has no legitimacy. Nkurunziza, they say, tried to change the constitution to allow for a third term and failed to get the parliamentary votes he needed. He ignored the pleas, in a public letter signed by senior members of his own party, not to run again. And when he asked the constitutional court to weigh in, the only member willing to vote against a third term fled the country.
The biggest problem, the opposition says, is that Nkurunziza violated the Arusha Accords, the peace deal that paved the way for a cease-fire, in 2004, and an end to the nearly 12-year civil war. Nkrunziza's political party has roots in his armed rebellion and there's long been suspicion that Nkurunziza has been trying to undermine the peace deal. It's the fabric that's held Burundi together since the war, and its violation makes it difficult for opposition politicians and protesters in exile alike to trust the government.
"You violated the constitution. You violated the peace deal. And you want to be seen as credible?" an opposition politician, who lives basically in hiding in Bujumbura, said. "No. This is not credible. This is not legitimate."
Nditije, the Uprona leader, wants to see a transitional government, "for maximum one year," to hold the country together while the ruling party, the opposition in Burundi, and the regime's opponents in exile discuss the country's problems — starting with Nkurunziza's presidential bid.
"It's not your friends whom you negotiate with," Nditije said. "He doesn't like the opposition, but it's there. Just as [I think] he is illegal, but he's there. We must sit in a room, and we will negotiate together."
Quickly, he added. The political tensions are rising, but so too is poverty. Burundi has become the poorest country in the world, and international organizations say feeding rural populations is going to be a big challenge in the coming months.
"If [dialogue] stalls, the situation for Burundi is going to get very, very bad," Nditije said.