Half A Million American Girls May Be At Risk For Female Genital Cutting
What new data about the likelihood of FGM in America does — and doesn't — tell us.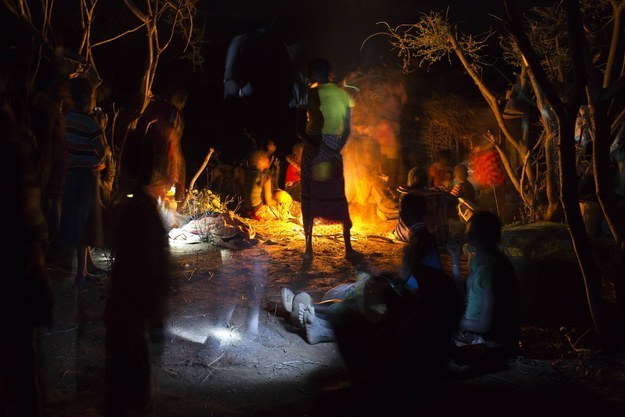 NAIROBI — An estimated 500,000 women and girls living in the United States may be at risk of female genital cutting, a cultural rite of passage the United Nations has said can "amount to torture," according to new data.
The Centers for Disease Control and the Population Reference Bureau (PRB), a non-profit organization that focuses on health and demographics, separately conducted surveys that suggest the number of women and girls in the U.S. at risk of FGM has gone up three-fold since 1990.
The CDC survey, leaked this week prior to publication, suggested that 513,000 women and girls may be at risk. The PRB data put the number at "up to 507,000." Both numbers are preliminary: the PRB released provisional numbers today to coincide with the International Day of Zero Tolerance for FGM.
"FGM" stands for female genital mutilation, which some consider a more problematic name for a longstanding cultural practice, often also applied to men and boys, with the label "circumcision." FGM is a widely-used acronym, especially in activists circles seeking to put an end to the practice.
The procedure is considered a rite of practice in some cultures, where the removal of a girl's external genitalia is believed to help keep her chaste and clean.
Both the CDC and the PRB attribute the change to an increase in immigration, and both group's numbers are estimates based on the rates of FGM in the countries where the at-risk women, or their mothers, were born.
Neither study is a measure of how many women or girls born in the United States have actually been cut.
"We don't have any national surveys or hard numbers on the practice" actually being applied, said Mark Mather, a demographer at the PRB. "This is our best guess based on the methods that are available to us to come up with an indirect estimate of the population at risk" of having had or being like to have FGM performed on them.
The CDC would not comment specifically on its draft report but a CDC spokeswoman noted that the numbers could change when the study, which will be its first on the issue in nearly 20 years, is finalized and published, several weeks or months from now.
A 1996 law makes it illegal to cut women or girls under age 18 in the United States, and a 2013 law outlaws so-called "vacation cutting" — the intentional transport of women or girls abroad for the purposes of subjecting them to the ritual.
Laws against cutting has also increased internationally. Performing FGM is illegal in more than two dozen countries, although prevalence rates suggests the ban is often defied. Still, some states are beginning to take more action the bans. Kenya, for example, has an anti-FGM hotline. And last week, an Egyptian doctor was convicted of committing FGM, the first such conviction since the country's ban in 2008.
Mather used Census data to identify women and girls from countries that have an FGM rate of 2% or higher, as reported in national surveys conducted every five years, called the Demographic and Health Survey (DHS).
That criterion ruled out some countries, like Kenya, where FGM rates have dropped consistently for three generations to fall below the 2% threshold. But it also meant that countries without good data may have been overlooked.
"We could be missing women and girls at risk from parts of Asia where DHS data just doesn't exist," Mather said.
Of the at-risk girls the PRB identified, 97% were from African countries, or born to mothers of African countries, Mather said.
But Africa is a big place, and FGM practices vary widely across the continent. In Burkina Faso, for example, 76 percent of women girls ages 15-49 have been cut, according to a 2013 UNICEF study that looked at FGM rates in 29 countries over the last two decades. But in neighboring Togo, that rate is only 4%.
Mather used weighted averages to help adjust for this but said that such big-picture data — even inside a single country — doesn't necessarily capture precise risk. "District level data for example it would show quite a level of variation even within a given country," he said.
Another limitation of the number, he said, is that research shows that immigrant populations can change their behaviors — meaning that being from a country with FGM doesn't necessarily mean that a woman or her family is going to practice it in the United States.
"I think with the types of assimilation that occur especially, among second-generation and third-generation immigrants, you'd expect to see declining numbers of women and girls undergoing FGM," Mather said.
The data Mather used included no information about religion, making it impossible to evaluate correlations between FGM practice and religion. It is a common misperception that FGM is a Muslim practice, but not all Muslim communities practice FGM, and some non-Muslim communities do. In Niger, for example, 55% of Christian women and girls have been cut, whereas only 2% of Muslim girls have, according to UNICEF.