Election Monitors Raise Doubts As Nigeria Counts Presidential Votes
A former top State Department official also suggested the final count may be vulnerable to cyberattack. BuzzFeed News' Jina Moore reports from Nigeria.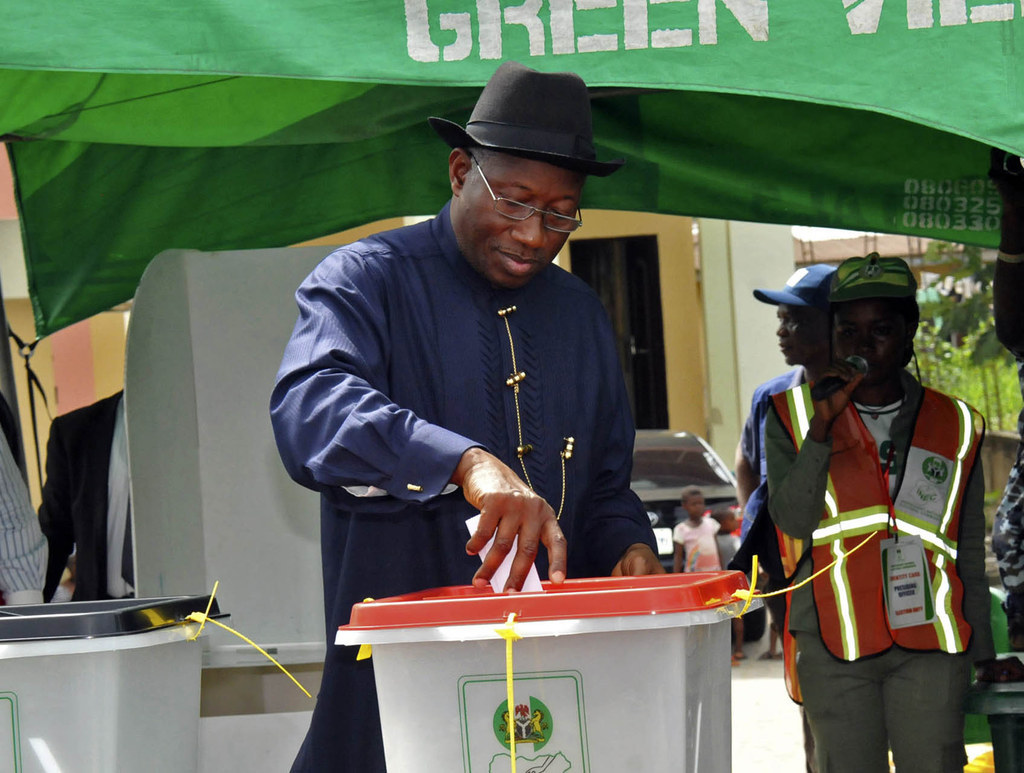 ABUJA, Nigeria — A former top official at the U.S. State Department raised concerns on Monday about security vulnerabilities in the vote counting process in Nigeria's presidential election, one of several issues independent observers raised in the aftermath of Saturday's vote.
Johnnie Carson, who was assistant secretary of state for African Affairs during the first term of the Obama Administration, said at a press briefing in Nigeria's capital that an election-day hack of the Independent National Election Commission (INEC) website had raised questions about the security of its other processes, including the final vote count.
Nigerian analysts say this is the most competitive election in the country's history. Nearly 70 million people registered to vote, and many millions of them waited patiently in the sun Saturday. In some places, voting extended into Sunday.
Just hours after voting began on Saturday, INEC's website was hacked, in an attack claimed by a group calling itself the "Nigerian Cyber Army."
Carson said the hack raised concerns about the process broadly.
"While the issue was quickly resolved, it created concerns among some voters that INEC results tabulation systems could also be vulnerable to a cyber-attack," Carson said, reading from the preliminary statement of the National Democratic Institute's observation team. Carson is a co-chair of that team, which brought 24 people as official observers to Nigeria's election. It also partnered with more than 400 civil society organizations and the Transition Monitoring Group, a local NGO which is running (with NDI support) a statistical modeling program to independently verify election results.
But Carson simultaneously advocated for a greater role for technology in that tabulation process. He told BuzzFeed News, "There's absolutely no question that it's of great importance [to] transfer final results from the polling place to INEC immediately," Carson said. "It would eliminate any possibility of fiddling and manipulation in any of the 2 or 3 middle steps."
Nigeria's more than 120,000 polling units count up their votes themselves; members of each political party sign off on the results, and the results sheet is posted publicly and forwarded up an elections ladder that includes three more stops before results sheets finally land at INEC in Abuja. It's these sheets that INEC is counting up Monday afternoon to declare a winner.
Carson said the organization had no further information about the hacks than what had been reported in the local press. INEC addressed the matter late Saturday night saying only that the hack "did not disrupt our plans."
No other observer mission has raised concerns about the hack, and the issue has largely disappeared from electoral conversation since Saturday. Carson told BuzzFeed News, "Cybercrime is a potential problem anywhere — in the finance and banking sector [for example], and it's a potential problem in the political sector and has to be taken into consideration in building any network."
The European Union's elections monitoring mission also issued a preliminary assessment on Monday, and its members voiced strong concerns about the possibility that the collation system could be vulnerable to fraud.
"What happens now is really critical," said Santiago Fisas, head of the overall EU mission. "And we are here to watch. As we speak now we have some observers out seeing about collation. In my opinion, collation is a most critical problem and moment as far as I know now."
Another member of the mission appeared to open the door to a rejection by the EU Parliament of the results — or a refusal to acknowledge the winner or the legitimacy of the next head of state — if the win is marred by cheating or violence.
Javier Nart, leader of the EU Parliament's team on the monitoring mission, said at the press briefing, "The EU Parliament will reject all attempts to gain political advantage through fraud or violence."
None of the mission's representatives would comment further on how the EU would evaluate alleged fraud or violence or exactly what procedures the EU might follow should it conclude fraud or violence occurred.
The U.S. and U.K. governments, meanwhile, released a statement Monday after the EU briefing saying, "[T]here are disturbing indications that the collation process — where the votes are finally counted — may be subject to deliberate political interference."
The "Situation Room" of 60 Nigerian civil society groups, each monitoring independent reports from their members, issued a statement in the early hours of Monday morning expressing "deep concern" about "reports of attempts across several states of the country to undermine the integrity of the collation of votes and outcome" of the vote.
"The Situation Room received disturbing reports that politicians are attempting to use national security apparatuses to fiddle with the election collation process and pass off results that undermine the credibility of the elections and the sacrifice of millions of Nigerians, who against all odds trooped out to cast their votes on 28 March," the statement said.
Lazsarus Apir, program manager of the Transition Monitoring Group, confirmed to BuzzFeed news late Sunday night that it had also received reports that its independent monitors had been turned away from observing collation at polling sites throughout one county in the South East, traditionally considered a stronghold for President Goodluck Jonathan, because security forces had "cordoned off" the polling areas. Apir also said observers had been turned away from collation at polling sites in Delta and Akwa Ibom states, also in the Jonathan-friendly south.
The EU's assessment still managed to be the least rosy among those issued on Monday morning. Its observers characterized 10% of voting sites as "very bad" and found interference in polling work by "unauthorized persons, mostly [political] party agents," at 13% of the sites it visited. Ballot boxes were unsealed at 37% of the sites it visited, and at 60% of the polls it watched, elections officers did not write down the number of ballots the polling station received, which the EU called a "basic integrity check."
But the EU was present at only 29 polling stations in the county, and so far, Fisas insisted, there's no evidence to suggest "systematic suppression of the voting process."
There were no EU observers in Nigeria's northeast, where Boko Haram militants are reported to have launched several attacks on election day. Fisas said he couldn't have justified sending any observers there.
"I am not ready to send my people there to be killed," Fisas said.