Ebola Patients Threaten To Leave Treatment Wards During Health Worker Strike
The health workers in Liberia's Ebola wards want more equitable hazard pay and more timely salaries. Liberia's health minister says they're welcome to stay home.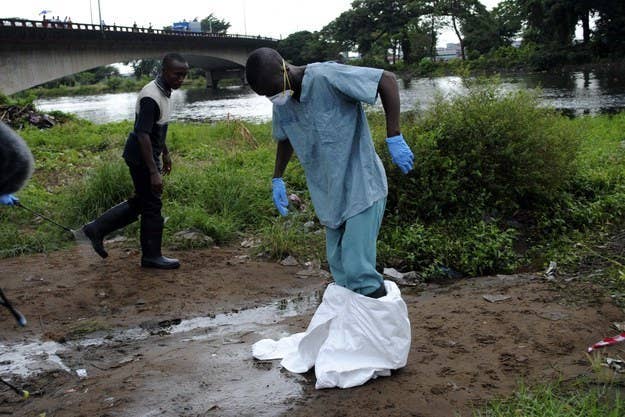 MONROVIA, Liberia — When some of Liberia's health workers made good on their promise to strike, things in the Liberian capital got ugly quickly.
Some of them threatened last week to strike unless the government adjusted their hazard pay. Liberia's health workers are on the front lines of the country's response to Ebola, the fast-moving virus that's killed nearly 4,500 people in West Africa since March, and they gave the government until Friday, Oct. 10, to make a move.
It didn't, and on Saturday, some of the staff that Liberia's Ebola treatment wards depend on stopped coming to work.
By Monday, the strike was official — and Liberia's Ebola patients were pissed.
"We decided to control the epidemic, as soon as we noticed symptoms, we [came here to] avoid further spreading," one patient said on a radio station run by the United Nations peacekeeping operation here, which goes by the acronym UNMIL.
"We need water. We have money on us. We're asking them to honor us, to buy us water," he said, calling from the Ebola treatment ward at the John F. Kennedy Memorial hospital, which is Liberia's largest referral facility.
"The situation is pathetic," another patient, Emmanuel Wolbah, told UNMIL radio by telephone from the same Ebola ward. "We are not dead yet."
As others pled, Wolbah lost patience. "We are not waiting for anything. We'll go find food and water for ourselves," he said. "There will be Ebola patients in the streets. We'll go find our own food."
President Ellen Johnson Sirleaf visited Monrovia's Ebola treatment centers on Monday, coaxing most of the striking health workers back to their units. Strike leaders also say they agreed to let their colleagues relent.
"We decided to follow Solomon's wisdom," said George Williams, the secretary-general of the National Association of Health Workers in Liberia (NAHWL), which had helped spearhead the strike. "Liberia is a baby. The government is one mother, the health leadership is another. We agreed to work while the rest of the issues are being negotiated."
Those issues include changes to hazard pay structures, concerns about newly promised death insurance benefits, and the dismissal by the ministry of Williams and a colleague, who together lead the NAHWL.
Patients weren't the only ones airing their anger this week. Liberia's health minister, Walter T. Gwenigale, lashed out against health workers at a press conference, threatening to fire anyone who didn't go back to work — at a time when trained health care professionals willing to work with Ebola patients are still fairly hard to come by.
"Well, they better just stay home forever," Gwenigale said of the striking workers. Health workers' income, he said, "is performance-based. You are paid because you perform. If you do not perform, you will not get paid."
He then threatened to fire any health workers for whom he could find substitutes, if he found subs before the workers returned to their jobs.
The strike taps into long-standing animosity between health workers and the health ministry, in part surrounding Gwenigale's firing of the NAHWL leaders. Gwenigale was held in contempt of Parliament this week, after yet another refusal to reinstate the two fired health workers. He is expected to answer the contempt charge next week.