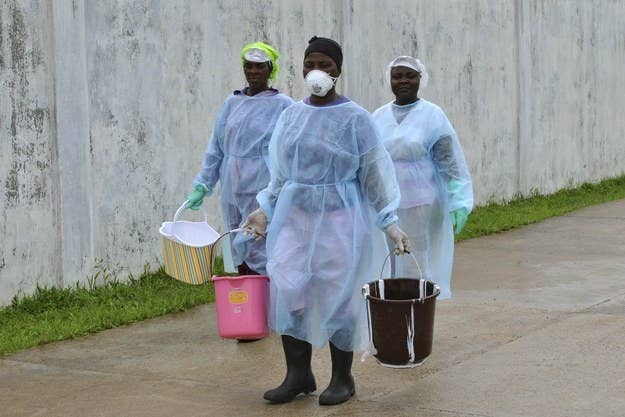 A Liberian man who has tested positive for Ebola in Texas lied on his exit form and may face prosecution, a Liberian official has said.
Thomas Eric Duncan left Liberia for the United States, via Brussels, on Sept. 19 and developed symptoms on Sept. 24. He was isolated at a hospital in Dallas, Texas, on Sept. 28, according to the Centers for Disease Control and Prevention (CDC). The CDC confirmed an Ebola diagnosis on Oct. 1.
"False declaration is an offense here in Liberia; this man lied about his activities in a questionnaire screening form we have at the airport, so he must face prosecution," Liberia Airport Authority Board Chairman Binyah Kesselly said at a news conference in Monrovia on Thursday.
A copy of Duncan's exit paperwork, obtained from a government source by BuzzFeed News, confirms that Duncan denied contact with people known to have died of Ebola.
Download PDF
Duncan's neighbors say he helped to transport a sick pregnant 19-year-old woman to the hospital — and back again when she was refused admittance. Ebola treatment units in Liberia are often filled to capacity, and ordinary hospitals without isolation facilities won't admit patients showing symptoms of the disease.
The woman died on Sept. 16, three days before Duncan's departure, according to local newspaper FrontPage Africa.
Nora Gleyah, a relative of the woman, said her diagnosis was never confirmed by a health team, and the woman was quickly buried normally. But Gleyah has no doubt about the disease: "Really, it is proven it is Ebola, because all those who went near the body have started getting sick and they are dying," she told FrontPage Africa.
Duncan lived in Paynesville, on the outskirts of the Liberian capital, in a house a few meters from the deceased woman. A caretaker who washed her bedsheets after she died also fell ill and died.
Assistant Health Minister Tolbert Nyenswah told a press conference Thursday that the man's contagiousness, in Liberia at least, was limited because he was not symptomatic at the time he left the country.
Kesselly, of the airport authority, said that passenger noncompliance with exit procedures raises the prospect of a stricter security response.
"Knowingly making false declaration is not a joke. We ask you these things because we don't want a police state where everybody is put under a hundred percent quarantine, where we can follow you every minute of the day to monitor every movement that you make," Kesselly said. "We expect people to do the honorable thing."