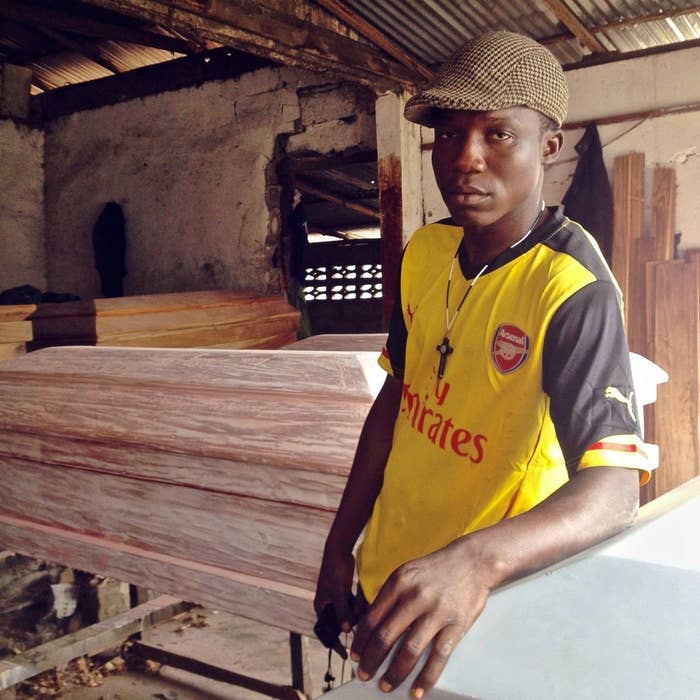 MONROVIA, Liberia — It's late in the afternoon, and there are plenty of places to park on Lynch Street.
"Casket Row," like so many of the capital's usually bustling commercial streets, is essentially empty. Since the outbreak of Ebola, and the state of emergency that followed, the overcrowded city's congestion has thinned. Shops are open, but few customers browse inside. Most of the people bustling around the city's major market most days are sellers.
It takes only 20 minutes to get from one side of town to the other, a trip that in normal times — when people are working, traffic is jammed and everyone is full of hustle, not fear — takes a good hour or two.
Business everywhere is slow, but the men who feel it most are Monrovia's coffin makers. Amid the biggest outbreak ever of one of the deadliest diseases on earth, they've sold nary a thing.
"There no business — no business at all since Ebola," said Sam Agyare, who runs one coffin shop on Lynch Street. "People don't put the body in a casket like before."
For weeks, the Liberian government and local and international health care workers have been trying to get people to break their normal burial habits. Ebola is transmitted through bodily fluids, and it's most dangerous after it kills a patient. Their bodies are hugely contagious, human cluster bombs of virus waiting for the touch of a new, live host. So no one touches dead bodies in Monrovia anymore. They call a national hotline to report a death, they wait a day or two for someone to test it, and they wait a day or two more for a burial team to clear it.
Finally, the message to leave the dead where they lie has broken through. People call the hotline about loved ones and neighbors who die for any reason, because no one knows who has what anymore, and everyone is afraid.
But no matter what a person died of, the family never calls Agyare.
Agyare is 51, and he's been in this business for 20 years. In an average week, Agyare used to sell four or five caskets. Since the end of July, he's only sold one. Business hasn't been this bad since Liberia's civil war, the last time burying the dead meant taking a lethal risk.
Abraham Willie, 25, has seen a drop in business too. His shop supplies coffins to the John F. Kennedy Memorial Hospital, Monrovia's biggest and best. Families without the cash for a funeral would leave a body there, and the hospital would buy one of Willie's cheapest caskets, a thick, whitewashed box with a rounded lid, for about $80.
But the hospital closed for two weeks, after its lead doctor died of Ebola he contracted from a patient. It reopened in limited capacity — for emergencies, including childbirth — last week.
But things at Willie's shop are still slow. Willie says it's because of the outbreak.
"What we heard is the Ebola dead, you can't bury them," he said.
Jacob M. Darsw, 37, is a tailor. He sells "family blankets," the decorative fabrics Liberians lay on top of a casket during a funeral. Or he did, before the disease came. He hasn't sold a thing in two weeks.
Slow business has made the end of Darsw's days depressing. He knows he'll find his three daughters at home — schools have been closed since the state of emergency declared on August 6 — and he knows they'll be looking at him with eager eyes, hoping he holds a plastic bag, the telltale sign of a Liberian father who brought a few treats — juices, maybe a small snack cake — home at the end of the day.
"They'll be home wanting for me to bring a plastic bag, but nothing happening here, so nothing happening there," Darsw said.
Esau Thalley, 34, has been managing the biggest shop on the street for six years. He's never seen it this quiet.
"You can see all this here," he says, gesturing to the shop he's let fall into clutter because no customers come, coffins angled every which way. "You see me. You see me working?"
This is usually is busiest time of year, and he should be selling 10, 12 coffins a week.
"In rainy season plenty people used to die in Liberia," he said. "Malaria. Diarrhea. Cold — just cold. Now, anybody die in the house, they say it's Ebola patient, even he been sick for four, five months. There are no more funerals."
He's right, far as a foreigner can tell. The city's most high-class funeral home, across the street from one of the city's new additional Ebola wards, hasn't held a service in nearly three weeks, according to one employee; the coffin makers say they haven't supplied any other funeral home since the state of emergency, declared August 6, either.
With things so quiet, Agyare is going to close his shop, maybe go into making furniture. Thalley has cut his staff from 11 down to one, but a few of them still come and hang around the shop and hang around anyway.
The rest of the time, Thalley says, Ebola has made beggars out of them.
"We don't even have food now, so you to friends and ask everyone, 'Can I even get small thing to pay my way today?' And the next day, you can't go back there again," he said.