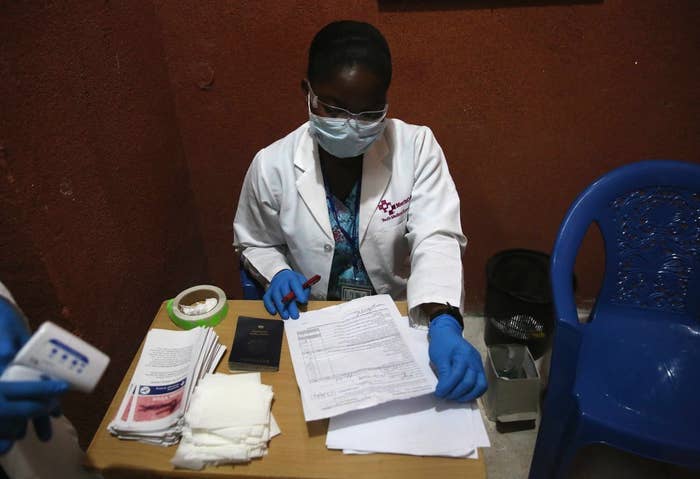 MONROVIA — Virtually everyone in Liberia agrees on a new, stunning fact: Ebola cases in Liberia are dropping.
"New case numbers are going down. Admissions into ETUs [Ebola treatment units] are going down ... The amount of bodies being picked up is going down," said James Dorbor Jallah, the deputy incident manager at the National Ebola Command Center in Monrovia, the capital of Liberia.
Data analysts, body removal teams, ETU managers, and other health officials confirmed Jallah's assessment. And any Liberian you pass on the increasingly busy streets of Monrovia will say they notice that the shrill peal of ambulance sirens cuts through the humidity much less often than it did two or three months ago, when Liberia's caseload was exploding.
Back then, symptomatic patients might sit for hours outside an Ebola ward, waiting for a bed. Today, 50% of the beds in those wards are empty.
There's been a big expansion in bed space in those two months, to be sure, but health officials here say the good news about case numbers isn't simply a sleight of hand around ratios: Ebola cases are, in fact, on the decline.
"I'm not only finding it to be true; I want it to be true," said Dr. Moses Massaquoi, who leads case management for Ebola response and oversees the country's ETUs.
With international assistance, Monrovia, an epicenter of the outbreak, should have 1,000 beds available by early November. "Some of those," Massaquoi said, looking over Ebola case data, "we won't actually need."
Up north, in Lofa County, which was ground zero of Liberia's outbreak, new Ebola cases have reportedly slowed to a trickle. "It's dramatic," Assistant Minister of Health Tolbert Nyenswah told BuzzFeed News. "There have been no new cases there in two weeks." Right now, there are only four patients in a 150-bed ETU in Foya, the capital of Lofa County, according to internal health figures updated yesterday.
The news from the north is not only dramatic; it's symbolic. Lofa County — one of the worst hit parts of the country and the entry point for the disease — borders Guinea and Sierra Leone, the two other countries most affected by a regional outbreak that's killed 4,869 people and infected a likely total of 9,915 so far, in cases that have spread to Senegal, Spain, and the United States.
But numbers are tricky prisms of reality, and even if everyone agrees that the case numbers are dropping off, not everyone agrees on why — or whether the threat from Ebola is dropping off too.
In fact, there's no one in Liberia who actually knows exactly how many people have died of Ebola.
To understand why, you have to understand how Liberia counts its Ebola dead. There's one set of numbers — the one that gets reported everywhere — that offers a snapshot of what's happening, as far as anyone knows, on a given day.
In Liberia, that snapshot is called the SitRep, short for "situation report." Every county emails the new cases it finds every day (though the SitRep itself is often published only twice or so a week, because there's just not enough man power to keep up). These daily figures get added up and forwarded to the World Health Organization (WHO), which every week or so updates the world on the total number of cases across West Africa.
But trying to picture what Ebola is doing through those daily snapshots is a little bit like trying to guess how a finished painting will look by peeking at the painter's palette.
If you really want to know what Ebola is doing, you have to talk to Mike Mulbah. He works on the Ministry of Health's team for epidemiological surveillance — science-speak for collecting and analyzing Ebola data — and oversees a team that collects more detailed case reports.
They match those reports with Ebola lab results to get a better picture of real number of cases, and deaths, in Liberia.
Here's why what Mulbah does is important: Say a patient shows up at an ETU. He complains of early symptoms like fever and headache. He says his brother died at home last week and the family thinks the brother had Ebola. He'll be admitted, and he'll get counted in that day's SitRep as a "probable" Ebola case.
In the ETU, the patient will get a blood test, and the lab results will come back in a day or two. If the patient doesn't have Ebola, he's discharged. If he does have Ebola, he's treated — and he's reclassified by Mulbah's team from a "probable" case to a "confirmed" case.
If he lives, he's counted as an Ebola survivor. If he dies, he's counted as a confirmed Ebola death.
But all of that hinges on the lab results — which is why no one in Liberia knows exactly how many Ebola deaths there have been. Back in late August or early September (health officials remember varying dates), Liberia stopped testing dead bodies.
There were good, if frustrating, reasons for that: The caseload was too high to be able to test blood from both living patients and dead bodies, so the Health Ministry prioritized confirming living patients. It was a choice many specialists supported — but one that nonetheless means the country may never know the real number of Ebola deaths.
"If there's no specimen, there's no way to determine if it's Ebola or not Ebola," Mulbah said.
Several health officials and a burial team leader told BuzzFeed News that the government still has not resumed lab-testing corpses.
Public health statistics are always an approximation, suffering from underreporting. The U.S. Centers for Disease Control tried to estimate how much underreporting there really is in this Ebola outbreak, with limited success.
Mundane hiccups can cause underreporting too. Some counties have to do their long-form reports by hand, and those take longer to arrive in Monrovia and get typed into the system. Last week, the CDC, which assists the Liberian government with labs, was sending test results to the wrong email address, meaning the Health Ministry couldn't update its confirmed death figures.
But some of Liberia's top Ebola responders say they are more worried about overestimation.
"The estimates we are getting are totally wrong," said Jallah, at the National Ebola Command Center, "Not 'probably' higher — they are definitely higher than the actual numbers."
In particular, Jallah objected to the CDC and WHO's projections. Last month, the CDC projected that, with no intervention, 1.4 million cases could be seen by mid-January. And last week, Dr. Bruce Alyward, the assistant director-general of the WHO said he expects to see between 5,000 and 10,000 cases a week in the region by mid-December.
"For the WHO, we understand, they want to raise money," Jallah said. "But it's good to raise money while clarifying the facts. Sometimes they themselves make this statement without laying the emphasis on 'if nothing happens.'"
The WHO refused repeated requests for comment.
Still, health officials here are cautious about the good news. After all, this isn't the first time Liberia saw the figures drop. Earlier this year, when most of the cases were still in Lofa County, cases also began to decline — but then the virus popped up in Monrovia, and it's torn through the country since. Liberia won't be Ebola-free until there's not a single new case, anywhere in the country, for 42 days.
And Liberia isn't facing Ebola alone. Even if Liberia can zero out Ebola, its neighbors may not work as quickly, and fighting a return of the disease would require a well-organized security plan and ongoing preparedness to do the hard legwork quickly that can contain the disease, Massaquoi said.
Alyward of the WHO warned at a press conference last week that when cases stagnate, as they are right now across the region, "you're going to have to really put pressure on this virus to get to zero." CDC staff in Monrovia say that even if numbers start to drop, basic Ebola control methods like contact tracing and awareness-raising remain critical.
But as the data gets clearer, Liberia's leaders in Ebola response are confident that the drop is real — and not because people are now avoiding ETUs or secretly burying bodies on a mass scale, for example.
"What we saw [in August] was people dashing dead bodies on the street [rather than bury them]. You can't tell me that you change that behavior suddenly," Massaquoi said. "It's not rocket science. You don't have to think too hard. Don't burn your neurons for nothing."