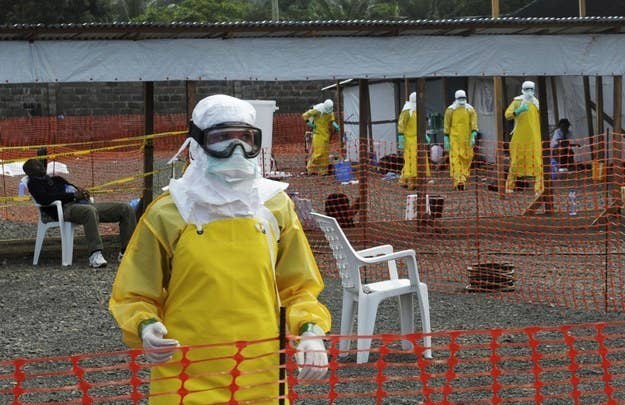 A recent outbreak of Ebola in the Democratic Republic of Congo (DRC) is not related to the ongoing crisis in West Africa, according to the World Health Organization (WHO)
West Africa has been battling the world's biggest outbreak — and West Africa's first — of the deadly virus. More than 3,000 cases have been reported in four countries in the region, and more than 1,500 people have died.
"At this time, it is believed that the outbreak in DRC is unrelated to the ongoing outbreak in west Africa," the WHO said in a statement.
The DRC reported to the WHO on Tuesday that its northern Equateur Province had seen 24 cases of suspected Ebola. The DRC reported that the cases originated with a pregnant woman who butchered an unidentified animal her husband had hunted and then fell ill with symptoms of Ebola — in particular, fever and hemorrhaging.
The 24 cases are all relatives of the deceased woman or health workers from the clinic where she sought treatment. Thirteen of them have died; the rest are being treated in an isolation ward, according to the WHO.
The WHO said that samples of the woman's blood are being analyzed in a laboratory in Gabon to confirm the fever that killed her was indeed Ebola and to determine the precise strain of the virus, but neither the woman nor any of 23 others also infected, nor their contacts, have traveled to West Africa, the WHO said.
That would make it virtually impossible for the disease to have "spread" from West Africa to DRC.
In public health terms, the deceased pregnant woman is the "index case" — the first person to contract the disease. Identifying the index case helps public health officials know when, where and how Ebola was transmitted. The virus is generally thought to be carried by monkeys or fruit bats, though its origins still remain a mystery.
No index case has been identified in the West Africa outbreak, and the strain of Ebola that has appeared there is new, according to a team of French scientists who analyzed genetic material blood samples from 20 patients in Guinea and published their findings in April.
The outbreak in West Africa began in Guinea, where the first presumed death was last December, and has since spread through land travel and contacts to Sierra Leone and Liberia. Late last month, an infected airline passenger from Liberia traveled to Nigeria and died in Lagos. So far, Nigeria's exposure — 16 suspected or confirmed cases, and 5 deaths — has been limited.
Unlike West Africa, the DRC is no stranger to Ebola. The disease first appeared near Kinshasa, the capital, in 1976. The country has since battled several outbreaks; this is its seventh.
5:27 a.m. ET — This post was updated to reflect the latest Ebola statistics released by the WHO at 5:20 am. ET.