China Finally Passes A National Law Against Domestic Violence
The new law goes into effect March 1 — but it doesn't cover sexual violence, and it doesn't protect people in same-sex partnerships.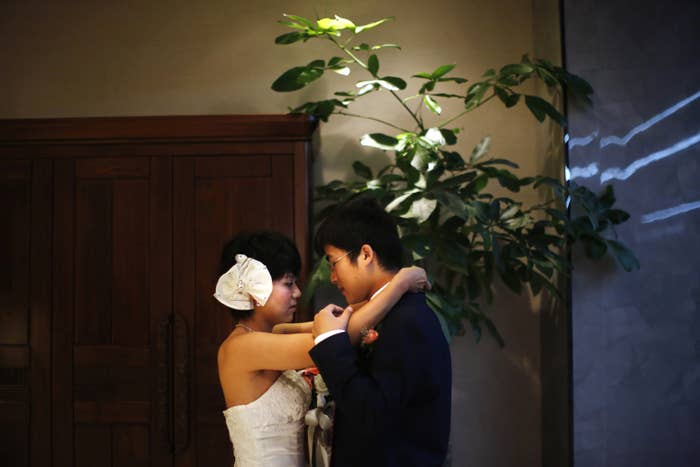 The Chinese parliament on Sunday passed the country's first law criminalizing domestic violence, but a state official says the law will not protect gay, lesbian or transgender people.
The law covers relationships between married couples and between cohabitants, or unrelated people who live together. But Guo Linmao, a member of the parliament's Legislative Affairs Commission, said the scope of "cohabitation" does not include people in same-sex partnerships, which are not legally recognized by the Chinese government.
"We have not yet discovered this form of violence," Linmao said at a news conference, according to Reuters, "[so] it can be said that people who cohabit does not include homosexuals."
A 2010 study by the lesbian and bisexual advocacy organization Tongyu found that 70% of gay women in China experienced physical or mental abuse, and that parents were the most common perpetrators of that violence.
The government solicited input on a draft of the law it released last year. Activists pushed to expand the draft law's definition of violence to include emotional and psychological violence, which the final law does cover, and sexual violence and financial control, which it does not.

The new law requires that courts rule on requests for protection orders within 72 hours and stipulates that "urgent" cases must be handled within 24 hours, according to state-run Xinhua news. The law also allows family members and organizations to file for a protection order on behalf of a victim.
The All-China Women's Foundation, which is part of the Communist Party, last year found that nearly 40% of women between ages 18 to 49 had experienced physical, emotional or sexual violence from an intimate partner, but only 7% had reported that abuse to the police.