Car Bomb Kills 4 In Nairobi, First Attack Since Kenya Launched "Terror Crackdown"
In response, a high-ranking Kenya police officer said, "I fully declare war."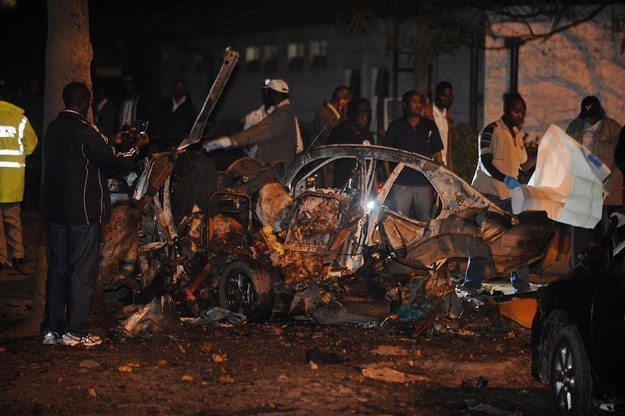 NAIROBI — A car bomb killed four people outside Pangani police station in Nairobi late on Wednesday, in the first attack in the capital since Kenya launched an "anti-terror operation" that has seen it round up thousands of immigrants.
Two police officers were among those killed.
"Operation Usalama Watch" is aimed broadly at reducing terrorism by uncovering illegal immigrants and sending refugees back to refugee camps in Kenya's north. It was launched on April 4 in response to three simultaneous bombings on March 31 in Eastleigh, a neighborhood in Nairobi populated largely by Somalis. The bombings were the latest in a wave of terrorism — nearly 45 incidents in the last three years — that includes last September's attack by the Somali terror group al-Shabaab on the upscale Westgate shopping mall, in which 67 people were killed.
The officers who died in the explosion Wednesday night had impounded the vehicle for driving erratically, according to David Kimaiyo, the inspector general of Kenya's National Police Service, who tweeted about the explosion Wednesday night.
Two National Police officers entered the vehicle to escort it to Pangani police station, which serves the Eastleigh neighborhood, and a patrol car followed behind.
The car reportedly exploded as it entered the police compound.
On Thursday afternoon, a vehicle abandoned in Pangani was suspect to contain explosives, according to the Daily Nation.
Kenya has come under criticism from its Somali community and from human rights groups for ethnic profiling in its anti-terror sweeps. Also yesterday, the government announced that it would expand the sweeps to Nairobi's upscale neighborhoods.
Police have said the operation will continue indefinitely. Kimaiyo, last night, stepped the rhetoric up when he "fully declare[d] war."