Advocates Call On United Nations To End Immunity For Sex Crimes
Critics say a 1946 convention has turned into a blank check for sexual predators.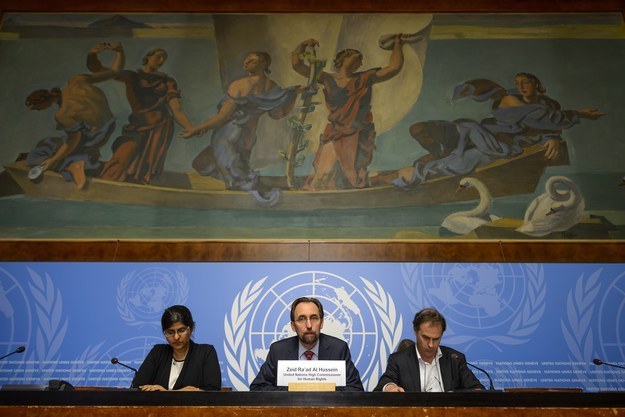 A former United Nations peacekeeping force commander on Wednesday advocated abolishing immunity for UN peacekeeping operations personnel who are accused of sexual abuse.
Retired Lt-Gen Romeo Dallaire, who headed the UN force in Rwanda during the 1994 genocide, joined an international panel of former diplomats who recently launched a campaign to revoke that immunity and to establish an independent commission to investigate allegations of sexual exploitation by UN troops and staff.
"Nothing can undermine the credibility of a force more than when we see those who are there to protect actually abusing and destroying and in fact benefitting in certain cases from the abuse of women and children, male and female, in theaters of operations," Dallaire said at a press conference held by the advocates.
The "Code Blue" campaign launched just weeks after a UN employee was suspended for leaking a report about sexual abuse of children by French troops serving in the Central African Republic (CAR). The troops were not serving under a UN mission at the time — the United Nations force deployed after the incident under investigation.
Last year, there were 79 allegations of sexual exploitation or abuse received by the UN, a drop from 93 the previous year. Of those, 51 accused UN military or civilian personnel, according to a February report by the UN Secretary-General. (In the UN reporting system, an allegation can include more than one victim, and more than one perpetrator, but the report does not detail the total number of alleged perpetrators or victims.)
At issue is the immunity awarded to civilian UN staff by a 1946 convention, which also gives the UN Secretary-General the power to revoke immunity "in any case where, in his opinion, the immunity would impede the course of justice."
"And that's the dangerous window of time, when the accused and his friends learn of an allegation… and they're waiting to find out whether the secretary-general will waive his immunity," Paula Donovan, co-founder of AIDS-Free World, which is spearheading the campaign, told BuzzFeed News by telephone. "During that period, you can destroy evidence….threaten or intimidate witnesses, [or] bribe witnesses."
Donovan said an official in the secretary-general's office told her that the secretary-general waives immunity in every case of sexual violence. "Then get rid of the immunity," Donovan said. "Don't even put that obstacle in the way. Eliminate it completely."
The UN Secretary General's office said that the organization has waived immunity "many times."
Stephane Dujarric, spokesman for the UN secretary general, also told BuzzFeed in an email: "This immunity does not apply [to] their outside activities. Therefore, any staff that commits a criminal offence (rape, assault, car jacking) does not benefit from immunity. We would expect the staff member to face justice either in the country was the crime was committed or in their home country."
Nick Birnback, spokesman for the UN Department of Peacekeeping Operations, said the question is less about immunity than it is about jurisdiction. "The only question is which law applies," Birnback told BuzzFeed News. "This boils down to which jurisdiction, the host state or the state of nationality of the alleged offender, affords the individual due process and ensures the greatest likelihood that justice will be done."
Birnback said the immunity protects UN personnel from harassment or prosecution "for just doing their job." He also said that a blanket revocation of immunity "could paralyze UN operations around the world… An example could be arresting a human rights officers for trespassing if they go to visit a prison, or a UN police officer for protecting civilians in a violent disturbance."
But Donovan says the recent revelations in the CAR demonstrate how that same immunity can interfere with investigations of sexual abuse reports. The leaked report was based on interviews by a UN staff member, said Donovan, who had been given a copy of the report and later shared it with the media.
French authorities have tried to interview the UN staffer who took the children's statements, but the UN has twice refused the request, despite the staffer's willingness to speak with them, citing immunity, French authorities told the Guardian.
"The UN hierarchy refused this questioning, indicating that the functionary benefited from immunity that had to be lifted before any questioning," the prosecutor's office told the Guardian.
"Not only are you immune if you're accused," Donovan said, "but you're immune if you're a witness to sexual exploitation and abuse. You're immune from even being involved."
Dujarric said the UN has been cooperating fully and denied that immunity had been at issue.
Dallaire said there are also obstructions when military personnel, rather than civilians, in UN missions are accused of abuse. "More often than not, instead of doing a full-fledged investigation, you simply see a plane arriving and a bunch of people disappearing," he said.
Birnback said that the peacekeeping department has made improvements. "Our incidents have gone down; our reporting has improved," he said. "Ultimately [member states are] responsible for the conduct and discipline of their forces."
Dallaire, however, said that the UN peacekeeping authority has more power on this matter than it uses — in this case, to tie an immunity waiver to participating in a peacekeeping mission.
"The countries are providing the troops under an MOU [memorandum of understanding] to the UN….so the question will be whether or not, when the countries enter the MOU, whether the UN will establish as one of the criteria of the MOU this immunity question. And that is, certainly, I think up for grabs," he said in a call with reporters.
Dallaire said that even with an immunity waiver in sexual abuse cases, countries will still want to participate in peacekeeping missions.
"When people tell me if you try to put too much on troop-contributing nations they're not going to contribute, that is BS," he said. "That is holding the UN to ransom on an argument that doesn't hold water. There are troops that are available; countries that want to provide them, and countries that are responsible want to professionalize their military through good training, good experience and in fact want the credibility of the forces in their country to be held in high esteem. They'll send the troops."