A Popular Kenyan Radio Host Blamed An Alleged Rape Victim And Kenyans Didn't Like It
He tried to walk it back, deleted his tweet and apologized to some of his critics.
A Kenyan Parliament member (MP) has been accused of raping a woman who worked for him. The news broke on Monday and a popular Kenyan radio host known as Churchill had questions.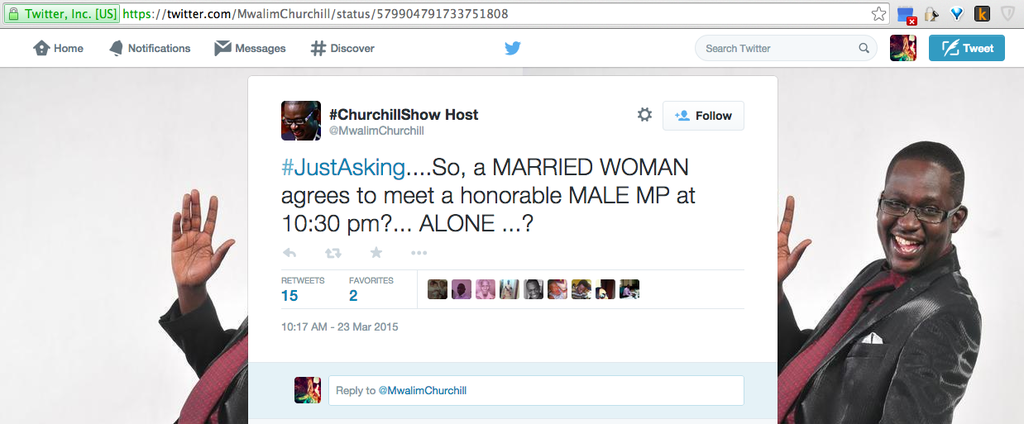 The victim-blaming language in Churchill's question didn't sit well with Kenyans on Twitter. Their first reaction: Really?
Some fought the victim-blaming premise.
Some sought to educate the host.
Churchill responded. He clarified his tweet — or he walked it back, depending on your perspective.
He also blocked some of his critics.
He apologized to others.
And he deleted the tweet.

Some wondered whether media sensationalism was a ratings strategy — and where the limits should be.
Not everyone believed it was a misunderstanding, or that the apology for "rubbing [people] the wrong way" was enough. Others suspected it was outright disingenuous.
And there were those who thought they got his meaning the first time.
Even those who didn't question the apology had mixed reactions.
But the flare-up is the latest in a series of events that has Kenya confronting and debating women's rights.
A year ago, debate erupted after the Kenyan parliament passed a polygamy law. Last June, rural Kenyans took to the streets to demand justice for a 16-year-old gang-rape victim.
And in November, women in Nairobi organized a "mini-skirt rally" after a series of attacks on female bus customers who male co-passengers thought weren't "appropriately" dressed. They organized around the hashtag #MyDressMyChoice, which has outlived the rally — getting picked up, for example, by the World Bank — and even seems to have played a role in accountability for the alleged attacks by Kenyan prosecutors and courts.
But every time these stories hit big, there's a real and difficult debate, one that's really about women's agency and autonomy.
You know, the same debate women's rights are subjected to all over the world.