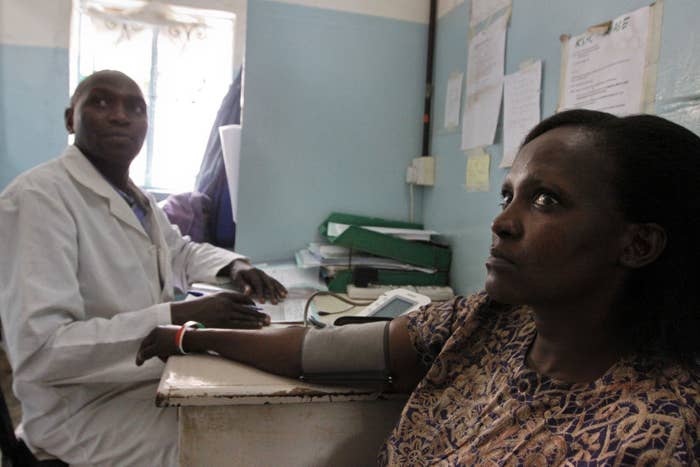 A new study suggests that combining family planning services with other medical care can improve women's health — just as the Trump administration prepares for dramatic cuts in health funding that could roll back these and other gains.
The study, conducted over two years at 18 clinics in Kenya and published today in the journal PLOS One, found that pregnancy rates went down by as much as 30% among women who were offered family planning services during their other medical appointments — in this case, appointments related to care for HIV.
The study also found an increase in the sustained use of "more effective" contraceptive methods, ranging from birth control pills, to injections, to IUDs, to implants, all considered more effective at preventing pregnancy than condoms alone.
"This work comes from a place that women have a right to determine their reproductive health choices around if and when they want to get pregnant, and
we should support them," said the study's lead author, Dr. Craig Cohen. "Also, those women who have some infertility [challenges] — we should be helping those individuals, when they want to, to get pregnant as well."
Cohen, a professor of obstetrics and gynecology at the University of California San Francisco School of Medicine, has been working on reproductive health in Kenya since 1994.
Cohen's latest work, produced in close collaboration with the Kenya Medical Research Institute and funded by the Bill and Melinda Gates Foundation, is the first study to find conclusively that integrating family planning into a "one-stop-shop model" is effective at preventing pregnancy and meaningfully increasing contraceptive use — but the finding comes at a time when US global health aid is highly politicized, and severe family planning cutbacks are expected.
One of Trump's first acts in office was to reinstate the so-called global gag rule, a Reagan-era policy that prohibits recipients of US foreign aid from using any of their other, non-US funds to perform, support, or offer counseling or referrals about abortion services. The US is the single largest donor to family planning in the world, but the latest version of the rule would cordon off even more money than that: Trump's version is broader than his predecessors', affecting all US global health aid, not just family planning funding.
Trump's proposed federal budget, meanwhile, would cut US diplomacy and foreign aid funds by 28%, and experts fear these cuts could roll back major public health gains of the last years.
It's not the first time Cohen's work has found itself in the center of political debate. This study was initially supposed to be funded by money from the President's Emergency Plan for AIDS Relief (PEPFAR), initiated by President George W. Bush, but he said the funding for the study was revoked in the waning days of that administration — the last one, before Trump, to invoke the global gag rule and to sustain political sensitivities around family planning services.
If Trump's global gag rule rolls out as expected, it could pose major problems for the model that the study proved was successful. In the public health world, its success is a big deal: There's lots of different ideas about how to "integrate" family planning services, and groups like the World Health Organization have long thought that "linking" services — referring a woman from the exam room to a family planning clinic just down the road, or across the hall — is as effective as combining them into a "one-stop shop."
"There wasn't any real empiric evidence that one model was better than the other. No one had ever done a definitive scientific study [like the one] that we have done," Cohen said. "It's important to test various models head to head and not just presume that all are equal or one might be better than the other."

In this case, combining services into one appointment had significantly better results than the referral or "linking" system. In that system, said co-author Dr. Dan Grossman, "women get lost along the way."
Family planning clinics often have different hours than primary care providers, so women have to make a second trip — which means shelling out yet more money for transportation, a significant burden for low-income women, or organizing child care, or taking time off work.
"The barriers mount up, with the end result being women aren't able to get the contraceptive method that they want," Grossman said.
If clinics that use the integrated model don't sign on to the global gag rule, it could mean the dissolution of the system. US funding supports many aspects of health care in developing countries, and USAID is one of the largest purchasers and donors of contraceptive supplies around the world.
"They would end up having to go back to the referral model, which we were comparing [integration] to in Kenya, and that just doesn't work as well," Grossman said.