This Man Has Driven 45,000 Miles To Sell Donald Trump Badges
"Trump is the only one who would make money."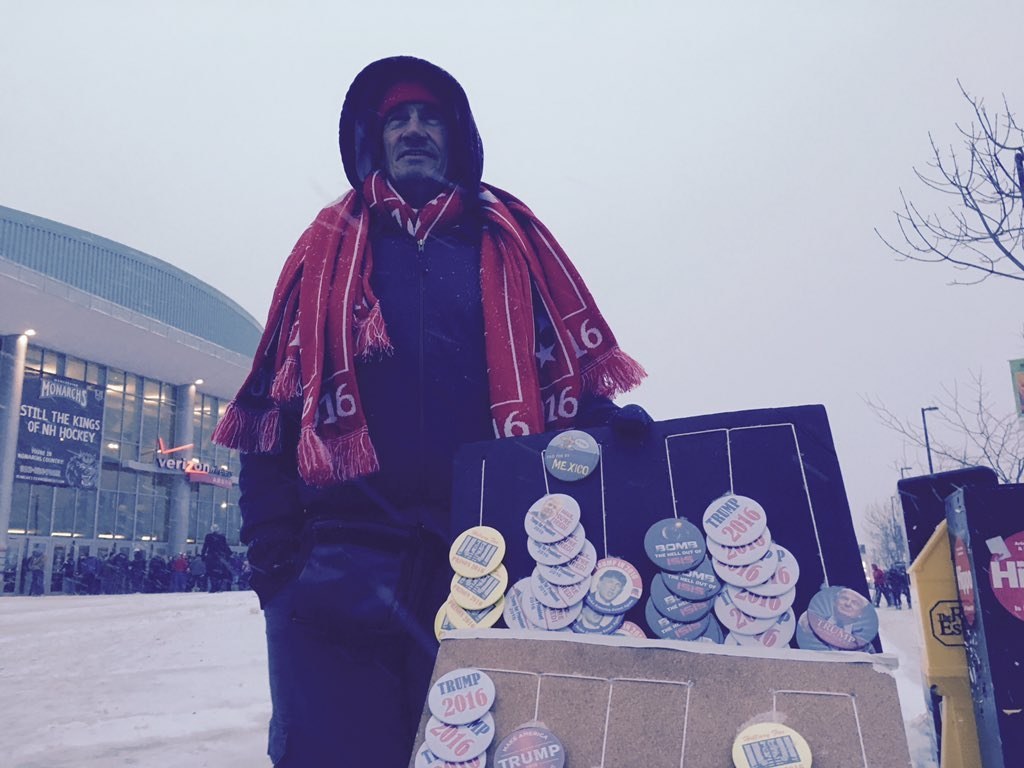 MANCHESTER, N.H. – Donald Trump may think he's a good dealmaker, but outside his mega-rally in New Hampshire on Monday night the Republican candidate had a rival in the form of David Dixon, who was offering three Trump-branded badges for just $10.
Dixon, 57, ignored the snowstorm to sell a range of Trump-branded goods to Republicans waiting in the freezing conditions outside the Verizon Arena. Goods included badges featuring Hillary Clinton being locked up in prison, as well as sombrero-wearing Mexicans poking their heads over the top of a newly-built US border wall. Other top sellers includes "Make America Great Again" baseball caps and "Trump 2016" scarves.
Because wherever the Republican presidential candidate goes on the campaign trail in Trump Force One, Dixon follows behind in his car, hoping to make a thin profit
"Since September I've driven 45,000 miles," he told BuzzFeed News outside the venue. "It's a lot of miles. I know Iowa well."
But this small business owner from Sarasota in Florida says his job is living the American dream: "I work for myself, and I get the merchandise made. It's just a numbers game and Trump has been good all along. The big crowds [matter]: if you get 300 you lose money, if you get 3,000 you just about break even and if you get 20,000 you make a lot of money."
Still, he sees clear favourites when it comes to particular products: "The knock-off of the old Eisenhower button sells 2:1 over everything else. That 'Hillary for Prison' has been pretty popular since we put that in, and I just started with the 'Bomb the hell out of ISIS' – some of the other vendors had it and it's selling really good."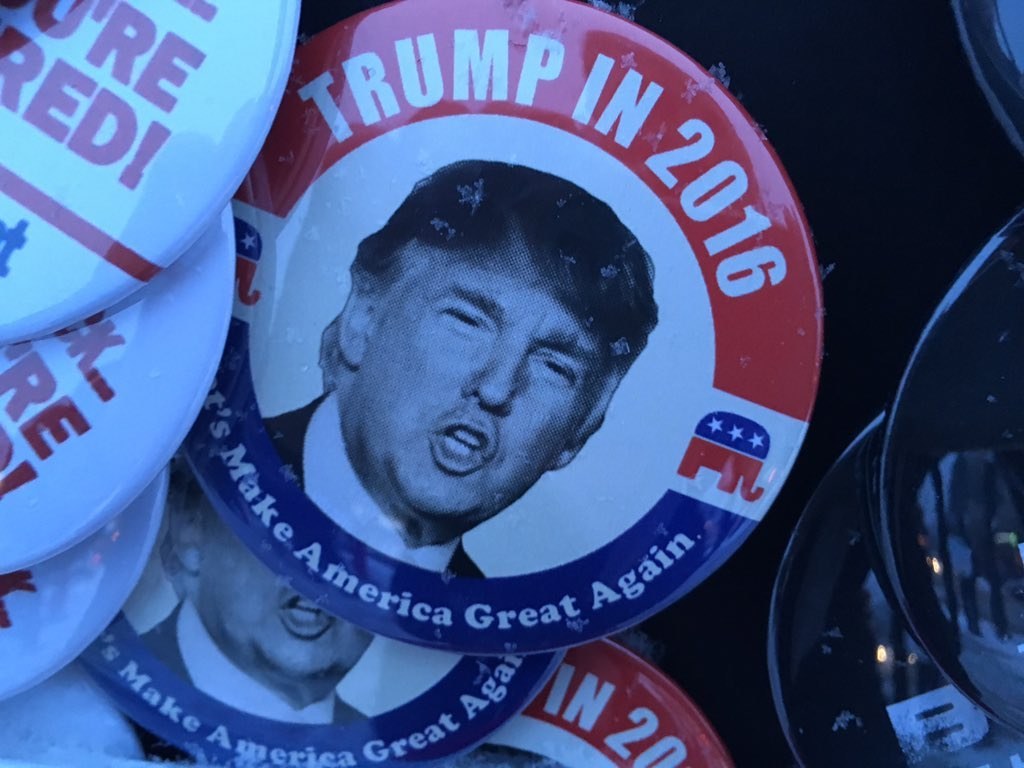 Trump's success led to a small army of Trump merchandise sellers hawking items outside the venue in Manchester's downtown arena. While Trump was on stage repeating a claim his rival Ted Cruz was "a pussy", wooly Trump hats went for $30 and scarves were $20. Trump-branded foam hands were also available.
Dixon – who spent the 2012 campaign selling Mitt Romney merchandise – is preparing to take an entire year on the road selling merchandise to Republicans after right-wing political goods. He's now even backing the former Apprentice presenter for the top job: "I've come around to him. I think someone needs to shake Washington up because Washington is broken. Whether he's the man to fix Washington up I don't know, but for sure he will change things."
But more than anything, the salesman hoping Trump stays in the race, or else he could be left with a lot of unsold goods: "It's like any business – you take the risk of being a businessperson and you have all the merchandise which is useless."
And The Donald is the only presidential candidate with the pulling power to make merchandise truly profitable: "Trump is the only one who would make money, you would lose money on all the other candidates. When it gets to the general election whoever is the nominee will make money because it strictly comes down to numbers. If you get 9,000 in the crowd you'll make money and if you get 20,000 you make really good money."