Sanders Playing Catch-Up To Clinton With Asian Voters In Nevada
The Sanders campaign claims to be gaining among Nevada's Latino voters – but what about the Asian American population?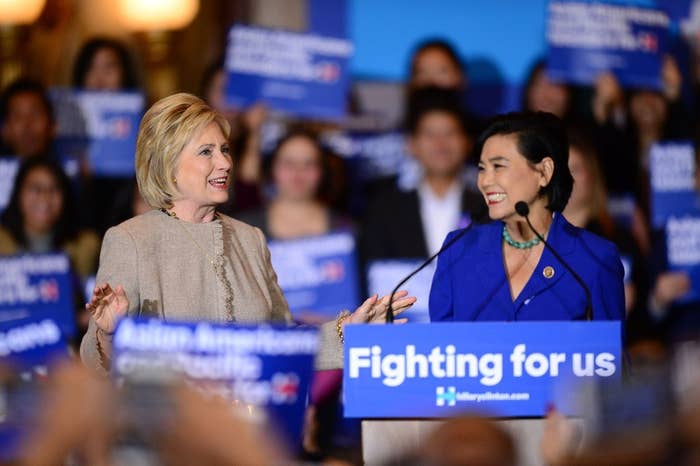 LAS VEGAS – Democratic presidential candidate Hillary Clinton is ahead of her opponent Bernie Sanders when it comes to targeting Nevada's rapidly growing Asian American population, according to activists who are attempting to increase voter turnout among immigrant communities in the early caucus state.
While Nevada's substantial Latino population is well known – and its support much-coveted by presidential candidates – the state has also seen a massive increase in the size of its Asian American and Pacific Island (AAPI) population to almost 10% of the state's population. Given the closeness of the Democratic race, mobilising this support could be crucial in the state's Feb. 20 caucus and could make the difference between a Clinton victory or a defeat to Sanders.
"Sanders is much more focussed on the Latino community than the AAPI community", said Emily Persaud, the Nevada state co-ordinator for the iAmerica Action campaign, a non-partisan group which campaigns for immigrants to take citizenship and then become involved in politics.
Persaud told BuzzFeed News you just needed "to look at the pictures" of who was currently involved in the Sanders campaign to see a relative absence of Asian Americans. She wants all candidates to spend more time talking to Asian American voters in the state. She also said the media often focussed too much on more politically organised Latino groups and missed the recent influx of new Asian voters, especially those from the Philippines.
"Sanders is building up, but in terms of who has been interested it's Clinton," Persuad's colleague Christian Bato agreed, noting Clinton had produced a plan setting out what she would do for the AAPI community. "I hadn't seen an actual [Presidential campaign] document based on AAPI before – that's the first time I've seen that."
This week Clinton activists announced a week of campaigning targeted at Asian Americans in Nevada, and the candidate has also received the endorsement of the Asian American political action committee CAPA21.

However many Asian voters are new to the state and have no experience caucusing, raising concerns about whether their support will matter on caucus night. In an attempt to change this, iAmerica is renting a ballroom in Las Vegas' Chinatown where Asian voters will be able to take part in a mock caucus in an attempt to demystify the idiosyncratic voting system and reassure people they won't be "the sole Asian in the room", according to Bato.
"We're not just trying to increase turnout, we're trying to increase the number of informed voters," he added.
Meanwhile, Latino activists in Nevada said they broadly agreed with comments made to BuzzFeed News, in which the Sanders campaign claimed their campaign is well-positioned to gain more support among Hispanic Democratic voters in Nevada.
Jocelyn Sida, state deputy director for the non-partisan Mi Familia Vota organisation, said Sanders' adverts had become much more noticeable on Spanish-language TV and radio stations in recent weeks, although Clinton was more established in Latino communities, thanks to her longterm commitment to campaigning in the state.
Local Hispanic activist Felicia Ortiz said her "initial instinct" had been to support Clinton, but she had switched to Sanders in the last few months: "I really started paying attention and doing my research and looked at the platform and I gravitated over to Bernie." But she remained concerned many Latino voters could decide to register as Republicans in order to vote for Ted Cruz or Marco Rubio – whose cousin is a Democratic state senator in Nevada – based on their hispanic names alone.