This is what the ballots for the New Hampshire Republican and Democratic primaries look like. They're pretty long.
You might think there's only two Democratic candidates and nine Republicans on the ballot in Tuesday's New Hampshire primaries. In reality voters in the state will be faced with an astonishing 28 Democrats or 30 Republicans to choose from.
That's because pretty much anyone who filed their papers last year and paid $1,000 to the New Hampshire state government can make the primary ballot. Many individuals – almost entirely white middle-aged men – decided to do just that and in theory have just as much chance of winning as any other candidate.
What's more, mainstream candidates who have already suspended their campaigns but had already filed their intention to stand – such as Rand Paul and Martin O'Malley – remain on the ballot.
The end result is an incredibly long ballot paper and just to make things extra confusing, the New Hampshire state government ensures the candidates are arbitrarily shuffled to avoid people voting for the names at the top of the list by default.
This is what the New Hampshire Republican party ballot looks like.
And here's your guide to the 30 Republicans on the ballot:
* Tim Cook – Self-declared "christian conservative" who says gun control made the holocaust possible and beat Hillary Clinton in his own Twitter poll.
* Ted Cruz – Candidate who is doing fairly well.
* Brooks Cullison – Lawyer from Illinois. Owns a beagle named Buddy.
* Matt Drozd – Former Pittsburgh area councilman who says he's done "everything that front-runner Donald Trump has done, on a smaller scale". Proposed West Pennsylvania should secede and become its own state.
* J. Daniel Dyas Jr. – Wants to force Congress to "to declare public homosexual acts illegal".
* Carly Fiorina – Businesswoman who is popular with four-year-old girls.
* Jim Gilmore – Man with 4,000 Twitter followers who won't kill Baby Hitler.
* Lindsey Graham – Former candidate last seen traipsing around New Hampshire after Jeb Bush.
* Mike Huckabee – Another ex-candidate who lives to fight another day on the ballot.
* Kevin Huey – Man from Aurora, Colorado. Otherwise unknown.
* Walter Iwachiw – Once claimed New York City stopped him making $1.6bn.
* Bobby Jindal – Sometime Louisiana governor, no longer in the race.
* John Kasich – Current Ohio governor, still very much in the race.
* Frank Lynch – Claims to have introduced the word "broken" to American political discourse.
* Robert Mann – Man from New Albany, Indiana. That's about it.
* Andy Martin – Describes himself as "One of Obama's most respected critics and opponents".
* Stephen McCarthy – A man from Fairborn, Ohio.
* Peter Messina – Pledges "HOPE both NOW, in the future, and for generations to come".
* George Pataki – Was in the race, is no longer in the race, is still on the ballot.
* Rand Paul – Was in the race even longer, is no longer in the race, is still on the ballot.
* Chomi Prag – One of only two women on the list, a lawyer who says she's "not full of fluff".
* Joe Robinson – Man from Massachusetts.
* Marco Rubio – Man from Florida.
* Rick Santorum – Man from Virginia.
* Donald Trump – Man from New York.
* Richard Witz – Man from Massachusetts.
* Jeb Bush – Man from Florida.
* Ben Carson – Man who went home to Florida to get fresh laundry.
* Chris Christie – Man from New Jersey.
* Stephen Comley – Longtime anti-nuclear campaigner who says "my campaign manager is gong to be Jesus Christ".
And this is the incredibly long New Hampshire Democratic primary ballot paper.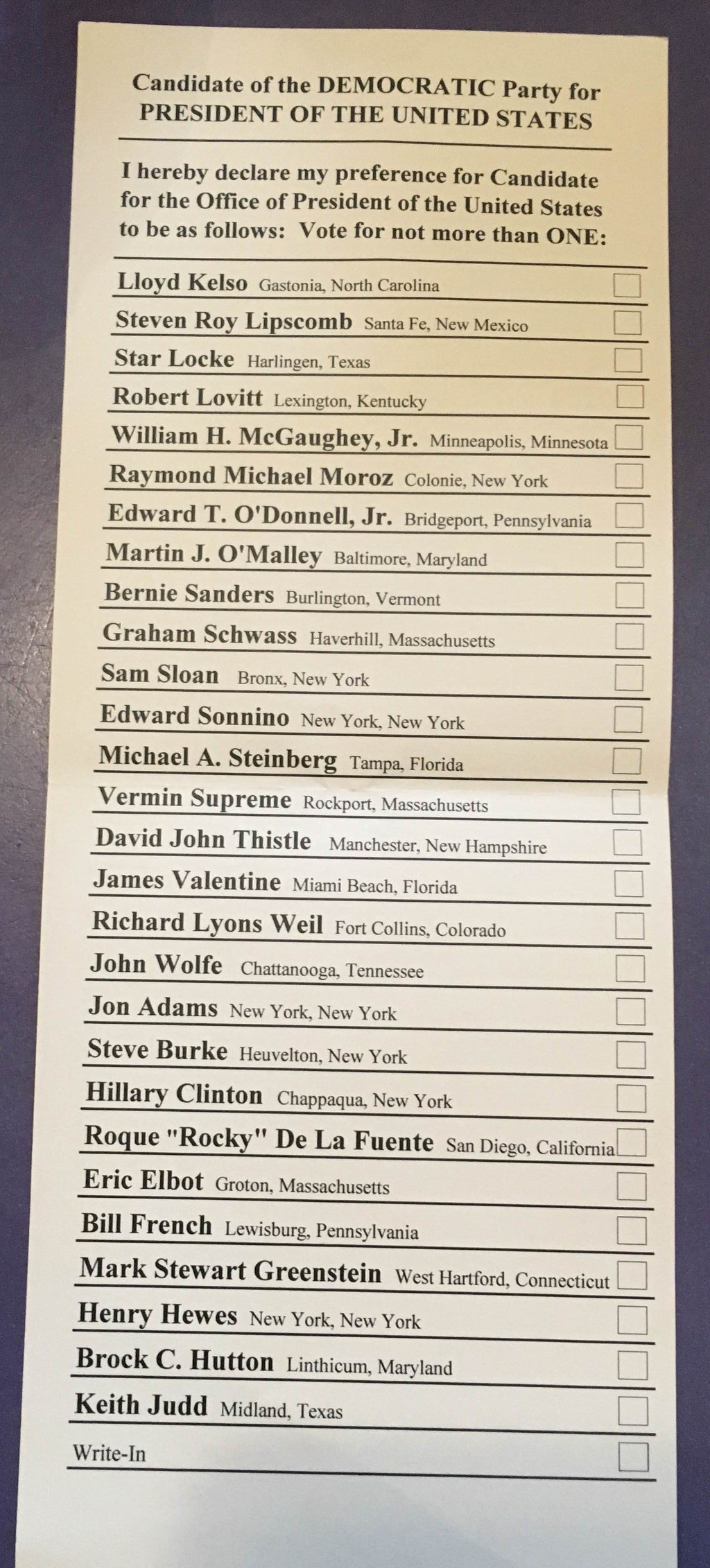 And this is who the 28 Democratic candidates are:
* Lloyd Kelso – Has pledged to give his entire presidential salary to charity.
* Steven Lipscomb – Running with the slogan of "Fix It America"
* Star Locke – Texan carpenter with strong views on Islam.
* Robert Lovitt – Someone from Kentucky.
* William McGaughey – Describes himself as the "non-socialist Bernie Sanders".
* Raymond Moroz – Would be "ecstatic" if he got 12 votes, the number Jim Gilmore got in Iowa.
* Edward O'Donnell – Has been running for president for 32 years at a cost of $1.2million.
* Martin O'Malley – Was running for president, at a fairly substantial cost.
* Bernie Sanders – Still running for president, at a very substantial cost.
* Graham Schwass – Environmental candidate pledging to protect the "the sky that you breathe, the waters that flow through your veins".
* Sam Sloan – Chess player and former Libertarian party candidate who says he is running "in favor of Hillary".
* Edward Sonnino – Website claims he has a solution to "end poverty".
* Michael Steinberg – Social security disability campaigner. Has written a novel on being a lesser-known presidential candidate.
* Vermin Supreme – Continually runs for president while wearing a rubber boot on his head. Pledges to give free ponies to voters.
* David Thistle – A man from New Hampshire.
* James Valentine – Wants the U.S. Constitution to be rewritten.
* Richard Weil – Pledges to "Reboot America" with a $22 minimum wage.
* John Wolfe – Challenged President Obama for the 2012 Democratic presidential nomination. Didn't win the 2012 Democratic presidential nomination.
* Jon Adams – Not the second president of the United States.
* Steve Burke – Claims to have helped free US prisoners in North Korea.
* Hillary Clinton – Up-and-coming politician, the only woman on the list.
* Roque "Rocky" De La Fuente – San Diego businessman who describes himself as "way better looking than Trump" sand says his position is "don't tell me what you're going to do, tell me what you've done".
* Eric Elbot – Wants to "serve a Paul Revere function about the authoritarian possibilities of using the national security apparatus in this country".
* Bill French – Standing for president because his daughter suggested it.
* Mark Greenstein – Describes himself as a "non-liberal Democrat".
* Henry Hewes – Pro-life New York real estate developer.
* Brock Hutton – Backs an absolute ban on immigration and the introduction of a "national entertainment tax".
* Keith Judd – Jailed in 1999 for mailing extortion threats containing knives, he came second to President Obama in the 2012 West Virginia primary.