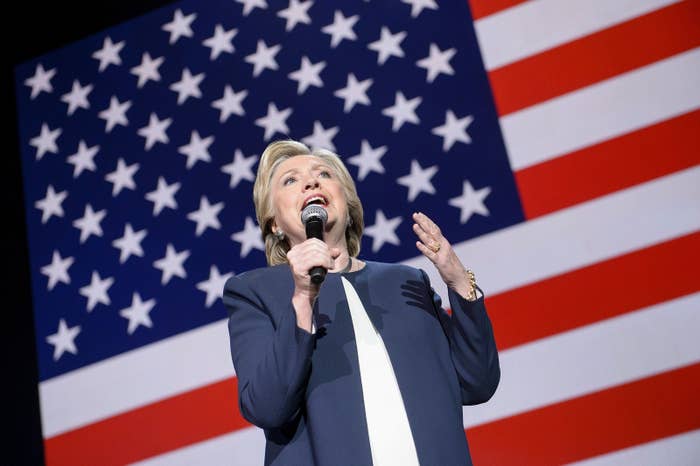 If you live in a swing state in the US, don't be surprised if you encounter a volunteer with a British accent trying to convince you to vote for Hillary Clinton.

At least 70 British Labour activists have swarmed the city of Charlotte in North Carolina after answering the call from a local Clinton organiser, while officials from the British GMB trade union have been out campaigning in Philadelphia and other volunteers from the UK are spread out across key swing states such as Ohio and Wisconsin.

All of them are using up their vacation time and paying for their own airfare in order to spend weeks trying to influence an election in another country – and emphasise just how much this vote matters to the rest of the world.
"We're all in Charlotte and it does feel like we've definitely increased their capacity," said Jen Thornton, who normally works in the office of Jo Stevens MP, the shadow secretary of state for Wales, and is one of dozens of British volunteers campaigning for Clinton in the city. "We're all connected and have worked for Stronger
In or for Labour MPs. Some are councillors."
In common with many of the British activists volunteering for Clinton, Thornton was partly motivated to sign up following the unexpected victory of the Leave campaign in the EU referendum.

"A lot of people thought, We can't let that happen in the US," said Thornton, who spoke of a wider motivation of not wanting "a person with anti-woman, anti-foreign views" in charge of a major superpower.
This view is echoed by Georgie Laming, who has used up her holiday allowance to volunteer with MoveOn.org in Cleveland. She's trying to convince fans of Senator Bernie Sanders to drop their misgivings and turn out for Clinton on voting day.
As a result she's developed a doorstep pitch that draws parallels between Donald Trump's language and some anti-EU campaigners: "There are so many comparisons with what's happening in the UK with UKIP and Farage. I don't want to knock on a door and tell people how to vote in their own country but I can tell them how the pound is falling [and how] we've experienced this kind of rhetoric."
"It's not a massive leap between being a Nigel Farage supporter and being a Donald Trump supporter," she added.
Laming said she was concerned about looking tokenistic in flying out to join the campaign and said volunteers need to be sure they're doing it for the right reasons. At the same time she's found herself explaining left-wing British politics to US Democrats: "Lots of people have heard of [Labour leader] Jeremy Corbyn and when I go into the offices I'm working in he's really popular. But it's hard to tell them that Jeremy Corbyn isn't quite as popular as they think; I think they see us as a socialist utopia."
Most of the British volunteers on the Clinton campaign are Labour activists who witnessed the party's 2015 general election defeat and then found themselves on the losing side in this year's referendum on the UK's membership of the EU. Some also found themselves involved in Owen Smith's failed attempt to dethrone Corbyn as Labour leader.
For many it would just be really nice to take part in a political victory for a change.

"I was working on the EU referendum in the field staff and then on the Owen Smith campaign," said Rachel Barker, who is volunteering with other British activists for Clinton in Madison, Wisconsin. "So I'm hoping this result will break that cycle."
Kieran Cunningham is another UK Labour activist who has taken time off from his day job to join the Clinton campaign in the city of Allentown, Pennsylvania. He said he sees comparisons between the arguments made during this US election and the debate during Britain's EU referendum: "It's about immigration and people feeling cut off. I think [the Clinton campaign] is playing the same tactics as Remain on a bigger scale – 'We're a safe pair of hands, don't risk it.' Which is basically what Remain did with Brexit."
"I think it will work here," he added, optimistically.
Efforts by BuzzFeed News to track down any British volunteers working on the Trump campaign proved futile. Raheem Kassam – editor of Breitbart UK, onetime UKIP leadership candidate, and Trump supporter – said that although he was flying over to the US for election night he didn't know of any Britons who had been volunteering for the Republican on the ground.

Other individuals involved in the Eurosceptic Leave.EU campaign – including major UKIP donor Arron Banks – are also travelling to the US to support Trump on election night but they seemed unaware of any on-the-ground support from Britons in the run-up to the vote. Even within UKIP there's been disgust at party leader Nigel Farage's backing of the presidential candidate.
Instead, with polls suggesting that a substantial majority of Conservative voters want a Clinton victory, you're more likely to find British Tories are campaigning for Democrats in the US.
"I've never known of a Brit coming to work for a Republican," said Barker. "That doesn't mean they don't exist but I've never heard of it. I do know of a few Conservatives who've come over here to work – but again always for Democrats."
British attempts to influence US elections have a mixed history: The Guardian attempted to organise a mass letter-writing campaign for the 2004 presidential election, in which thousands of epistles were sent to voters in one Ohio county urging them to vote for John Kerry. The result of Operation Clark County was a local newspaper headline saying "Butt Out Brits", widespread anger at foreign intervention in a domestic election, and ultimately an election swing to George W. Bush.

Although most of the Clinton volunteers this time around said the reaction to hearing a British accent has been polite bafflement, Barker said she had some pushback on a previous campaign trip to New Mexico for the 2012 presidential election: "I had people being like, 'I'm obviously voting for Romney and how DARE you come over here to mess with our election.'"
But Cunningham said the main problem is learning how to be as assertive and upfront as the American volunteers: "It's been awkward as a British person learning to be really, really pushy. It's been a very steep learning curve."