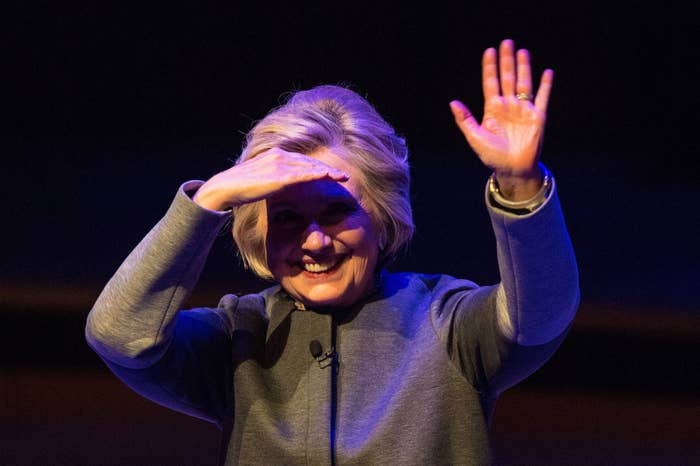 Former Democratic presidential nominee Hillary Clinton has said Russian interference in the 2016 election was on such an enormous scale that it amounted to a "cyber 9/11."

"I think there a lot more connections that have yet to come to light," Clinton told an audience in London on Sunday evening. "If I had been elected I would have called for an independent commission to get to the bottom of it."
The twice-defeated presidential candidate approvingly quoted security experts who compared it to the terrorist attacks which brought down the World Trade Center.
"We had really well-respected security, intelligence veterans saying this was a 'cyber 9/11' in the sense it was a direct attack on our institutions," she said. "That may sound dramatic but we know that they probed and tried to intrude into election systems — not just the social media propaganda part of their campaign."
Clinton, who is currently on a tour promoting her post-election book What Happened, made repeated references to Russian intrusion in the 2016 race, tying it to key moments in the campaign that she believes helped Donald Trump win the presidency.
She said that her campaign was not built to compete with the targeted messaging strategy run by "the Trump campaign, Cambridge Analytica, the Russians," referencing the data firm that worked with the Trump team to place Facebook advertisements. But she suggested her experience may have had a silver lining, in that it alerted other countries to the scale of Russian cyberthreats, helping European governments head off potential interference during this year's elections in France and Germany.
"The Russians are not done; this is an ongoing threat," she said, adding that Russian President Vladimir Putin has a "strategic goal that he has followed up on relentlessly" of destabilizing Western democracies.
Clinton was speaking at the Southbank Centre's London Literature Festival, where the audience included British centre-left politicians such as Labour deputy leader Tom Watson and former deputy prime minister Nick Clegg. She noted that before going on stage, she had met with London Mayor Sadiq Khan, who told her that Trump "played by fight club rules and I played by boxing rules."

The former US secretary of state told the audience that her campaign faltered in the final weeks of the 2016 race, as crucial voters in swing states like Michigan and Wisconsin lost faith in her candidacy, due in part to the reopening of the FBI investigation into her private email server and the release of her campaign manager's emails by WikiLeaks.
"You've got Trump and his campaign chanting 'lock her up,'" she said. "You've got stolen emails being weaponized, raising terrible doubts about me. A lot of people just didn't vote, a lot of people stayed at home, a lot of people were turned away. It just tipped against me in the end, thought I had weathered it."
"There was just too much that went on that created doubts for people."
Asked whether she envied the enthusiastic support of young Democratic activists for Bernie Sanders, she said: "Well, everybody in politics wants a movement — and obviously I beat him by 4 million votes."