French President Hollande Refused To Answer Questions About His Alleged Affair
The President said he wished he could sue the magazine that printed the claims for invading his privacy.
French President Francois Hollande is under fire over his alleged affair with actress Juliet Gayet. But he was reluctant to talk about it at his annual press conference.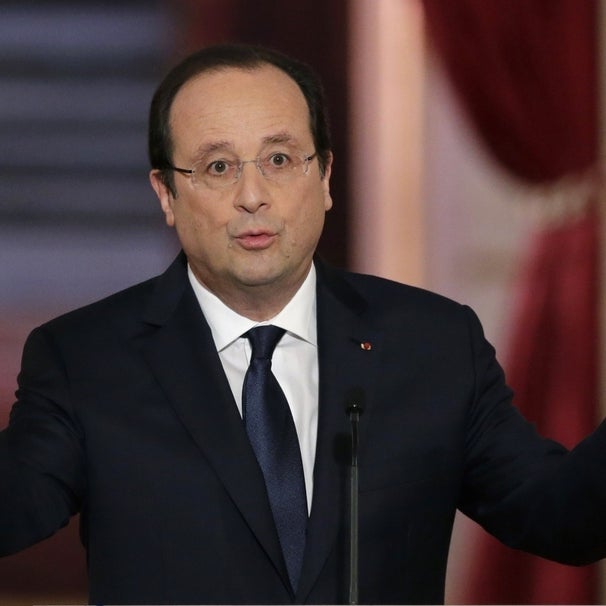 Last Friday French magazine Closer published allegations that President Hollande was having an affair with the actress Julie Gayet. Since then, although Closer took down the story, Hollande's official partner Valerie Trierweiler has been admitted to hospital, the President has failed to deny the affair, Gayet has gone to ground and there have been suggestions of mafia connections to the apartment where the alleged tryst occurred.
Awkwardly for Hollande he had his annual press conference booked for today, just four days later. Luckily for Hollande, French journalists were happy to accept his refusal to discuss the issue.
The press conference kicked off at the Elysee at 4.37pm local time. Hollande starting speaking.
...and spoke....
...and spoke some more.
This reporter was first up. And finally asked about the biggest question in France.
Hollande stonewalled him. And ducked the question.
A second journalist declined to continue with that line of questioning and instead asked whether the president would consider himself to be a social democrat.
A third journalist asked him whether he had wasted time for the first 18 months of his presidency.
And a fourth journalist talked about the economy.
Eventually — and unusually for a country with a tradition of deference towards politicians' private lives — French journalists returned to the topic. Hollande said he still wished he could sue the magazine.