This 4-Year-Old Girl Is Obsessed With Carly Fiorina
"Rick Santorum tried to give her a kiss and she pulled away."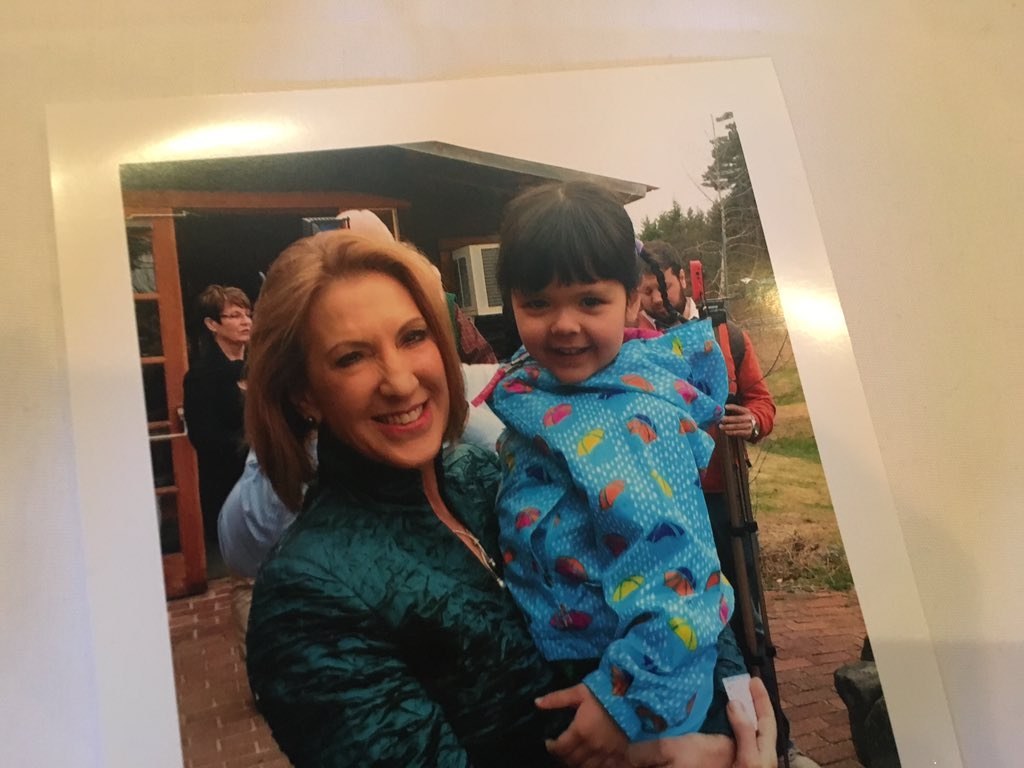 LONDONDERRY, N.H. – Every supporter matters in New Hampshire, even if they're a small child. Thanks to the US primary season, 4-year-old Grace Lesparance is now on first-name terms with leading presidential candidates, who have attempted increasingly desperate tactics to win her backing.
But Grace only has eyes for one candidate: Carly Fiorina.

"Grace loves Carly and this is why we're here," said Stephanie Lesparance, whose young daughter asked to be taken to a Fiorina event in the suburbs of Manchester, ahead of Tuesday's primary vote. "[Grace] sees her on the TV and she's like 'oh Momma, Carly's on the TV and she's a genius'. We saw Hillary on the TV the other day but she's holding out for Carly, I don't know why."
Asked why she was so obsessed with Fiorina, who is struggling at the bottom of the Republican field, Grace told BuzzFeed News simply, "She's my favourite."
After eating some grapes, playing with a Disney colouring book, and considering her position, Grace added: "She's for America! Carly for President!"
Grace's mother, Stephanie, an independent who is still deciding whether to vote in the Republican or Democratic primary, said her daughter had been treated in different ways by various presidential candidates – who are presumably hoping to win the support of Grace's parents by charming their daughter.
"Governor Bush gave her one of his turtles but she's still sticking with Carly," Stephanie said. "Governor Christie likes her a lot, but she's still Carly. She didn't really seem to be enamoured with Hillary – she's leaning Republican. She did not see Bernie. I'm not sure she would have loved Bernie."
While voters in most of the rest of the US would struggle to meet presidential candidates, the enormous number of campaign events during New Hampshire's primary season means Grace has been able to see 10 different potential nominees. As a result she has developed a habit of saying "my friend Carly" whenever the female Republican candidate's appears on the TV, according to Stephanie, who showed BuzzFeed a picture of the two together.
"I sometimes put headphones on her [at events] but not when Carly comes," said Stephanie. "Last time people were talking when Carly came to speak she said, 'Momma, people are talking while Carly's talking, they need to be quiet.'"
Grace's father, Wayne, a political science lecturer, said most presidential nominees try to win the support of his daughter but some don't know how to pitch to someone born in the early 2010s: "Chris Christie will kneel down to eye level when he talks to her. But some candidates don't know how to deal with a little child. Rick Santorum tried to give her a kiss and she pulled away."

"I want her to grow up and see women who are strong," said Wayne. "This is how it starts. You create a culture where they're engaged – I want her to be fearless and not intimidated by a candidate."