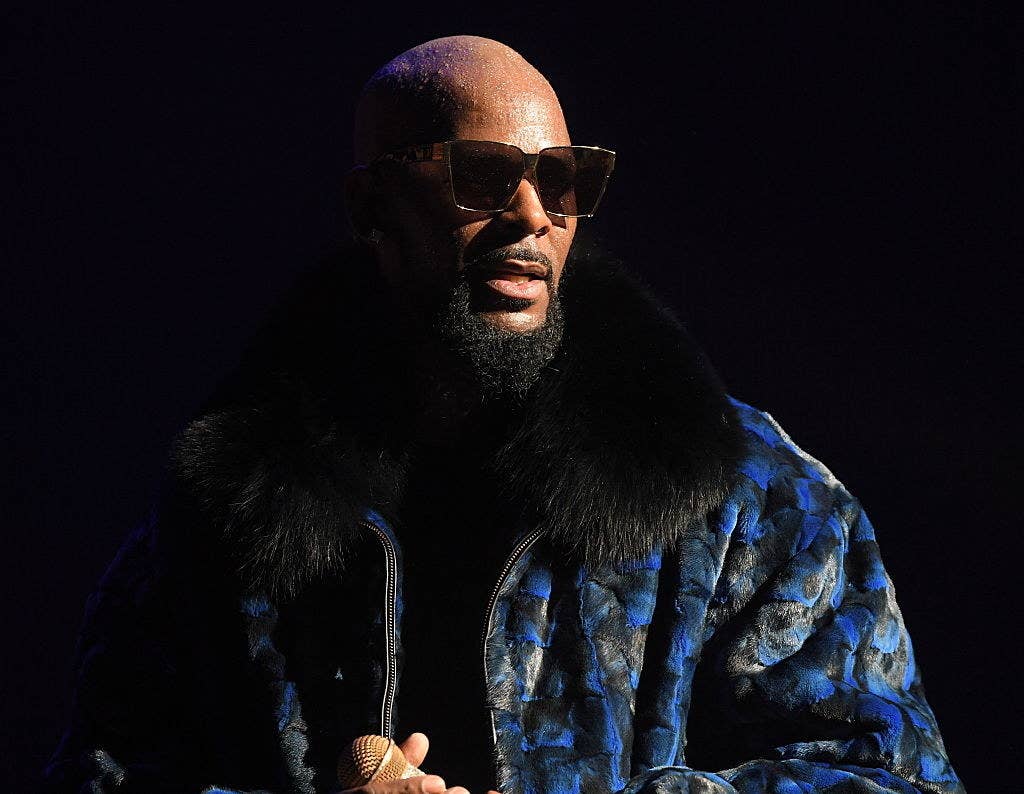 In the wake of cancellations and protests at his concerts, streaming services removing his music from playlists, and continued media attention on the parents who told police their daughters are "brainwashed" and part of R. Kelly's "cult," as BuzzFeed News first reported last July, the battle between the R&B superstar and his most high-profile detractors may be reaching a new level of intensity.
According to a complaint to police made on May 23, Kelly's manager threatened to kill the father and hurt the family of Joycelyn Savage, the 21-year-old Georgia woman who has been living with Kelly since December 2016.
And when the parents of 20-year-old Florida woman Azriel Clary came to Chicago on May 12, demanding to see the daughter they say has been in an abusive relationship with Kelly for three years and whom they believed was at Kelly's recording studio, police officers declined to take action, instead threatening to arrest the mother and father for causing a disturbance by arguing with Kelly's security guards.
Timothy Savage told police that after his latest unsuccessful attempt to contact his daughter Joycelyn by phone May 23, he got a call from Kelly's manager, James Mason. "Mr. Savage stated that Mr. Mason stated, 'I'm gonna do harm to you and your family, when I see you I'm gonna get you, I'm going to fucking kill you,'" according to the police report, which lists the incident type as "terroristic threats."
On Tuesday, Henry County investigators held a second round of interviews with Tim and another of his daughters who just graduated from high school, and who heard the conversation between her father and Mason. Police told the Savages they are investigating a charge against Mason of making terroristic threats.
Mason has not responded to requests for comment. Dennis Kneale, who said he was "helping Mason" when he provided a comment from "the R. Kelly Management Team" to BuzzFeed News on May 4, wrote on Friday that "Mason will handle any response for now."
"R. Kelly has been having things get cancelled, because of the ongoing issues," Jonjelyn Savage told police.
According to the Henry County police report, Joycelyn's mother, Jonjelyn, who told police she did not overhear the alleged threats, "stated that she believes the threats started … because they have had so much media attention due to the ongoing situation with Ms. Joycelyn." Tim and Jonjelyn talked about their concerns for their daughter on Megyn Kelly Today on May 8.
The police report notes that Jonjelyn further "stated that R. Kelly has been having things get cancelled, because of the ongoing issues."
The #MuteRKelly campaign has claimed responsibility for the cancellation of 10 of Kelly's recent concerts and protests at others. The movement has had several victories this month, including student activists stopping a May 5 concert at the University of Illinois in Kelly's hometown, where his support always has been strongest; scoring an apology from online music magazine Pitchfork for booking him to headline its 2013 music festival in Chicago's Union Park; and garnering the support of anti-harassment initiative Time's Up. But there also been personal tragedy.
The outspoken activist behind #MuteRKelly, Kenyette Tisha Barnes, lost her Atlanta home to a fire May 22. "This fire is still under investigation," Sgt. Cortez Stafford, public information officer for the Atlanta Fire Rescue Department, said Wednesday morning. "They have not determined a cause at this time. The lack of determination at this early in stage in the investigation does not deem the fire suspicious."
Barnes said in an email that despite losing everything in the fire, "I am still leading the mute R. Kelly campaign, and committed to him being brought to Justice."
Capt. Joey Smith, commander of the Internal Affairs Division of the Henry County Police Department, said Friday that Tim Savage's report has been "forwarded to the Criminal Investigations Division for review." He did not respond to a request for comment about the second round of interviews or the status of the investigation on Tuesday.
Joycelyn Savage could not be reached. She was last seen in public in a video posted May 8, shopping in Beverly Hills, where she said she was on vacation. "There's rumors out there, people saying I'm captive, I'm hostage. Well, obviously that's not true. I'm out here enjoying life and doing my own thing."
Joycelyn was not alone in the video. The friend accompanying her was identified as Dominique "Nikka" Gardner, another one of Kelly's alleged victims, by her mother Michelle Kramer and her former friend Jerhonda Pace. BuzzFeed News called the woman "N." in a story on May 4, though her name has since been made public. BuzzFeed News has not been able to reach her.
The parents of another alleged victim, Azriel Clary, were at the center of another incident earlier this month. Hours after Clary's parents received a call from Kramer on May 12 telling them their daughter was at Kelly's recording studio near Chicago's Union Park, they flew from their home in Florida, rented a car at the airport, and drove to the address. As usual, two security guards working for Kelly were parked outside the building in a black vehicle with tinted windows.
Angelo Clary said that he and his wife saw a young woman they did not recognize inside the studio, and she drew the blinds when they began arguing with the security guards outside. The conversation grew loud and angry. The Clarys said they refused to leave until they saw their daughter, and several Chicago police cars responded.
The Chicago Police Department did not have an incident report.
During the argument, the Clarys said their daughter called them on FaceTime and appeared to be sitting in the back of a vehicle they believe was returning from North Carolina, where Kelly performed at the Greensboro Coliseum on May 11. (Activists had demanded that the concert be canceled, but demonstrators turned out to protest when it went on as scheduled, according to a report in Billboard.)
When the parents still refused to leave the sidewalk in front of the studio, the Clarys said, Chicago police officers threatened to arrest them for causing a disturbance. The Clarys said police declined their request to file a report or perform a well-being check on any young women inside the studio.
"As long as my fans are calling for me, I'm gonna be on that stage, singing these songs."
The Clarys said the officers who responded "seemed to know and were very friendly with" Kelly's security guards. By the time I arrived at the studio to report on the alleged altercation, the Clarys and the police had left, and only the security guards remained. "This has got to end," Angelo Clary said in an interview a short time later, in the parking lot of a nearby restaurant. "They're all in his pocket and nobody's doing anything."
Asked the next morning if the Chicago Police Department is aware of any off-duty officers working security for Kelly, Anthony Guglielmi, chief communications officer, wrote via email: "There's no way for the department to really know this as there is no reporting requirement for non-command staff members [who] work secondary jobs." The lack of oversight for officers working part-time jobs has been a source of controversy in Chicago.
Guglielmi added, "May also be retired officers. If he has full-time security, it would be difficult for those to be police officers given their work schedules, overtime and court obligations."
"Sometimes, some storms ain't gonna stop," Kelly told the audience during an hourlong set at the Greensboro concert, his most recent public performance. "As long as my fans are calling for me, I'm gonna be on that stage, singing these songs."
The star also said he has "been through a lot of (expletive)" recently and thanked fans for continuing "to fight for me all these years," according to Billboard.