Sister Charged With Murder After Driving Her Twin Off A Cliff In Hawaii
Prosecutors charged Alexandria Duval with second degree murder Monday. They say she killed her identical twin when she intentionally drove off an oceanside cliff.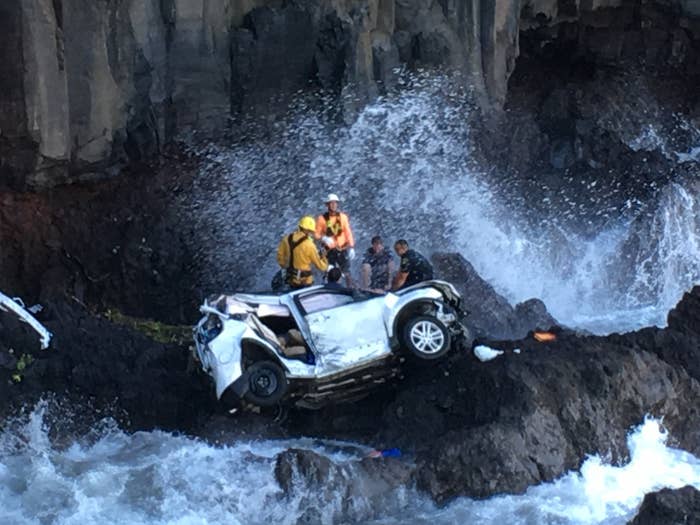 Identical twin sisters Alexandria and Anastasia Duval were sitting last month in a Ford Explorer on a picturesque oceanside road in Maui when the vehicle suddenly smashed through a rock wall and went flying off a 200-foot cliff.
Moments before the crash, a group of Boy Scouts were driving by and saw the women arguing, with the passenger pulling the driver's hair, officials said. Then the SUV began to quickly accelerate forward and take a sharp turn over the cliff.
Rescuers later managed to pull Alexandria, the driver, from the wreckage alive, but Anastasia died.
Now, prosecutors have charged Alexandria — who also goes by the name Alison Dadow — with second degree murder for the incident, saying she intentionally killed her twin, who also goes by the name Ann Dadow, according to court documents reviewed by BuzzFeed News.
The charge is the culmination of a case that initially drew attention for its dramatic rescue on May 29. After the car crashed over the cliff, witness video showed rescuers lowering a stretcher from a helicopter to the volcanic rock below and hoisting Alexandria into the air.
Anastasia was declared dead at the scene, but Alexandria was rushed to a hospital in critical condition. She ultimately survived and was released.
Witnesses expressed surprise that anyone could have survived the wreck at all. Hank Kaupe heard the crash, then rushed to the scene. He told Hawaii News Now that he saw gasoline leaking from the SUV.
"I'm surprised the car didn't blow up cause it was still running when I got there," he said.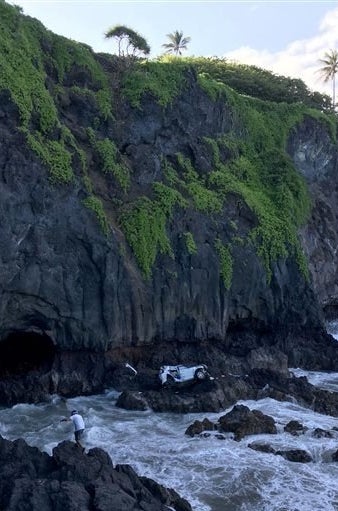 During the rescue effort, crews used the nearby yard of Vicki Sawyer as a helicopter staging area.
"It's pretty upsetting of course, knowing that someone died, particularly," Sawyer told Hawaii News Now. "But the miracle was the one girl survived it, which was just amazing."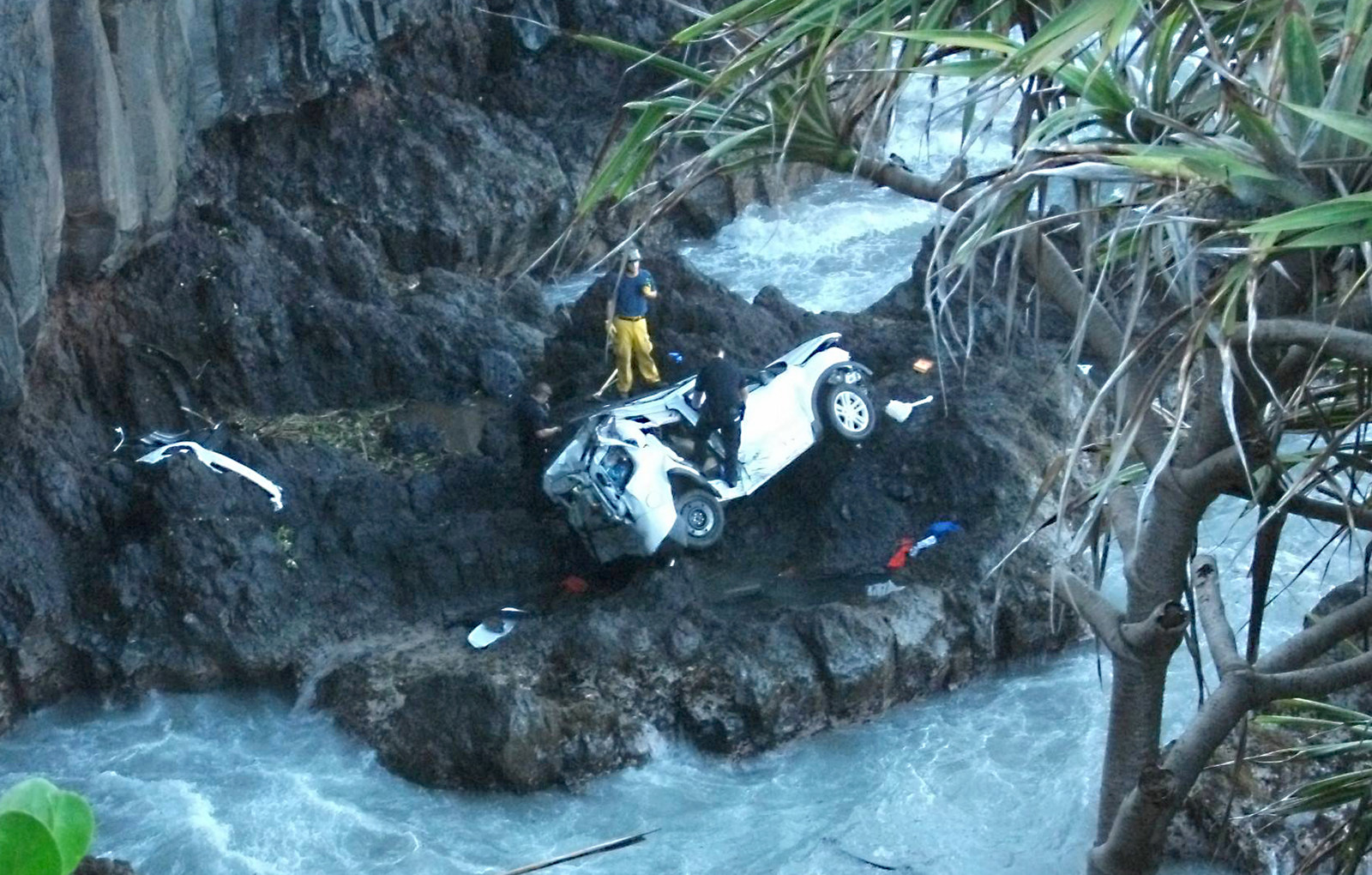 Over the ensuing days, however, more details about the incident emerged. A Boy Scouts chaperone, Lawrence Lau, told police he saw the women fighting and the driver "appeared to be in a rage," according to court documents. The vehicle then "suddenly accelerated."
"My first thought when she was coming past us was, 'Don't hit me, don't hit me,' because she was slightly out of control," he added to KHON2. "She was doing 40 miles an hour from a dead stop at that point."
Court documents also point to the vehicle's airbag data, which indicated that Alexandria did not attempt to brake or slow down before plunging over the cliff.
"There was hard acceleration and a hard left steering input, which was consistent with the roadway evidence," the documents say.
The documents also add that after Alexandria was rescued she "did not want to give any information and even at first identified herself only as 'Alex.'"
On June 1, Alexandria tried to take a flight from Hawaii to the mainland U.S. She missed the flight and was arrested Friday, the same day she was scheduled to take another flight off the island, according to the documents.
"All we know is she was trying to leave the state," Maui Deputy Prosecuting Attorney Emlyn Higa told the AP. "We were afraid she would try to leave the country as well."
Prosecutors declined to comment to BuzzFeed News on the ongoing case.
The two women were originally from Florida, where they ran a yoga business, according to the AP. They moved to Hawaii from Utah in December. Alexandria's attorney Todd Eddins said the sisters changed their name when they moved in order to "get a fresh start."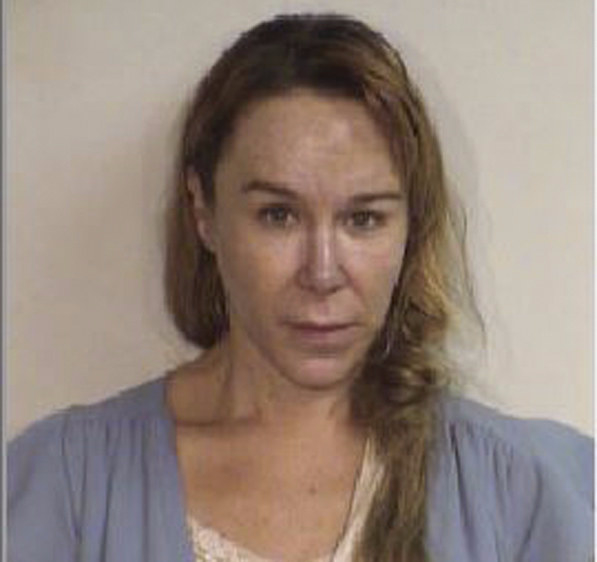 Alexandria appeared in court Monday, her arm still in a sling and suffering from fractured ribs, Eddins said. A judge ordered her to be held without bail.
"Physically it's remarkable that she did not die or sustain serious injuries," he said. "Mentally it's incredibly traumatic to lose the person who she was closest in the world to."
Alexandria is scheduled to have a preliminary hearing Wednesday followed by an arraignment hearing next week, where she will have a chance to enter a plea.
Eddins said Alexandria did not "try to harm the closest and most loved person in the world to her," calling the incident a "heart-shattering tragedy."
"They worked together, they lived together, they were soul mates," Eddins said of the sisters. "They were essentially inseparable. They were incredibly close to each other."