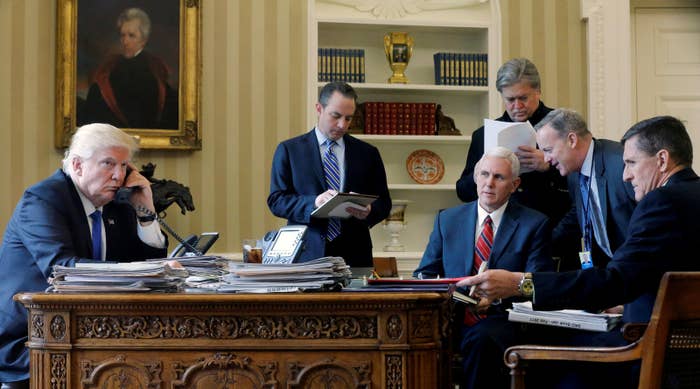 The White House will no longer issue public readouts of President Donald Trump's calls with foreign leaders, ending a long-standing practice that spanned multiple administrations from both parties, BuzzFeed News confirmed Tuesday.

Readouts of Trump's calls will still be distributed internally, and officials will provide details from the calls to the press, but they will not be released to the public as they have been in the past.
CNN first reported the policy change Tuesday, noting that such readouts were the sole official account of a call between the president and a foreign leader.
The last time the White House released a call readout was in June, following Trump's phone conversation with Hungarian Prime Minister Viktor Orbán. However, since then Trump has had conversations with Turkish President Recep Tayyip Erdogan and Israeli Prime Minister Benjamin Netanyahu. Those calls, however, were first reported in the foreign press.
Trump has adopted an informal stance on phone conversations since early in his presidency. Shortly after taking office, he passed out his cellphone number to foreign leaders, the Washington Post reported. And in April 2017, White House officials were reportedly surprised to learn that Trump, on his own, had a phone conversation with Canadian Prime Minister Justin Trudeau.
By contrast, past calls between presidents and foreign leaders have more commonly been extensively planned events, with experts briefing the commander-in-chief beforehand and advisers sometimes listening during the conversation. The resulting readouts also provided the White House with a chance to characterize how its diplomacy with other countries was going.
Both former presidents Obama and George W. Bush issued readouts of their calls with foreign leaders.