Berlin attack suspect Anis Amri was killed Friday in a shootout in Milan, German Chancellor Angela Merkel confirmed.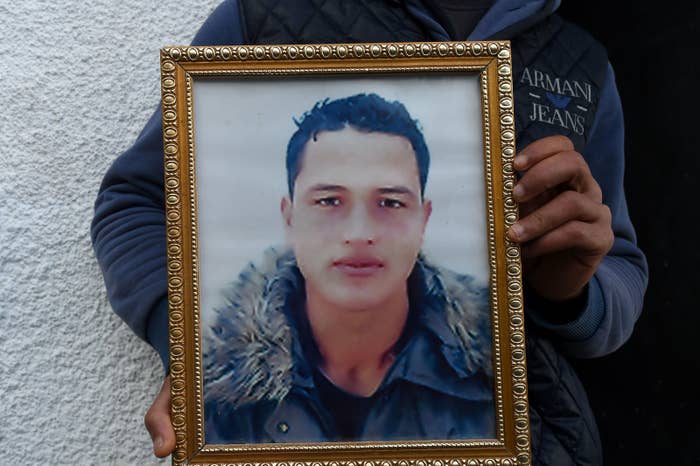 Merkel delivered a statement in Berlin, in which she said that the death of Anis Amri will not mean an end to investigations following Monday's attack in Berlin, but added that all indications suggest he was responsible.
"The research and investigations are not over yet. In Berlin, the intelligence bureau will continue and look into the background of the attack… we will not rest until we know who possibly helped him," Merkel said.
Italy's Interior Minister Marco Minniti has told a press conference in Rome that the man killed in the early-morning shootout outside Milan's Sesto San Giovanni station is Berlin attack suspect Anis Amri.
"The person who was killed, there is no doubt that he is Anis Amri," Minniti said.
He confirmed that Amri opened fire on police after being stopped by two officers during a routine check after being asked for ID papers. Minniti identified the police officer shot and hospitalized in the incident as Christian Movio.
He thanked Movio and his colleague "on behalf of the entire ministry and entire Italian police force."
A video posted online showed Berlin attack suspect Anis Amri taking credit for the Christmas market attack and pledging allegiance to ISIS leader Abu Bakr al-Baghdadi.
video-cdn.buzzfeed.com
In the video, Amri also called for ISIS supporters to take revenge against the "crusaders" who are bombing Muslims.
The video, which appears to have been recorded by himself after the attack, indicates Amri possibly acted alone and was not part of an ISIS cell in Europe.
Police launched a massive manhunt Wednesday for Anis Amri, a man they said is a suspect in the truck attack on a Berlin Christmas market.
The attack on Monday night left at least 12 people dead, including a 37-year-old Polish man who was found shot in the truck's front seat, as well as 48 others hospitalized with injuries.
Interior Minister Thomas de Maiziere confirmed Amri's fingerprints were found in the cab of the truck.
Amri is a 24-year-old Tunisian man who in the past has used multiple aliases and claimed various nationalities.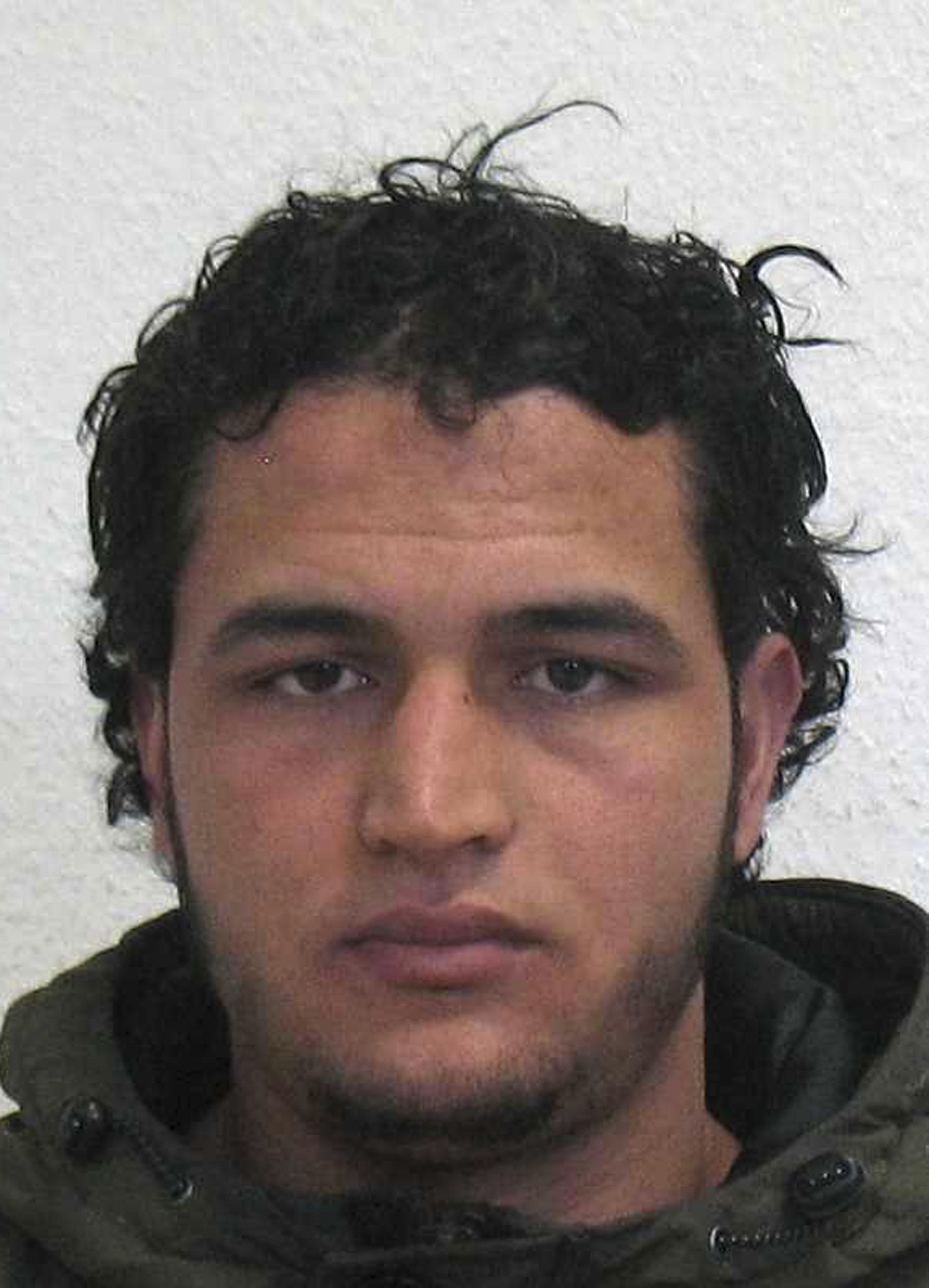 Amri arrived in Germany in July 2015, AFP reported. His bid for asylum was rejected in June, and papers related to the application were reportedly found at the scene of the attack.
Amri was not deported due to hold-ups with his paperwork, which according to AFP had just arrived in Tunisia on Wednesday.
Ralf Jaeger, interior minister of North Rhine-Westphalia state, said at a Wednesday news conference that Amri had been living in Berlin since February.
According to the Associated Press, Amri has used six aliases and claimed to be from three different countries.
Authorities had previously been investigating Amri for suspected ties to terror organizations and for possibly planning an attack.
Anis Amri, as seen in a photo sent to European police authorities.
State prosecutors in Berlin opened an investigation into Amri in March, following a tip that Amri might be planning a break-in as a way of paying for automatic weapons to use in a possible future attack, according to the AP.
The investigation was closed in September after no evidence was found supporting the tip. Surveillance during that time showed that Amri dealt drugs in a Berlin park and was involved in a bar brawl, AP reported.
German magazine Der Spiegel reported that Amri was mentioned by authorities in February as part of an undercover operation, and that authorities believed he had ties to ISIS.
Jaeger also said counter-terrorism officials had exchanged information about Amri in November, AFP reported. He was suspected of preparing "a serious act of violence against the state," which prompted officials to begin an investigation, Jaeger added.
Amri was also on the United States' no-fly list, according to the New York Times, citing an anonymous US official.
The official told the Times Amri was on the radar of US agencies and that he had conducted online research on how to make an explosive device. The official said Amri communicated with the Islamic State at least one, using Telegram Messenger.
Authorities have offered a €100,000 reward for Amri's capture.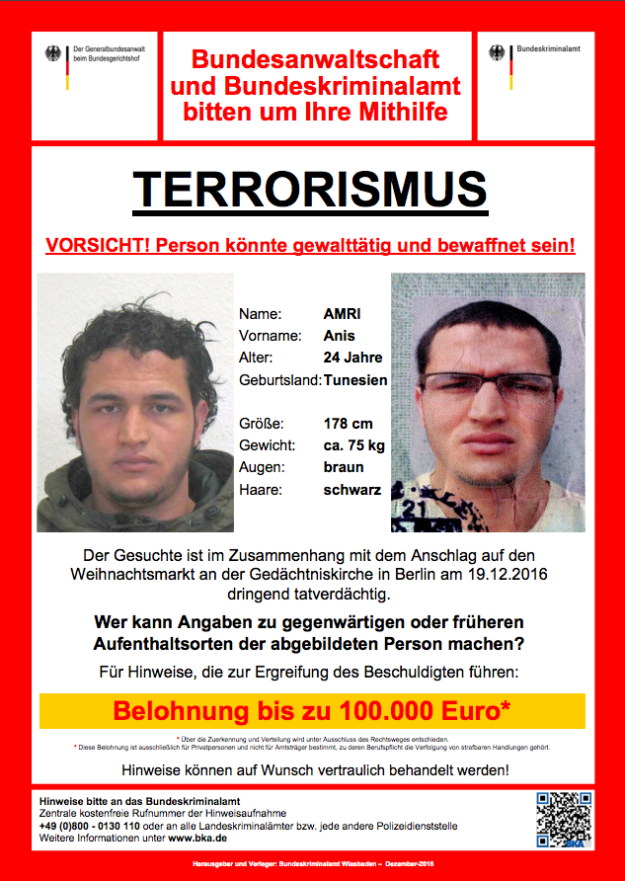 Authorities in Berlin said they have received more than 500 tips since the attack, according to Der Spiegel.
Amri's family condemned the attack Wednesday and said they had no indication he was planning it.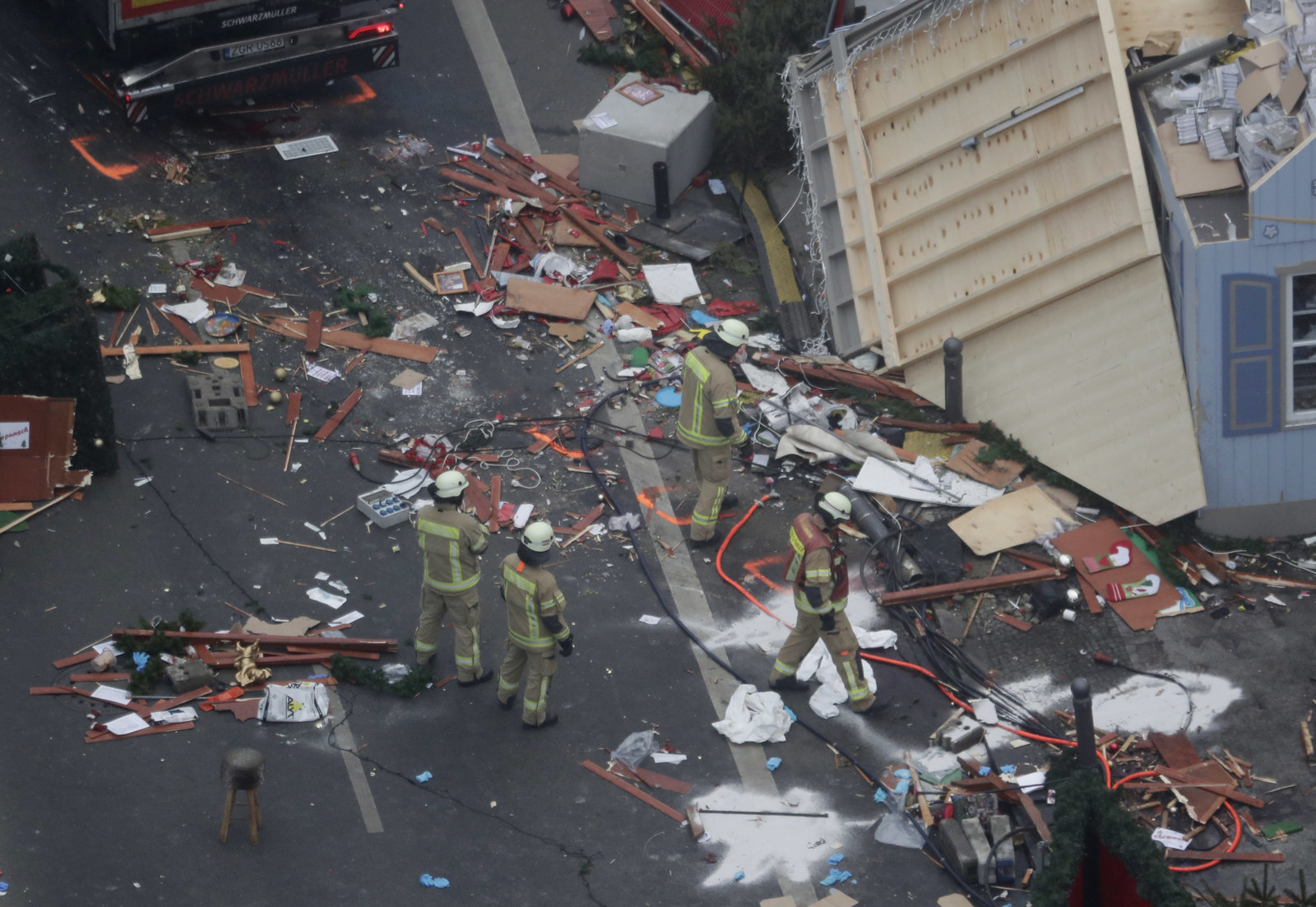 Amri's brother, Abdelkader, told AFP that "if he's guilty, he deserves every condemnation."
"We reject terrorism and terrorists — we have no dealings with terrorists," Abdelkader said. He added that when he saw a picture of his brother in the media, he "couldn't believe my eyes."
Tunisian anti-terror police interrogated Amri's family members in Tunisia, according to the AP.
His family spoke to DPA, Germany's press agency, describing Amri as a normal teenager, and said he had not been religious before migrating from Tunisia to Italy in 2011.
"None of us can believe it," one of Amri's five sister's told the DPA. "Anis was never religious. He used to drink and party and listen to pop music."
Amri was 17 when the family saved money to pay an illegal smuggler to take him across the Mediterranean, the family told DPA.
Once there, the family said he spent time in an Italian refugee camp and later served time in a prison.
ISIS has claimed responsibility for the attack and referred to Amri as a "soldier" of the terror group.
The terror organization said that Amri was "targeting citizens of the Crusader coalition," the SITE Intel Group reported.
Amri appears to have had past criminal convictions and reportedly spent time in an Italian prison.
Amri, in an image from documents found in the truck used in the attack.
Amri left Tunisia seven years ago, then spent four years in an Italian prison, his father told Mosaique FM radio, according to the AP.
Tunisian authorities did not finish Amri's paperwork in time following his release from prison, so he was never sent back to Tunisia, Italian news agency ANSA reported, according to the AP.
Tunisian security officials also reportedly told Mosaique FM that Amri has been convicted in absentia for aggravated theft. He was sentenced to five years in prison for that conviction, the AP reported.