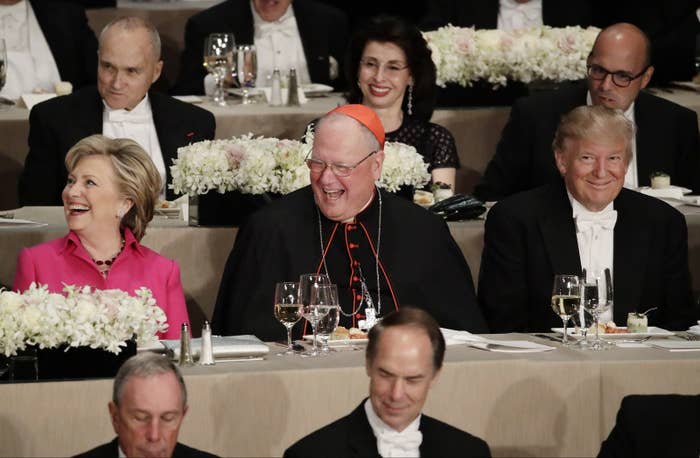 Donald Trump delivered a stinging speech Thursday night at what was supposed to be a light-hearted charity event with a series of personal attacks on Hillary Clinton, drawing boos from the audience.
Both Trump and Clinton spoke in New York City at the white-tie Al Smith Dinner, a Catholic fundraiser during which the candidates traditionally make jokes about each other and share a stage one last time before the election. This year's dinner came just a day after the two candidates faced off during a heated debate in Las Vegas.
Trump spoke first at Thursday's event and initially landed several jokes that drew big laughs, including one that riffed on his frequent claim that Clinton is "crooked."
"We have proven that we can actually be civil to each other," Trump said. "In fact, just before taking the dais Hillary accidentally bumped into me and she very civilly said, 'Pardon me.'"
Trump later jokingly complained that first lady Michelle Obama gave a speech and received widespread praise.
"My wife gives the exact same speech and people get on her case," Trump said, referring to a controversy over a speech Melania delivered at the Republican National Convention. "And I don't get it. I don't know why."
But Trump's comments appeared to increasingly cross the line with the audience as the speech continued.
"We've learned so much from WikiLeaks," he said. "For example, Hillary believes that it is vital to deceive the people by having one public policy and a totally different policy in private."
The line drew boos from the audience. "That's OK, I don't know who they're angry at, Hillary, you or I. For example, here she is tonight, in public, pretending not to hate Catholics."
The tension failed to dissipate when Trump soon followed up with a quip about Haiti.
"Everyone knows, of course, Hillary's belief is, it takes a village," he said. "Which only makes sense in places like Haiti where she's taken a number of them."
Trump's comments came after the evening got off to a frosty start, with Clinton and Trump declining once again to shake hands, the Associated Press reported. At the dinner, the candidates could be seen sitting just feet apart, acknowledging each other only briefly.
Clinton, taking a different tone, praised the money raised for Catholic charities and the need for Americans to come together in respect — even if they disagree on issues.
"I believe how we treat others is the highest expression of faith and service," she said.
She also delivered self-deprecating remarks and barbs on Trump's volatility and treatment of women.
While most Americans see the Statue of Liberty as a beacon of hope, she joked, Trump has a different view.
"Donald looks at the Statue of Liberty and sees a 4, maybe a 5 if she loses the torch and tablet and changes her hair," Clinton said.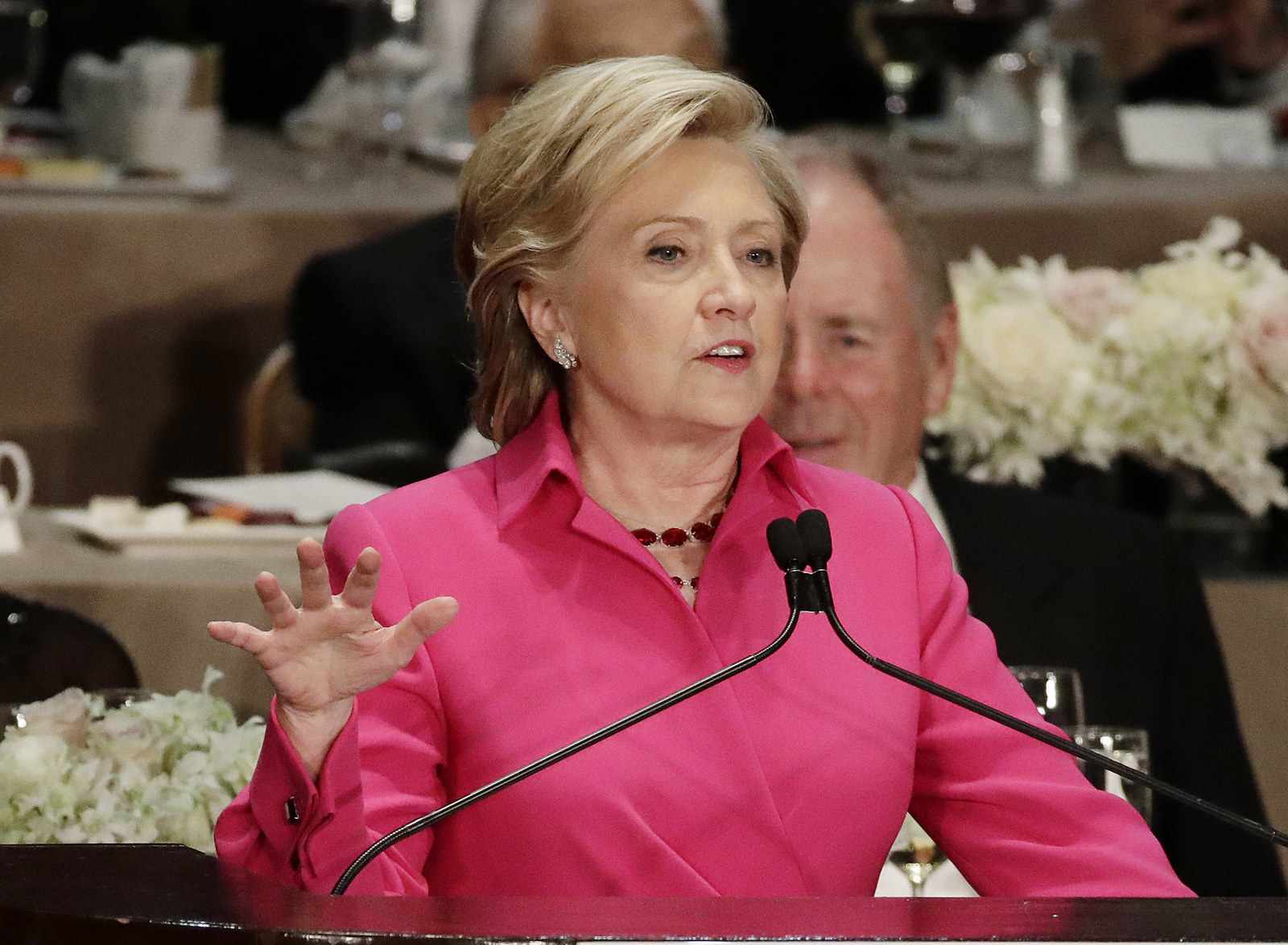 In a nod to conspiracies about her health, Clinton also joked that Trump had sent a hearse to take her to the dinner. She then compared her released medical records, which contain figures on her blood pressure and cholesterol, to Trump's doctor's note, which described him as "astonishingly excellent."
"But Donald really is healthy as a horse," Clinton said. "You know, the one Vladimir Putin rides around on."
Clinton again called on Americans to focus on what was most important.
"So tonight, let's remember the spirit of the evening and what unites us," she said, "and just rip on Ted Cruz."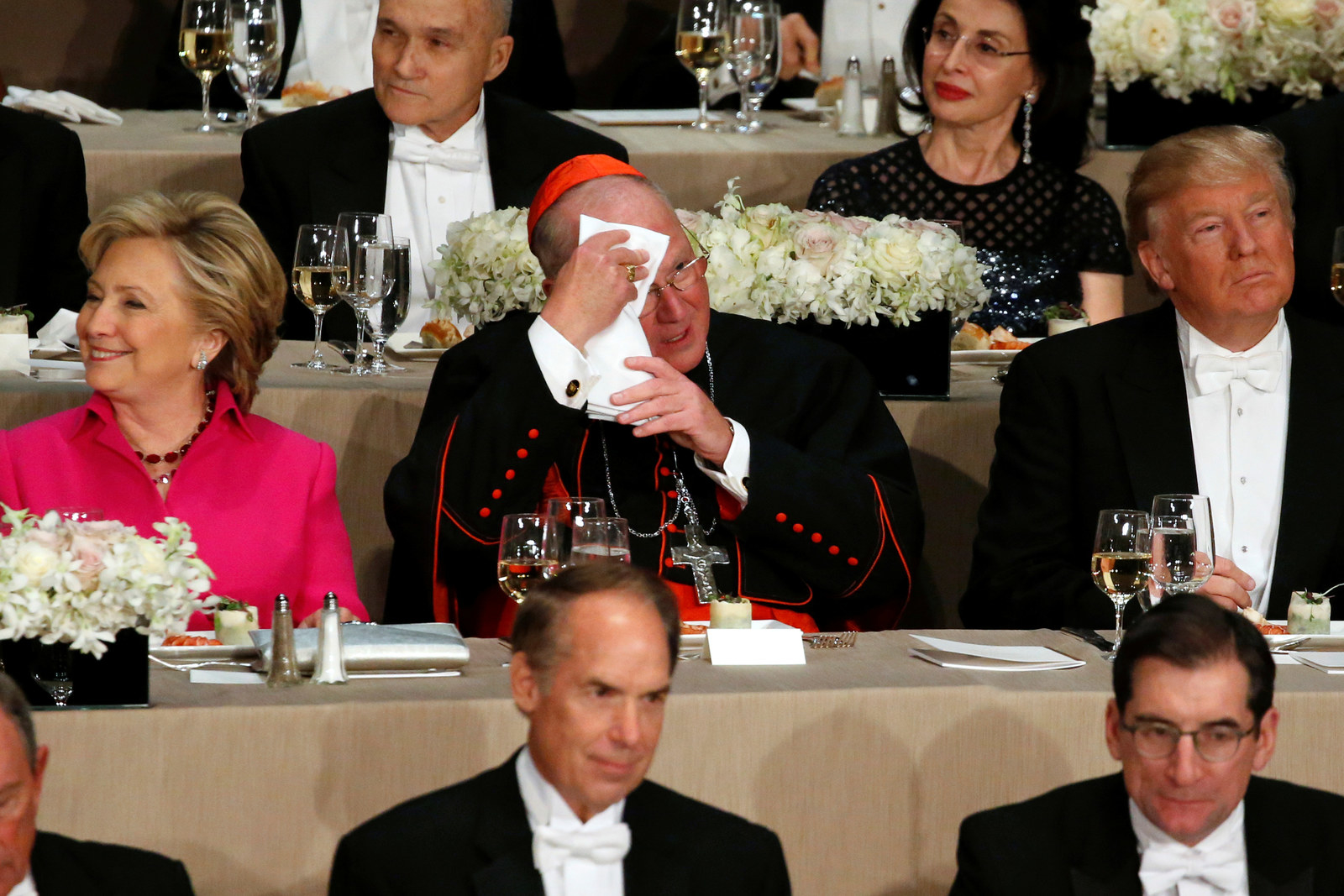 Before kicking off the dinner, Al Smith IV, chairman of the organization that organized the event, set some ground rules.
"Even though there's a man sitting next to you in a robe, you're not in a locker room," Smith said, referring to a lewd conversation Trump was recorded having in 2005. "So watch your language."
The tension Thursday followed even more aggressive attacks during Wednesday's debate. Most notably, Trump called his Democratic rival a "nasty woman" and repeated his claim that the election is "rigged." He also refused to commit to honoring the results of the November vote, which Clinton called "horrifying."