Utah Is At The RNC, But In The Back And Heartsick Over Trump
Republicans from one of the most conservative states in the country are resisting the Republican nominee.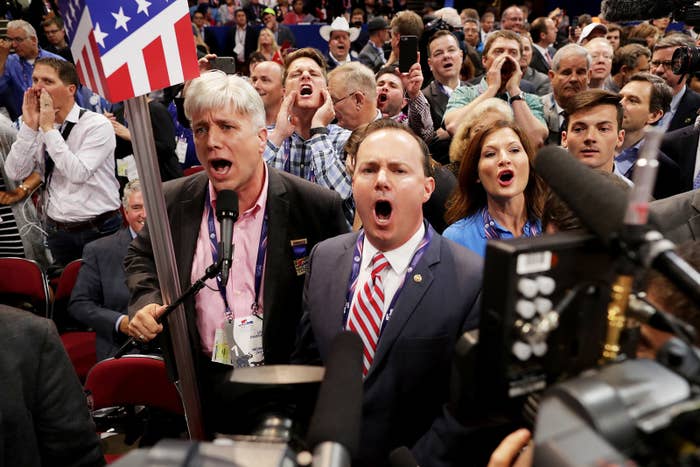 Donald Trump will be the Republican nominee. The Never Trump movement is all but over. But Republicans from Utah, a bastion of conservatism, aren't happy about it.

Though Utah has historically been one of the most reliably Republican states in the U.S., it has this year found itself at the center of a movement to resist the presumptive Republican nominee. Whether Utah ever fully embraces Trump remains to be seen. There is a cultural chasm between Trump and Utah's Mormon voters, and many in the state find his positions on immigration and Islam in particular distasteful. During this week's Republican presidential convention in Cleveland, the gulf between Utah and Trump seems only to have widened.
"His people have been bullying us," Gayle Ruzicka, a prominent Utah delegate and president of the Utah Eagle Forum, told BuzzFeed News Tuesday.
Ruzicka was referring to tense battle over convention rules that has played out in recent days. The rules battle ended Monday with a loss for the anti-Trump contingent, particularly rankling Utahns who said party officials strong-armed their way to an outcome favoring the presumptive nominee.
Ryan McCoy, a first-time delegate, told BuzzFeed News that party and Trump officials aggressively confronted the Utahns with "raised voices, in their face," that they resorted to "almost coercion," and that they threatened delegates' political careers. Ruzicka said Trump's people "harassed and harassed" the Utah delegation, surrounding them and refusing to turn on a microphone for Sen. Mike Lee.
The situation ultimately prompted loud cries of protest from the convention floor.
It also didn't help bring Utah, which is seated in the back of the convention, into the fold of Trump's GOP. Ruzicka — a prominent player in Utah politics who also supported Cruz — said that she won't be voting for Trump in November, no matter what that means for the election in November.
"I believe that if Hillary wins that's because Donald Trump is a terrible opponent," she added. "I think he'll do a fine job of defeating himself."
Boyd Matheson, another Utah delegate and Lee's former chief of staff, took a broader position, saying that Trump was part of a needlessly polarizing political system that increasingly alienates everyone.
"I think both political parties are on the verge of irrelevance," he told BuzzFeed News.
Matheson cautioned against attributing all of the current angst to Trump. But he said his focus is crafting a future that builds on his state's recent protests and contrarian positions — things Utah has become known for during the Trump period.
Still, Utah allows straight party votes, and both Ruzicka and Matheson suspect Utah will ultimately side with the Republican party over Hillary Clinton and the Democrats. Others, such as Marcus Jessop — another delegate — are holding out hope that Trump will meet them halfway.

"I disagree with Trump on various issues," Jessop told BuzzFeed News. "He is going to be our nominee against Hillary, but my hope is he tries to mend these fences because at this time there are still problems."

Others, however, are coming out of the convention less sure than ever that the Republican nominee can actually win over one of the most Republican states in the country.
"Very few of my neighbors, life-long Republicans, plan to vote for Trump," McCoy said. "I think Utah's in play."