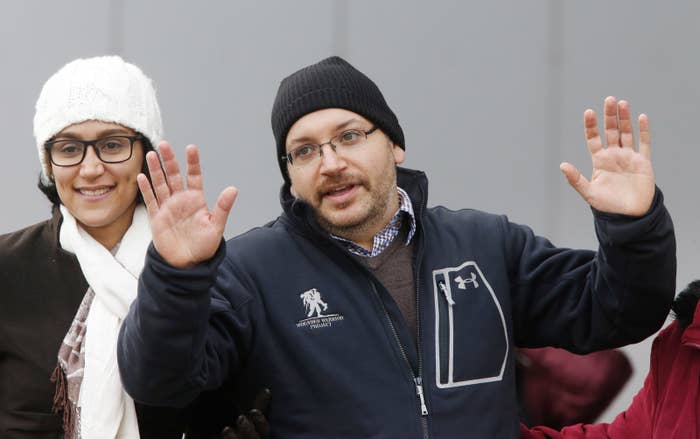 The US State Department said Thursday that a $400 million cash payment to Iran was contingent on the release of three Americans Iran was holding prisoner.

The US delivered the money to Iran on Jan. 17, sending a plane loaded with Swiss francs, euros, and other currencies to the country. The money was part of a settlement with Iran stemming from a decades-old case.
The same day the money was delivered, Iran freed three US citizens, including Washington Post reporter Jason Rezaian.
The Obama administration has insisted the cash was not ransom money and that, as a matter of policy, it doesn't pay money for hostages.
"We do not pay ransom for hostages," the president said at an Aug. 4 briefing.

However, on Thursday, State Department spokesman John Kirby said the US would not give Iran the money until the prisoners were released.
Speaking of the situation, Kirby said that "we were able to conclude multiple strands of diplomacy within a 24-hour period" and that the "US deliberately leveraged that moment." He also said that due to concerns Iran might renege on the prisoner release, as well as "mutual mistrust" between the two countries, "we of course sought to retain maximum leverage until after American citizens were released."
Kirby added that the negotiations for the financial transfer and the prisoner release were conducted separately but "came together simultaneously."
"It would have been foolish, imprudent, and irresponsible for us not to try to maintain maximum leverage," Kirby said.
The Wall Street Journal Thursday characterized the payment and prisoner release as a "tightly scripted exchange" in which the money was not cleared for delivery until after the Americans were "wheels up" on a plane out of the country.
The Journal also reported that one of the American prisoners, Saeed Abedini, was told by Iranian officials that his release was contingent on the movements of another airplane.
The money has become a point of controversy in recent months. Republican presidential candidate Donald Trump has repeatedly criticized the Obama administration over the payment. Florida Sen. Marco Rubio has referred to the money as a "ransom payment," as has Arizona Sen. John McCain.
House Speaker Paul Ryan and Rep. Jason Chaffetz have also criticized the money transfer.
Thursday evening, Ryan continued his criticism, saying in a statement that the "president and his administration have been misleading us since January about whether he ransomed the freedom of Americans unjustly imprisoned in Iran."
"The President owes the American people a full accounting of his actions and the dangerous precedent he has set," Ryan added in his statement.

The money is part of a settlement over a failed arms deal signed in 1979. In total, the US is set to pay $1.7 billion to resolve claims brought before an international tribunal at The Hague.