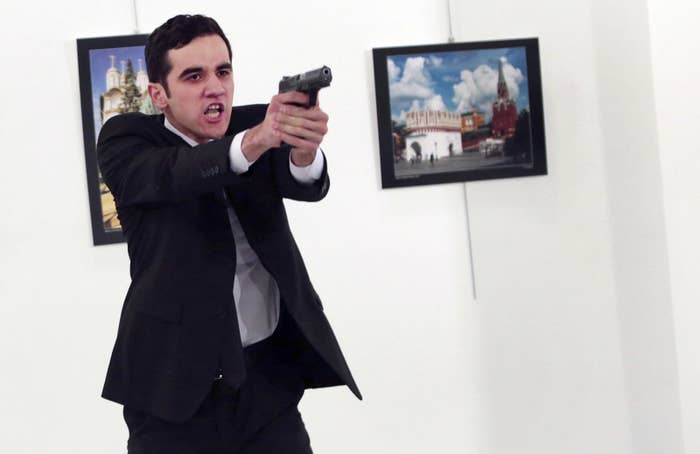 A Pennsylvania-based Turkish cleric has strongly denied that he was behind Monday's assassination of Russia's ambassador to Turkey.

In a message posted to YouTube, Fethullah Gülen said that he condemns terrorism and sends his "deepest condolences to all Russian people, especially to their leaders." He also said that the assassin — 22-year-old Turkish policeman Mevlut Mert Altintas — not affiliated with his organization, the Alliance for Shared Values.
"It is obvious that he has nothing to do with the movement in the past and the present," Gülen says in the video.
The Alliance for Shared Values also issued a statement Thursday denying "Turkish Government officials' allegations trying to link the assassin of Russian ambassador to Turkey with Mr. Gulen or Hizmet movement."
"While the assertion is wrong and irresponsible, it is not unexpected since Mr. Erdogan blames Mr. Gulen for any and all harm that besets Turkey," the statement continued, referring to Turkish President Recep Tayyip Erdogan.
The statement went on to accuse Erdogan of blaming Gülen in an effort to "divert attention from the glaring lapse of security that allowed this and other tragic terrorist attacks."
Ambassador Andrey Karlov was shot and killed Monday while visiting an art gallery in Ankara, Turkey's capital. He was speaking at a podium when Altintas, who was standing behind him, opened fire. Video from the scene showed Altintas screaming that the killing was revenge for Russia's involvement in the Syrian civil war.
On Tuesday, Turkish foreign minister Mevlut Cavusoglu told US Secretary of State John Kerry that Gülen was connected to the killing, state-run Anadolu Agency reported. Deputy Prime Minister Numan Kurtulmuş also appeared to try to link the ambassador's murder to Gülen and his followers Tuesday.

Turkish authorities have further blamed Gülen for a failed coup attempt in July, though he also also denied involvement in that incident. Gülen has been in the US since 1999.
In Thursday's statement, Gülen's Alliance for Shared Values repeatedly condemned the Turkish government's efforts to tie it to terrorism, saying that a "witch-hunt" for people connected to the group "led to a lapse in security, especially in the area of counterterrorism."