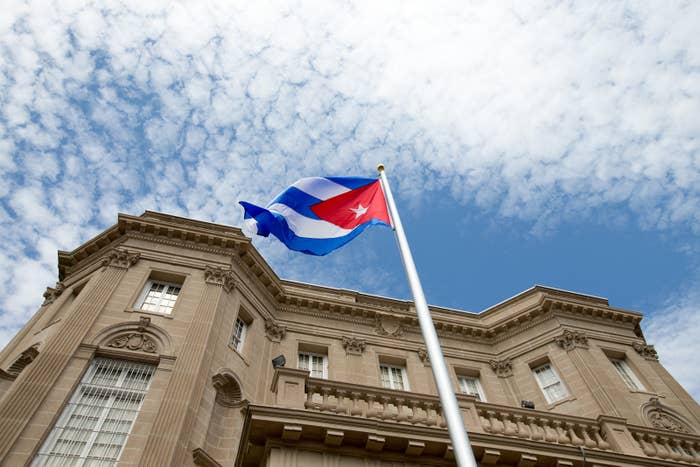 After decades of icy relations, Cuba and the United States officially established full diplomatic relations Monday after an agreement struck earlier this summer went into effect after midnight.
There was little fanfare for the historic shift, announced earlier this month, as crews hung the Cuban flag in the lobby of the State Department alongside those of other nations that have full diplomatic relations with the U.S., the Associated Press reported.
The Cuban flag was raised at the new embassy in Washington, D.C., on Monday morning. Secretary of State John Kerry announced his first trip to Cuba will be on Aug. 14, the first state visit by a U.S. official since 1961, and the first visit by a U.S. secretary of state since 1945. The U.S. flag will be raised at the American Embassy during Kerry's visit.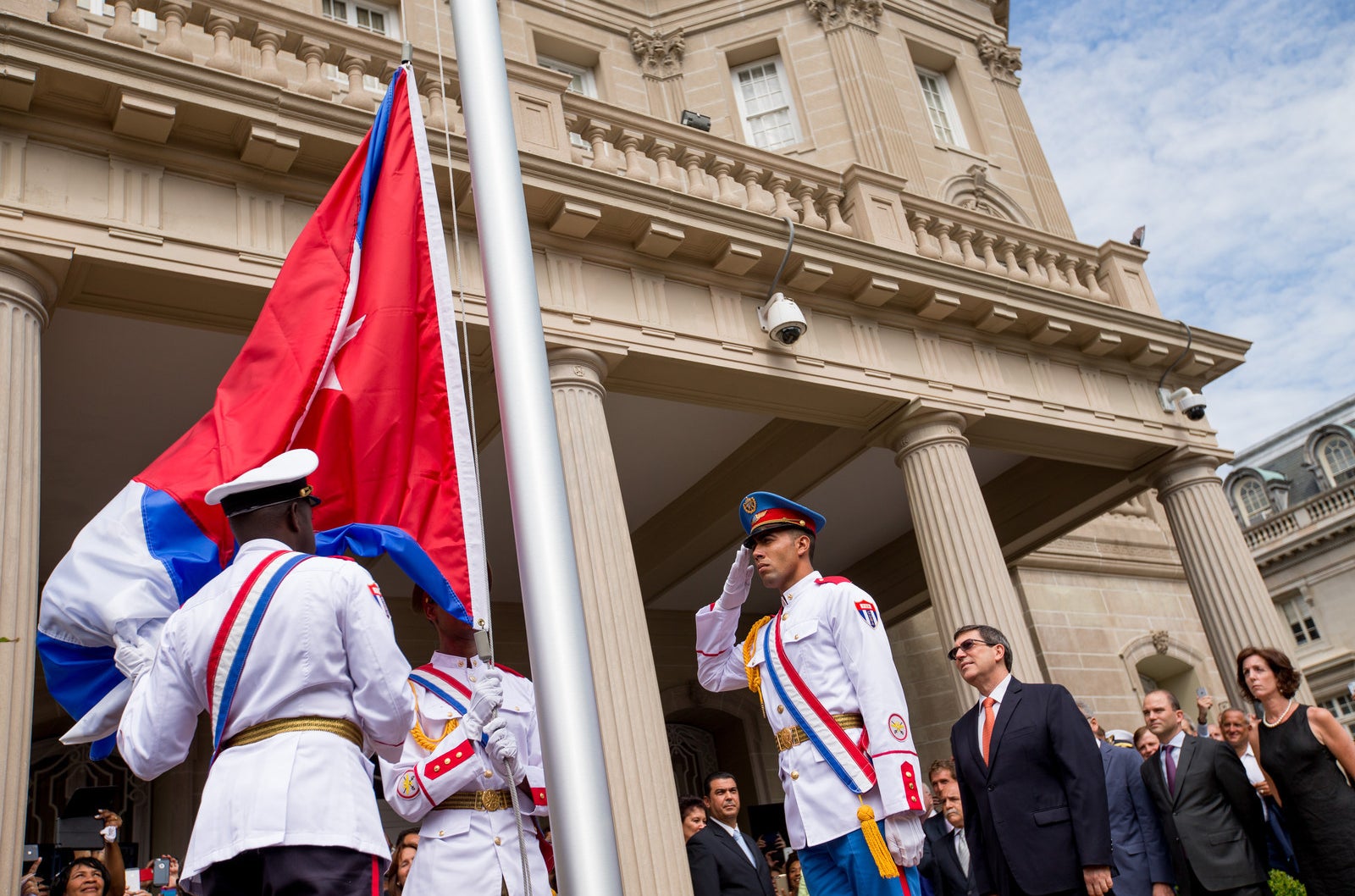 The flag-raising in Washington was without incident, although a protester tried to charge the Cuban Embassy following the ceremony and was detained.

The announcement in early July came after months of negotiations that began in December. It also follows the easing of travel restrictions for Americans hoping to visit to Cuba, as well as moves by American companies, such as JetBlue, to increase service to the island country.

The embassy deal also makes the prospect of a presidential trip to Havana more likely. White House officials have expressed openness about an Obama trip to Cuba since the reopening of diplomatic relations between the two countries late last year.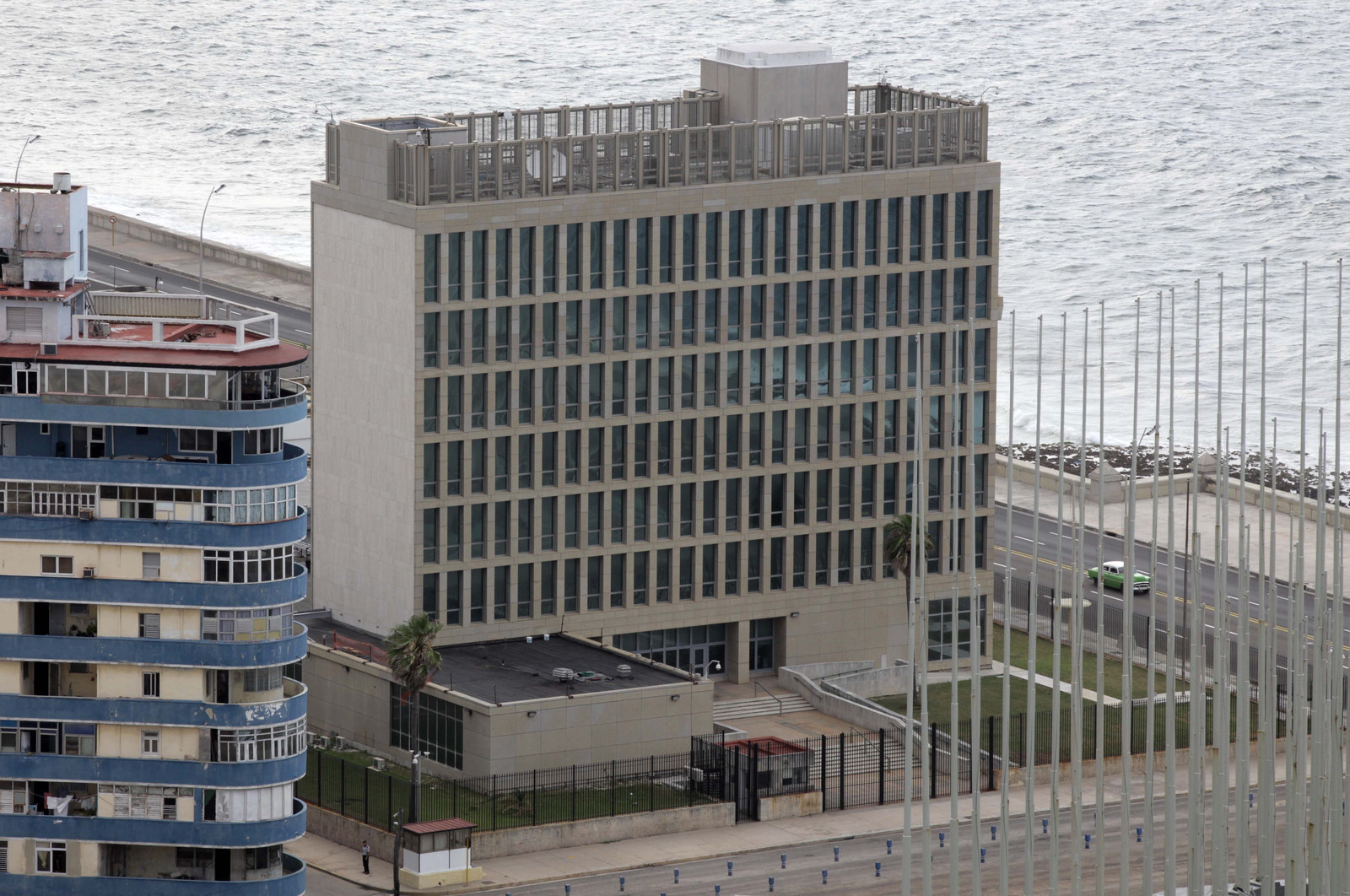 An Obama visit to Cuba would be just the latest development in a dramatic realignment of U.S.–Cuba relations. Following Fidel Castro's communist revolution, ties between the two countries deteriorated. Eventually the U.S. imposed an embargo against Cuba and cut of diplomatic relations in 1961.
In the late 1970s, the two countries opened diplomatic "interest sections" in each other's capitals. The facilities were under the protection of Switzerland and did not enjoy the same status as a embassies.
The U.S. interest section occupied the old, modernist Havana embassy building. According to Architect magazine, in 2006 the U.S. put an electronic sign on the building that displayed human rights messages in Spanish.
Cuba responded by trying to block views of the sign, naming the area in front of the building "Anti-Imperialist Plaza," and putting up propaganda billboards that in one case portrayed George. W. Bush as a vampire.
The announcement late last year that the U.S. would re-establish diplomatic relations with Cuba was consequently a major departure from past policy.
Despite the diplomatic thawing, the two nations still have an array of issues — including human rights and property conflicts — to address as they normalize relations.