U.S. "Reasonably Certain" Jihadi John Killed In Targeted Strike
The prominent ISIS member has been a high-priority target since appearing as the terror organization's notorious on-camera killer.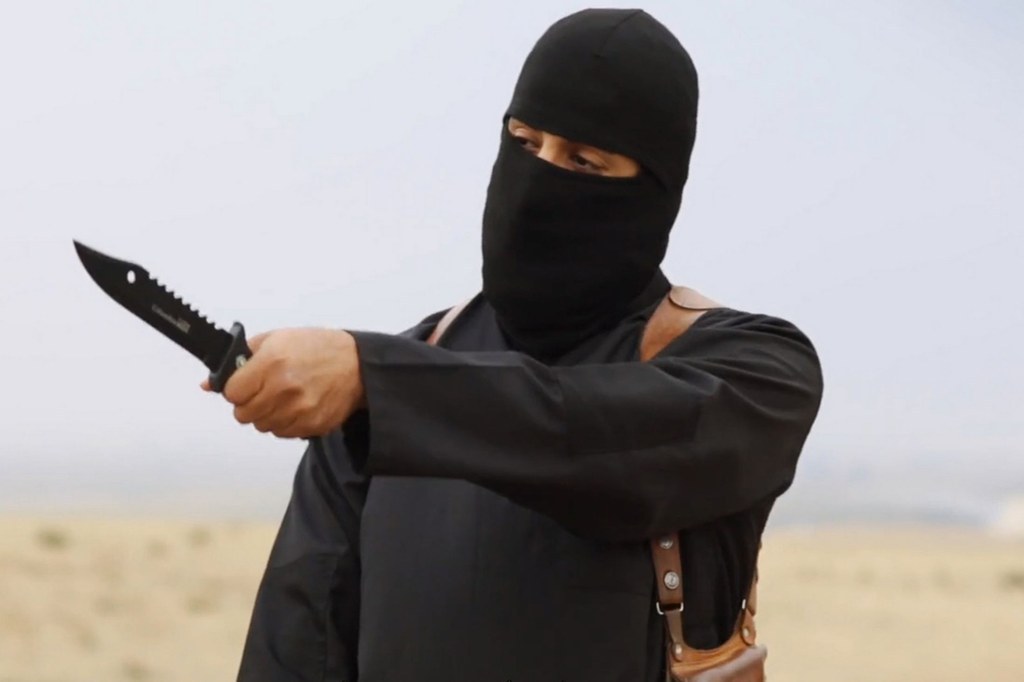 The U.S. is "reasonably certain" ISIS member Mohammed Emwazi was killed in a drone strike in Raqqa, Syria, the chief military spokesman in Iraq said Friday.
Speaking during a briefing in Baghdad, Col. Steve Warren said that U.S. intelligence indicates that the the notorious killer, also known as "Jihadi John," and one other person died in the targeted attack, but he was awaiting final confirmation.
Emwazi, a Briton who grew up in London, first gained notoriety after he killed American journalist James Foley last year in an ISIS propaganda video.
Warren said that while the strike was a fairly routine one, Jihadi John's death was significant because he "was somewhat of an ISIL celebrity" and "the face of the organization."
But he said that while losing Emwazi was a blow to the "prestige" of ISIS, "Jihadi John was not a major tactical figure or operational figure.
The White House said Friday it was not in a position to confirm Emwazi's death and referred questions about the strike's success to the Department of Defense. At a press briefing, Press Secretary Josh Earnest called Jihadi John an "ISIL leader and a strategist" and said he was "a target worth going after." He said President Obama was briefed on the strike yesterday but that no final determination had been made about Emwazi's current status. He said that a number of families of hostages in Syria were contacted ahead of public reports of the operation.
British prime minister David Cameron, in a statement at Downing Street, said on Friday that he believed the attack was a "strike at the heart of ISIL."
"We have been working with the United States, literally around the clock, to track him down," Cameron said. "This was a combined effort and the contribution of both our countries was essential.
"He posed an ongoing and serious threat to civilians, not only in Syria but around the world, and in the United Kingdom too. He was ISIL's lead executioner and let us never forget that he killed many Muslims too. And he was intent on killing many more people. So this was an act of self-defense. It was the right thing to do.
"It will demonstrate to those who would do Britain, our people, and our allies harm: We have a long reach, we have unwavering determination, and we never forget about our citizens. The threat ISIL pose continues. Britain and our allies will not rest until we have defeated this evil terrorist death cult and the poisonous ideology on which it feeds. Today, though, my thoughts and the thoughts of our country are with the families of those who were so brutally murdered."
Britain's opposition leader, Jeremy Corbyn said that it would have been better if Emwazi had been held accountable in a court of law, the Associated Press reported. It appears Mohammed Emwazi has been held to account for his callous and brutal crimes," Corbyn said. "However, it would have been far better for us all if he had been held to account in a court of law."
The Pentagon was also reluctant to give final confirmation that the targeted attack had been successful, instead saying "we are assessing the results of tonight's operation and will provide additional information as and where appropriate."
Secretary of State John Kerry said Friday in Tunisia that, "we are still assessing the results of this strike, but the terrorists associated with Daesh need to know this: Your days are numbered, and you will be defeated."
"There is no future, no path forward for Daesh, which does not lead ultimately to its elimination, to its destruction," Kerry said.
However, unnamed U.S. officials told both ABC News and CNN that they were confident the strike killed Emwazi. An official told CNN the mission was one of "persistent surveillance."
A military source also told the BBC there was a "high degree of certainty" that Emwazi was hit in the attack.
The "Raqqa Is Being Slaughtered Silently" group, a collection of activists based in Raqqa, Syria, who use social media to document the actions of ISIS and Syria's regime in the town, posted on Twitter that Emwazi had been killed at around 11:51 p.m. local time.
A suspected associate of Emwazi was detained in Turkey, senior Turkish officials told Reuters on Friday. The associate is thought to be Aine Lesley Davis, a British Islamist believed to have guarded foreign prisoners in Syria, Reuters reported.
Warren said Jihadi John's death was more significant for ISIS because he was their primary recruitment tool. "We're all familiar with the ghastly videos and the absolute barbarism he displayed, at times against American citizens," Warren said at the briefing. "This guy was a human animal and killing him is probably making the world a little better place."
Emwazi appeared in numerous ISIS propaganda videos, always dressed in black and often wielding a knife. He spoke in a British accent and repeatedly made threats against Western nations and leaders. In addition to Foley, he also is believed to have participated in the killings of Americans Steven Sotloff and Abdul-Rahman Kassig, Britons David Haines and Alan Henning, and Japanese journalist Kenji Goto.
U.S. officials believe Emwazi participated in a number of other killings as well. He also reportedly tortured victims captured by ISIS.
The Washington Post first identified Emwazi earlier this year, reporting that he grew up in west London and came from a well-to-do family. He reportedly graduated from college with a degree in computer programming.
British prisoners of ISIS reportedly referred to Emwazi and three other terrorists as "the Beatles" due to their English accents. The prisoners nicknamed Emwazi "John," and the press later began referring to him as "Jihadi John."
The relatives of those killed by ISIS have reacted to reports of Emwazi's death. Bethany Haines, the daughter of beheaded British aid worker David Haines, said she felt an "instant sense of relief, knowing he wouldn't appear in any more horrific videos."
She told ITV News: "He was only a pawn in ISIS's stupid game but knowing it's over, that he's finally dead, still hasn't sunk in. As much as I wanted him dead I also wanted answers as to why he did it – why my dad, how did it make a difference?"
Diane Foley, the mother of James Foley, told ABC News that Emwazi's potential death would be "really a small solace to us." Hitting out at the U.S. government's hostage policy, she said: "This huge effort to go after this deranged man filled with hate when they can't make half that effort to save the hostages while these young Americans were still alive."
In a statement, Sotloff's parents, Art and Shirley Sotloff said, "This development doesn't change anything for us; it's too little too late. Our son is never coming back."
Shirley Sotloff, told NBC News Thursday night, saying she was not given advance warning about the airstrike. She also said she doesn't "think there will ever be closure."
Thursday's strike took place as the U.S. provided air support to Kurdish forces attempting to take back the city of Sinjar, Iraq, after it was lost to ISIS militants in August 2014. Fighters on the front lines told BuzzFeed News that the airstrikes in Sinjar had been happening for days.
Announcing details of the operation overnight on Thursday, Pentagon press secretary Peter Cook said: "U.S. forces conducted an airstrike in Raqqa, Syria, on 12 November 2015 targeting Mohammed Emwazi, also known as Jihadi John.
"We are assessing the results of tonight's operation and will provide additional information as and where appropriate."