A day after five police officers were gunned down in Dallas, ride hailing company Uber added a message to its app Friday encouraging users to reflect on recent gun violence.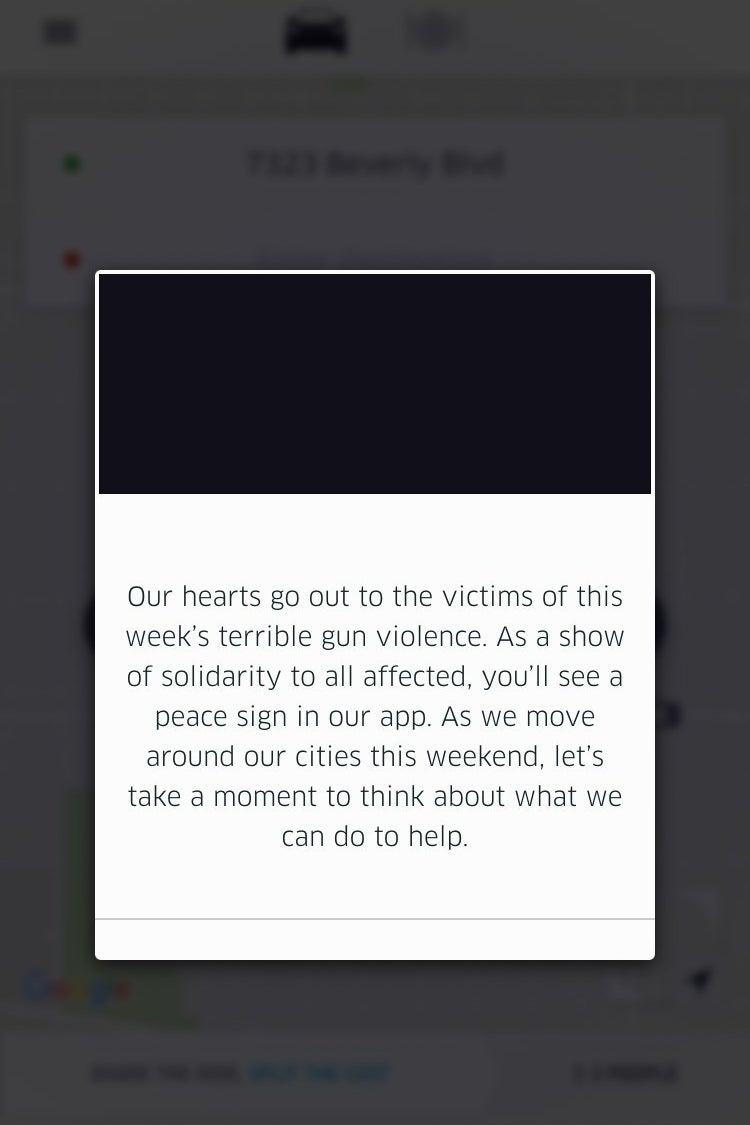 The message appeared when users opened the app, and stated that "our hearts go out to the victims of this week's terrible gun violence."
"As we move around our cities this weekend, let's take a moment to think about what we can do to help," the message concluded.
Uber launched the message a day after five police officers were killed and seven others wounded by a sniper at a Black Lives Matter protest in Dallas. Two civilians were also wounded in the shooting, and the protest itself was sparked after two black men were killed this week in officer-involved shootings in Louisiana and Minnesota.
Uber also changed the icons of Uber X cars to peace symbols.
Uber users also shared images from the app showing a countdown — which usually displays the time remaining for a car to arrive — "to reflect on gun violence."
Others shared images of a message from Uber about a minute of silence.
The message, which multiple Uber users posted online, announced riders would be unable to request rides for a minute. It also stated the company would be making donations to non-profits in Baton Rouge, Minneapolis, and Dallas.
Uber spokesperson Matt Kallman told BuzzFeed News the peace symbols would remain in the app through Saturday. He also said that while the car icons have been changed for events in the past, this is the first time Uber has disabled the app for a minute.
Uber's response comes as numerous other tech companies including Google, Square, Twitter, and others responded the police shootings in Louisiana and Minnesota by calling for racial justice.