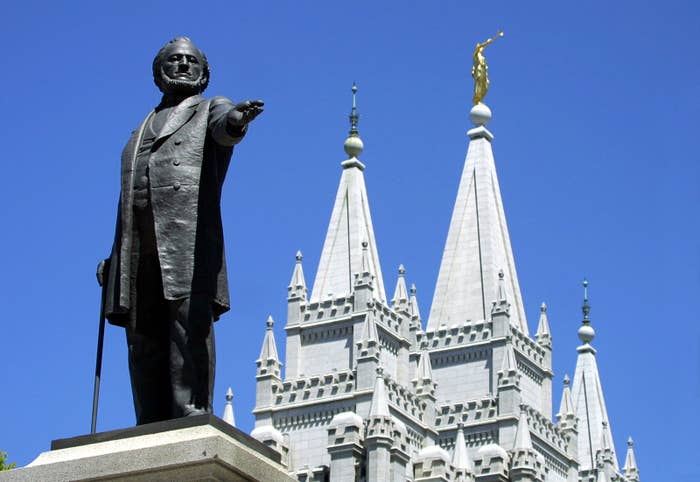 Two women have brought allegations of sexual misconduct against a former leader in the Mormon church, saying the man abused them while running a missionary training facility in the 1980s.

The allegations first publicly surfaced earlier this week, when the website MormonLeaks published a December recording in which Joseph Bishop, 85, admits to molesting multiple women. The recording was made by a woman who confronted Bishop, saying he raped her while he was the president of the Missionary Training Center, in Provo, Utah, in 1984.
The MTC trains mostly young members of the Church of Jesus Christ of Latter-day Saints, better known as Mormons, before they travel to other parts of the world as missionaries. MTC presidents are volunteers, but unlike other Mormon clergy, they serve full-time and report directly to the church's upper governing bodies.
On Friday, the church confirmed in a statement that there is a second woman who also says she was abused by Bishop.
"We are aware of one other woman (who is referenced in the December recording) who informed her local ecclesiastical leaders that she was sexually abused by Joseph Bishop while he served as president of the Missionary Training Center," the statement said.

The church said that it first learned about allegations from both women in 2010. Officials from the church asked Bishop about the allegations, the statement adds, but did not take disciplinary action after he denied wrongdoing.
However, a 2017 police report obtained by BuzzFeed News states that Bishop admitted to officers that he asked the woman who made the recording to "show him her breasts which she did." The report also includes a note from a prosecutor saying that he would have pursued charges against Bishop if the allegations hadn't been from so long ago.
"I have no reason to doubt the victim's disclosure, and would have likely prosecuted Mr. Bishop, but for the expiration of the statute of limitations," David Sturgill, the prosecutor, wrote.
In the recording, the woman asks Bishop if he remembers "tearing my blouse, pulling up my skirt, ripping the back of my skirt and trying to rape me? But you didn't, because you didn't have a full erection. You don't remember that?"
Bishop repeatedly says that he does not remember doing those things — a point he also made to police, according to the 2017 report — but also apologizes to the woman "from the depths of my heart" and later says, "but I have this thing about, I have this sexual addiction, what can I say?"
The woman recorded the interview after posing as a writer interested in Bishop's church service. After speaking with him for about 40 minutes she then confronts Bishop about the alleged rape.
In the recording, the woman says, "If this story went public, you would be the Harvey Weinstein or whatever the hell his name is of the Mormon church. True?"
"I would be," Bishop responds.
At another point, Bishop says he believes he has overcome his sex addition, and compares his experience to going to Alcoholics Anonymous.
"Yes. I'm Joe," Bishop says, mimicking the way people introduce themselves at AA meetings. "I'm a sexual predator."
When the woman later notes that Bishop was a high-ranking church leader, he replies, that "makes my sins more grievous."
Bishop further responds affirmatively when the woman asks if he has molested other women, and says, "you're not the only one." When questioned about what happened, he said that an incident took place between him and a woman when she was living with his family.
"And I rubbed her back," Bishop says in the recording. "And that got too much...frisky. That's all that ever happened."
The second woman has not been publicity identified.
The accuser also said she spoke about the allegations with Carlos Asay, a high-ranking church official who has since died. However, Bishop said Asay never spoke to him about the allegations. And the church said in its statement that "we have no record of an interview between Elder Carlos E. Asay (1926–1999) and this individual."
The woman conducting the interview referred most of BuzzFeed News' questions this week to her lawyer, but said that Bishop is a "bad guy."
"There is nothing they can throw at me that is going to phase me," she added.
The woman has not chosen to publicly identify herself.
The church has called the allegations "very serious and deeply disturbing," adding that if they are true, they would be "a tragic betrayal of our standards and would result in action by the church to formally discipline any member who was guilty of such behavior, especially someone in a position of trust."
The church also learned of the allegations in 2016, when the woman who recorded the interview mentioned it to a church leader in Colorado, and earlier this year when the woman's lawyer contacted church officials. The church later conducted an investigation during which lawyers interviewed both Bishop and the woman who made the recording.
"Not surprisingly, the stories, timelines and recollections of those involved are dramatically different," the church said in a statement, referring to its investigation. "This woman reaffirmed her allegations, and Mr. Bishop has again denied them."

Bishop's son and lawyer, Greg Bishop, disputed the allegations this week, telling BuzzFeed News that his father "forgets things sometimes. He gets confused easily." He also said his father was physically weakened at the time of the interview after having recently been hospitalized due to multiple heart attacks.
Greg Bishop added that he believes the interviewer was "trying to leverage this Me Too movement to try to get some money from the church or put the church in a bad light or whatever."
However, the woman told BuzzFeed News on Friday that she stands by her story, and noted that few victims have "an audio tape where a perpetrator admits to so many." She also said that she expects more victims to come forward, particularly after she files a lawsuit.
"When they are free and can honestly give their story, I think it's going to be a real problem for the church," she added.