No Charges For Two Other UC Police Officers Who Responded To Samuel Dubose's Fatal Shooting
The two officers who arrived on scene shortly after Samuel Dubose was fatally shot by former UC officer, Ray Tensing, will not face criminal charges. Ray Tensing, who was charged with Dubose's murder, was released from jail Thursday after posting bond.
Two University of Cincinnati police officers, who responded to the July 19 traffic stop in which fellow Officer Ray Tensing fatally shot Samuel Dubose, will not face criminal charges, Hamilton County Prosecutor Joseph T. Deters' office announced Friday.
The two officers, David Lindenschmidt and Phillip Kidd, arrived on the scene just as Tensing was reaching into Dubose's car and fatally shot him in the head. In his statement, Tensing claimed that he was dragged by Dubose's car prompting him to shoot him. His claims were proven to be untrue after his body camera video showed that Tensing was not dragged.
According to a previously-released police report, Kidd backed up Tensing's account of the shooting. The report states that Kidd told another officer that "he witnessed the Honda Accord drag Officer Tensing, and that he witnessed Officer Tensing fire a single shot."
Deters said Friday that in official interviews with police, the officers said they did not see Tensing being dragged by the car. The Hamilton County Grand Jury did not charge the two officers after hearing their testimony.
"I fully agree with the decision of the Hamilton County Grand Jury," Deters said in a statement. He said the two officers were "totally cooperative" in the investigation of the shooting and gave "consistent" statements.
"There was some confusion over the way the initial incident report was drafted but that was not a sworn statement by the officers and merely a short summary of information," Deters' statement said. "When the officers were specifically asked about what they saw and heard, their statements matched Tensing's body camera video. These officers have been truthful and honest about what happened and no charges are warranted."
The two officers were put on leave Thursday, BuzzFeed News confirmed. In video footage also released to the BuzzFeed News Thursday, the officers can been seen running down the street as Dubose's car rolls away.
The video does not show the actual shooting.
A University of Cincinnati police dispatcher confirmed to BuzzFeed News Thursday that the men had been placed on leave, but could not say why. The Cincinnati Enquirer reported that the leave is paid.
Officials with the University of Cincinnati and the Hamilton County Prosecutor's Office did not immediately respond to BuzzFeed News' request for comment Thursday.
Kidd's body camera footage does not show Tensing being dragged, and instead begins with Kid running down the street.
Later in the video, Tensing can be heard saying he was dragged by Dubose's car.
"I just got my hand and my arm caught," Tensing says.
"Yeah, I saw that," Kidd replies.
Tensing's own body camera footage shows the moment of the shooting. Dubose has his hand on the ignition, but does not appear to be dragging Tensing.
The police report adds that it was "unclear how much of this incident OIT Lindenschmidt witnessed."
However, in his body camera footage, Lindenschmidt can be heard saying "the guy took off from him, the officer got caught in his car. Cause the guy reached for something, he thought, so he grabbed onto the car."
"Our officer went down, he got tangled in the car and drew his gun and fired," Lindenschmidt says in the video. He later tells several other officers that Tensing was "stuck in the vehicle."
Tensing was released from jail Thursday after posting 10% of his $1-million bond.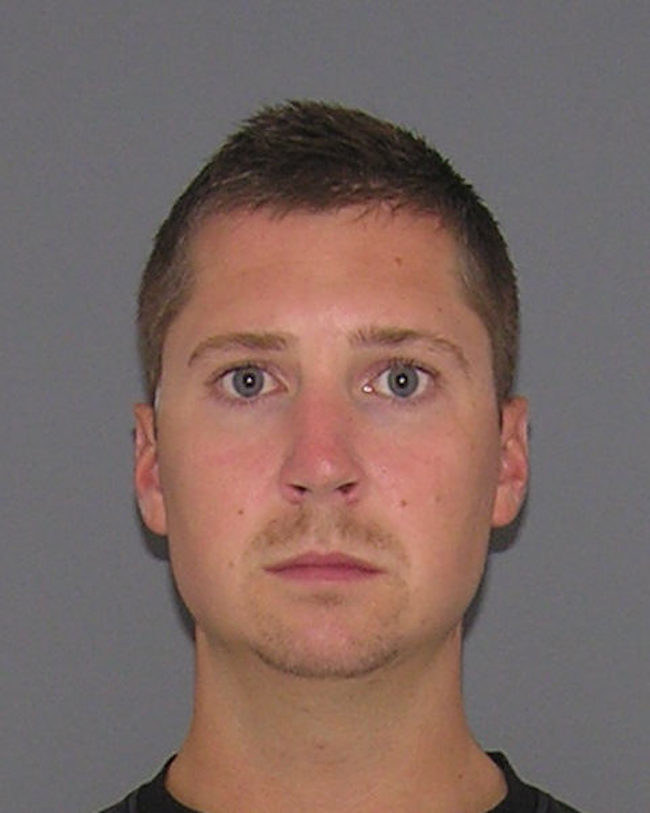 Tensing was released at 6:35 p.m. He spent his time in jail on suicide watch, which involves being checked on every 10 minutes, Hamilton County Maj. Charmaine McGuffey told reporters.
Court records show that the bond was paid by Paul Tensing, Ray Tensing's father. However, his attorney told WPCO that offers to pay the bond came in from all over the U.S.