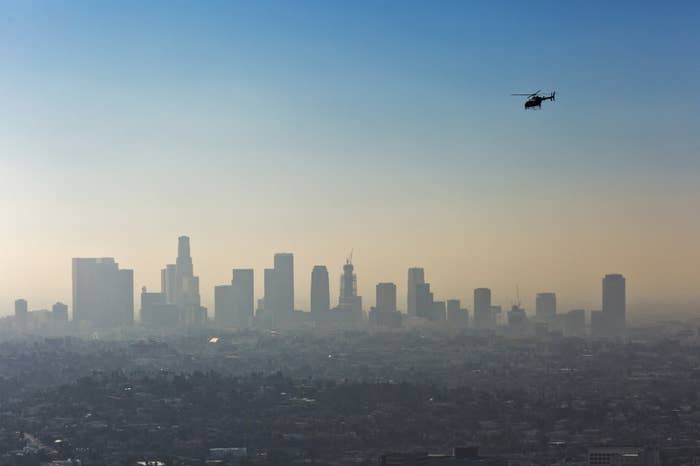 When President Trump announced he was pulling the US out of the Paris climate deal last week, he framed it as a decision to put American jobs and the economy before "draconian" environmental rules.

But it turns out there's one place where those two things — economic prosperity and climate-friendly policy — have actually been going hand-in-hand: California.
In the Golden State, greenhouse gas emissions fell about 10% between 2004, when they peaked, and 2015, according to a new report by the state's Air Resources Board. Emissions per capita have dropped even more dramatically, going from 14 tonnes per person in 2001 to 11.3 tonnes per person in 2015 — a reduction of about 19%.
Those reductions happened thanks to a variety of regulations and programs, including cap and trade, a low carbon fuel standard, and an advanced clean cars program, that California has been rolling out over recent years, said David Clegern, a spokesperson for the state Air Resources Board.
"The genesis of a lot of our regulations is frankly necessity," Clegern told BuzzFeed News. "California has historically had the worst air in the country."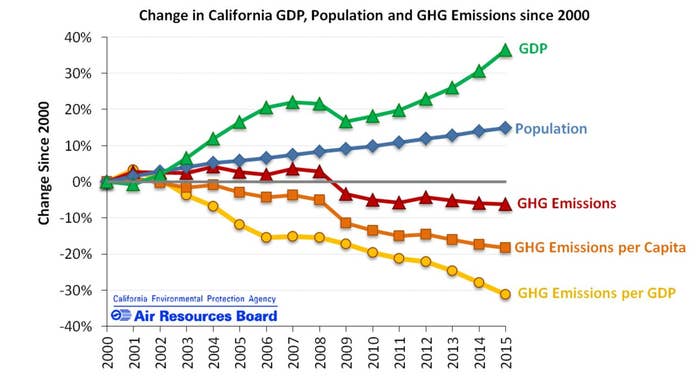 By the logic that Trump used during his Paris announcement, it'd be easy to assume these emissions reductions — and the regulations that lead to them — were accompanied by a tanking economy.
But the opposite is true.
Between 2000 and 2015, California's GDP grew from $1.65 trillion to $2.21 trillion, according to numbers from the Air Resources Board. And over the last seven years, the state created 2.3 million jobs and cut unemployment in half. California led the country for job creation in 2014, 2015, and 2016.
The period between 2000 and 2015 also saw the state's population swell from about 34 million people to more than 39 million.
California has created assistance programs for highly-regulated industries, such as aiding with the financial cost of replacing old, polluting trucks, because officials don't "want to drive anyone out of California and we don't want to put anyone out of business," Clegern said. Despite those assistance programs, however, the state has also eliminated a $27 billion budget deficit, according to the Air Resources Board.
"Believing that you have to have either a strong economy or a clean environment is a false choice," Clegern said.
California, of course, still has plenty of room for improvement. For one thing, emissions from vehicles have actually increased over the last decade and a half. Ann Carlson, a professor of environmental law at UCLA, pointed to falling gas prices as the cause for the increased emissions.
"Gasoline prices have plummeted or stayed very low," she told BuzzFeed News, "and that means people are buying bigger cars."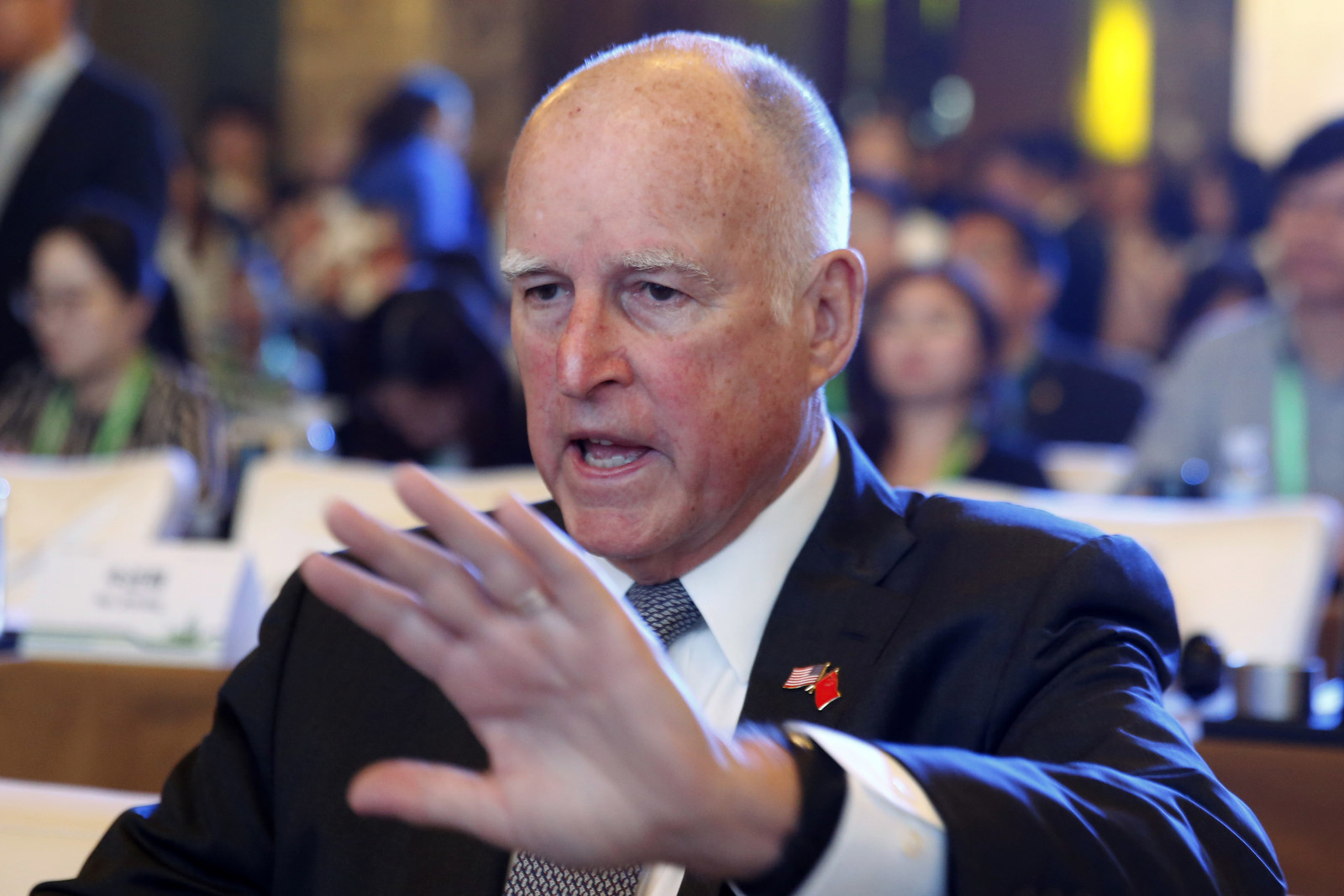 Still, California's numbers over the last decade and a half offer a salient counterpoint to the argument that economic growth and strict environmental policies are at odds — an argument that factored prominently into Trump's presidential campaign.
Going forward, the state also aims to play a more significant role in the debate about climate and prosperity; the same day that Trump announced the Paris withdrawal, California Gov. Jerry Brown joined several other governors in launching the US Climate Alliance, which is a state-level effort to meet the obligations of the international deal.

Mayors from the state's largest cities also participated in the creation of a municipal-level vow to uphold the Paris climate deal.
Going forward, California has ambitious goals. By 2020 it aims to reduce emissions to 1990 levels, and then it hopes to reduce them another 40% below that by 2030. Carlson said that meeting the 2020 goal should be doable, though the later target is "much more ambitious" because much of the proverbial low hanging fruit will be gone. Still, Carlson characterized the Golden State as a leader on climate policy, and said that protecting the environment and growing the economy are not mutually exclusive goals.

"There is some evidence," she said, "that suggests there's a relationship between economic growth and greening our economy."