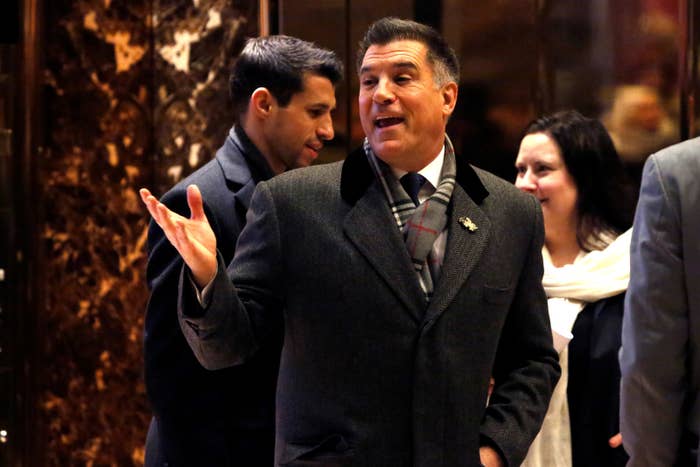 President Trump's nominee to head up the US Army has abruptly withdrawn his name from consideration, saying he can't disentangle himself from his businesses.
In a statement to BuzzFeed News, billionaire businessman Vincent Viola said he would not accept the nomination to serve as Army Secretary because the challenges of separating himself from his organizations have "proven insurmountable."
"I am deeply honored to have been considered for this post and appreciate the confidence President Trump showed in me," the statement quotes Viola as saying. "I offer my continued support for President Trump and his administration, and look forward to redoubling my efforts to support the Army and its veterans as a private citizen."
Trump tapped Viola, 60, to serve as Army secretary in December and observers quickly noted his extensive business ties could potentially create conflicts of interest. Viola tried to sell his stake in Eastern Airlines and acquire a stake in a charter airline that according to the New York Times had millions of dollars in government subcontracts.

The White House did not immediately return a BuzzFeed News request for comment or say who might replace Viola as nominee for Army secretary. The Military Times first reported that Viola was dropping out.

Viola, a Brooklyn native, served in the 101st Airborne Division during Vietnam. He later went on to a career on Wall Street and served as the chairman of the New York Mercantile Exchange between 2001 and 2004. He founded electronic trading company Virtu Financial in 2008, and the company ultimately made him a billionaire.
Forbes estimates Viola's net worth at $2 billion. In 2013, he bought the Florida Panthers NHL team for $160 million.
Viola is the first of Trump's nominees who would have needed congressional approval to withdraw. Monica Crowley and Jason Miller both previously bowed out of other administration jobs that did not need approval from Congress.