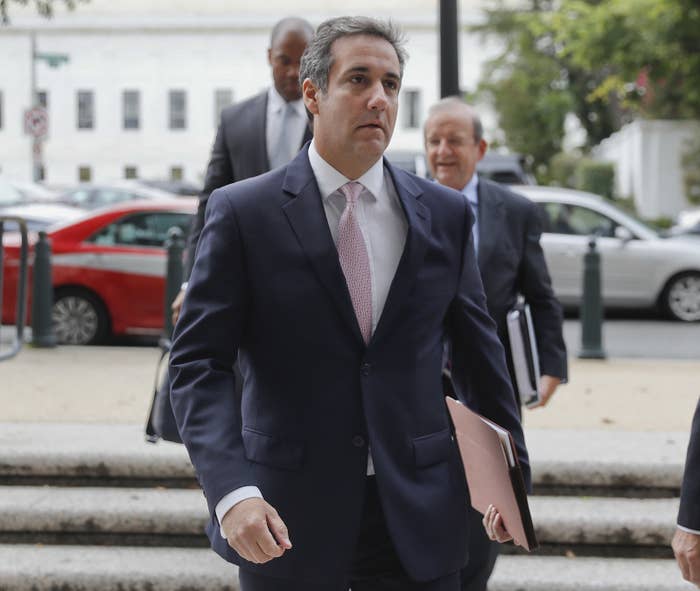 Donald Trump's longtime personal lawyer confirmed Tuesday that he paid $130,000 to the porn star who alleged she had a sexual relationship with the businessman turned president in 2006.

Michael Cohen told BuzzFeed News in a statement that he used his "own personal funds" in 2016 to facilitate the six-figure payment to Stephanie Clifford, better known by her stage name Stormy Daniels. Cohen called the payment a "private transaction."
In January, the Wall Street Journal reported that Clifford received the payment a month before the presidential election. The payment reportedly was part of a deal, reached between Cohen and Clifford's lawyers, that prevented her from discussing a sexual relationship with Trump.
"Neither the Trump Organization nor the Trump campaign was a party to the transaction with Ms. Clifford, and neither reimbursed me for the payment, either directly or indirectly," Cohen said in the statement. "The payment to Ms. Clifford was lawful, and was not a campaign contribution or a campaign expenditure by anyone."

The New York Times first reported that Cohen admitted to paying Clifford.

Cohen did not say if Trump had been aware of the payment, nor did he reveal the purpose of it. His statement Tuesday is the first time he has acknowledged involvement in the payment.

In Touch magazine later published a 2011 interview with Clifford in which she described, in detail, both an affair and years of contact with Trump. Clifford said in the interview that she had sex with Trump in 2006, just months after his wife, Melania, had given birth to their son, Barron. She also said Trump told her she was "beautiful and smart just like his daughter."

However, Clifford issued a statement in January denying the affair with Trump, though she has been evasive when asked about the matter in interviews.
Neither Cohen nor the White House immediately responded to BuzzFeed News' requests for comment. The White House denied allegations of an affair with Clifford after the Journal's initial story, saying "these are old, recycled reports, which were published and strongly denied prior to the election."

Cohen also told the Journal that Trump didn't have an affair with Clifford.
Last month, Cohen filed a lawsuit against BuzzFeed for publishing an unverified report of alleged connections between the Russian government and the Trump campaign.
in his statement Tuesday, Cohen said he had responded to a complaint filed at the Federal Election Commission that he had violated campaign finance laws by facilitating the payment to Clifford. Cohen denied the the allegation, calling it "factually unsupported and without legal merit."
The complaint was made by the liberal-leaning group Common Cause, which contended that the payment was effectively a campaign contribution.
"Just because something isn't true doesn't mean that it can't cause you harm or damage," Cohen said. "I will always protect Mr. Trump."