Milwaukee County Sheriff David Clarke announced on Wednesday he had accepted a position as assistant secretary at the Department of Homeland Security. The announcement cast new light on Clarke's controversial past and colorful Twitter history.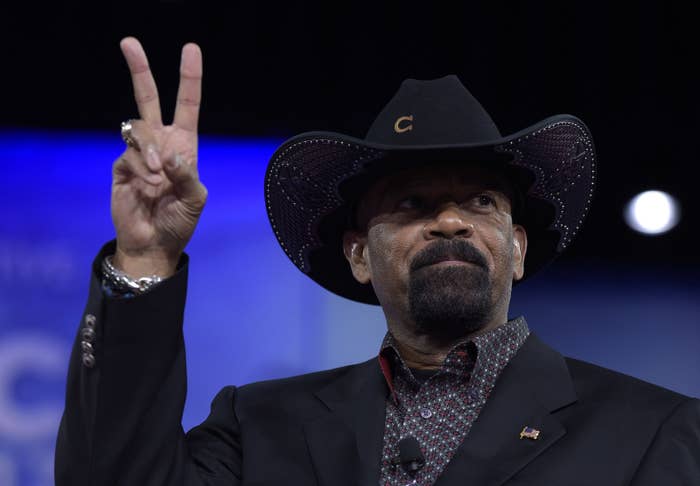 For starters, in 2015 Clarke compared former President Obama to Hitler and called on people to "wake up!"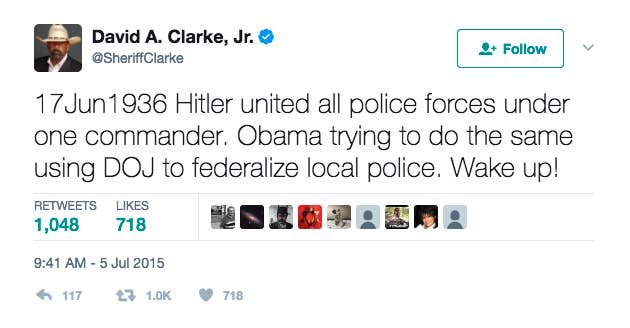 He also called Obama, Hillary Clinton, and other high profile Democrats "cop haters."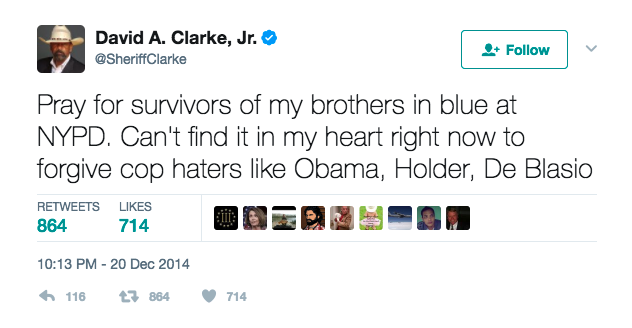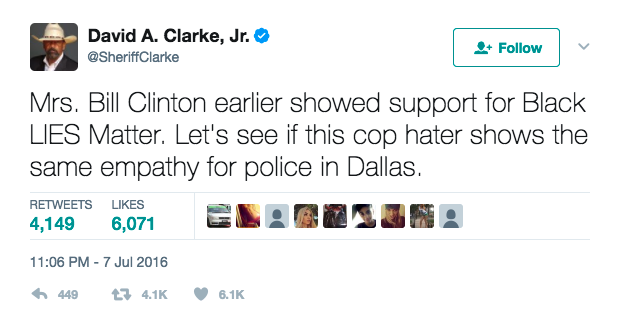 And in 2014, Clarke claimed that "Al Sharpton has ruined more Black minds than has crack cocaine."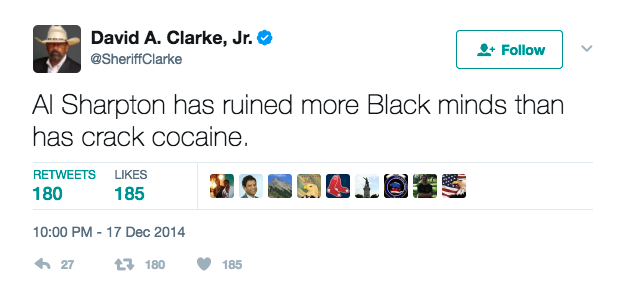 In March, Clarke shared a story about the murder of a DNC staffer, and wondered if he was "killed because he knew too much" — a popular conspiracy theory that has been discredited.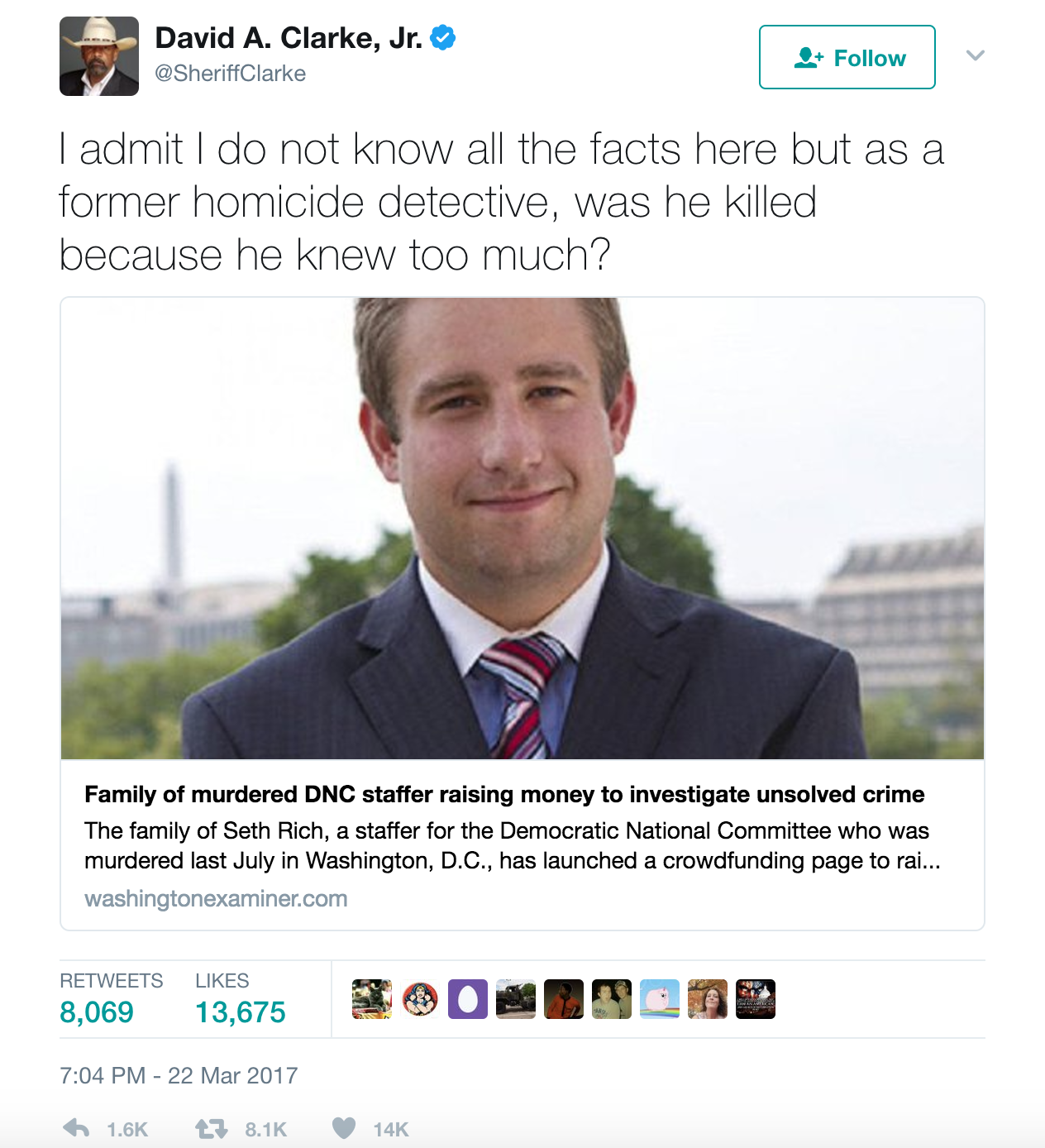 Clarke also has ties to Russia and — rather oddly for someone who was a county sheriff in Wisconsin — met years ago with Russian officials in Moscow.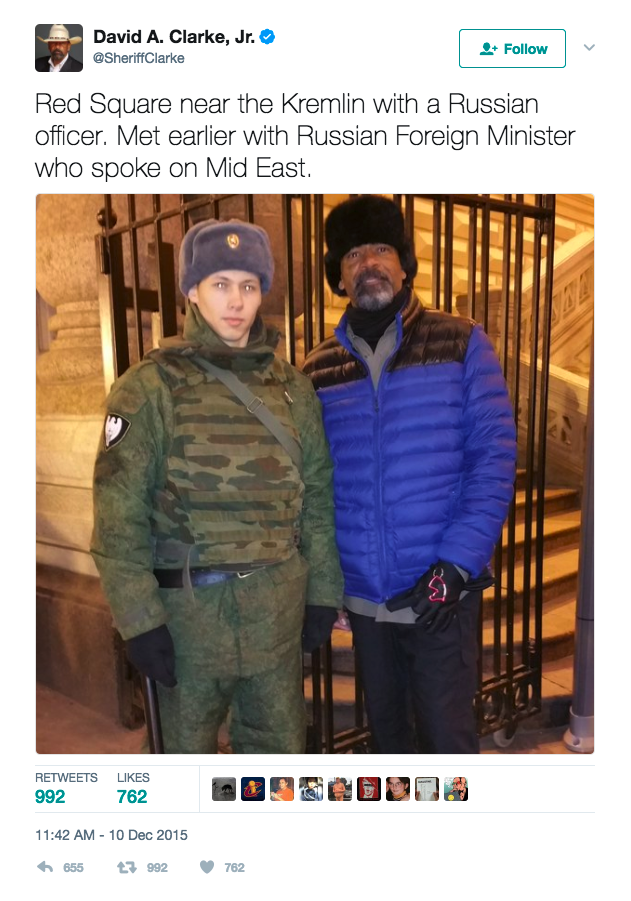 Clarke tweeted about visiting Moscow in December 2015, saying he met with Russia's foreign minister. According to the Daily Beast, Clarke visited the country as part of a delegation from the National Rifle Association. The delegation reportedly met with Dmitry Rogozin, a far-right official who was under US sanctions.
Clarke's trip was paid for by both a firearm company CEO, and an organization run by a Russian national based in Washington, DC.
His connections to Russia are likely to raise eyebrows, given ongoing questions about ties between Trump's campaign and the Kremlin, as well as recent revelations that Trump pressured FBI Director James Comey to halt an investigation related to Russia. Trump later fired Comey.
Online, many of Clarke's comments paint the US as teetering on the verge of apocalyptic chaos, with Democrats and the media cast as the villains.
He has used the "pitchforks and torches" line several times on Twitter, and repeated it during a rally for Trump supporters last year in Green Bay, Wisconsin.
One of Clarke's frequent targets is the Black Lives Matter movement, which he often refers to as "Black Lies Matter." Clarke has called the group "schophants" [sic] and "sub-human creeps" that "will join forces with ISIS."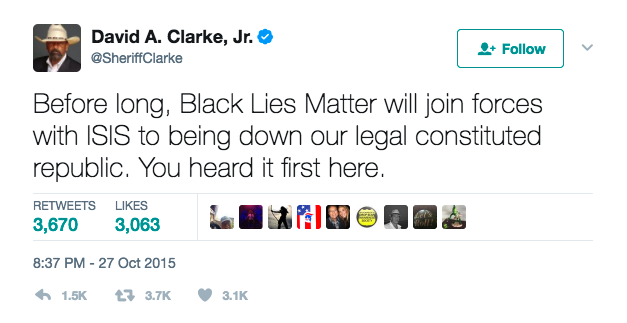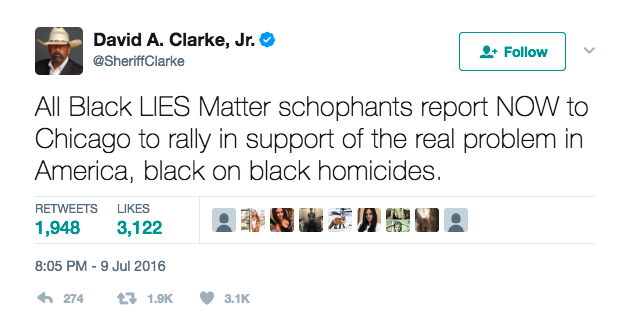 Many of Clarke's comments on race have drawn criticism in the past. He has frequently tweeted about "black on black" killings, and earlier this year used the offensive term "jigaboo" when referring to commentator Marc Lamont Hill.
Clarke has also repeatedly criticized Islam on Twitter.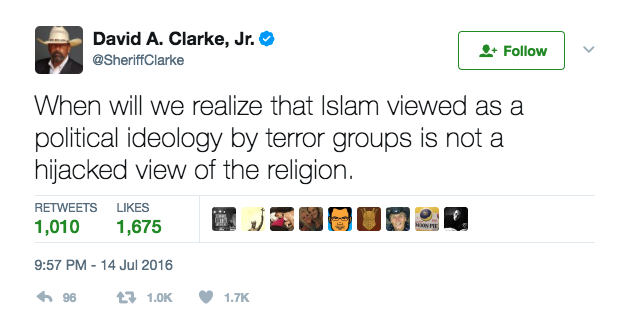 Habeas corpus protects people from unlawful detention and is enshrined in Article 1 of the US Constitution.
However, on his radio show Clarke proposed suspending habeas corpus for "all these individuals that are suspected, these ones on the internet spewing jihadi rhetoric." Clarke went on to suggest that those people could then be detained "indefinitely" at Guantanamo Bay.
During his time in law enforcement, Clarke has found himself at the center of multiple controversies over his leadership of the Milwaukee County Sheriff's Department.
By 2016, Clarke's legal battles had cost taxpayers $400,000, the Milwaukee Journal Sentinel reported. The legal fees stem from lawsuits filed against Clarke, as well as federal and state cases he filed himself.
In one of those cases, from 2014, Clarke and his department were sued by a woman who was injured, then falsely accused of drunk driving, after a deputy crashed into her car.
In another case, filed earlier this year, Clarke and his department were sued by the family of a mentally ill man who died of dehydration in a county jail. The man reportedly was one of four people, including a baby, that died at the facility in a six month period.
This month, a grand jury recommended criminal charges against seven staffers at the jail.
Clarke is also facing a lawsuit from a man who says the sheriff threatened on Facebook to knock him out.