President Trump left the White House Friday for a 17-day vacation at his New Jersey golf club. But unluckily for him, it's raining in New Jersey. Sad!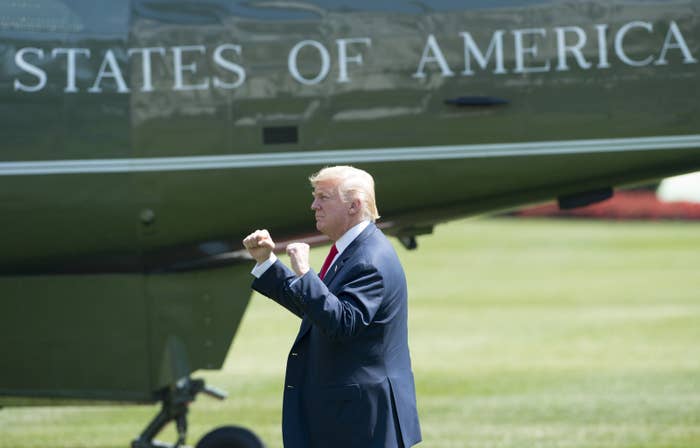 So what's a vacationing president to do when he's all cooped up inside? What we all do on rainy days, of course: Tweet attacks at political opponents, such as Democratic Sen. Richard Blumenthal.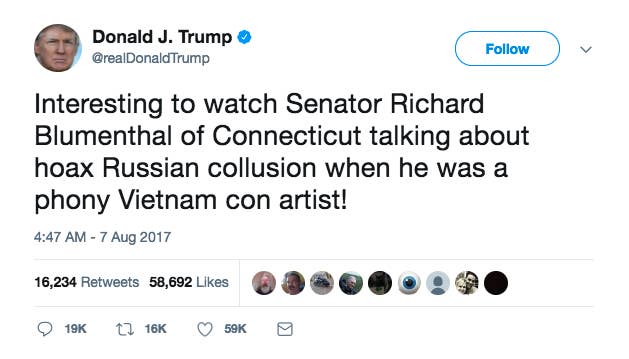 Blumenthal had appeared on CNN Monday morning to discuss Russian meddling in last year's election. He called it "purposeful and relentless," and said there was "potential collusion by the Trump campaign and then obstruction of justice."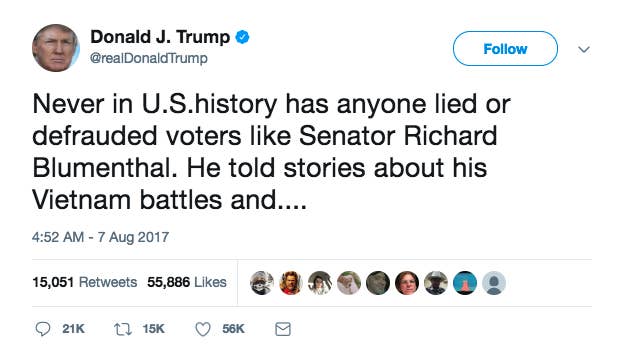 Trump continues to refer to the meddling allegations as a "hoax," despite multiple investigations, the conclusion of the US intelligence community that Moscow did interfere, and the revelation that members of the president's inner circle met with a Kremlin-connected lawyer during the campaign.
Trump's barrage of anti-Blumenthal tweets began soon after the CNN appearance, and zeroed in on the Connecticut senator's military record during Vietnam.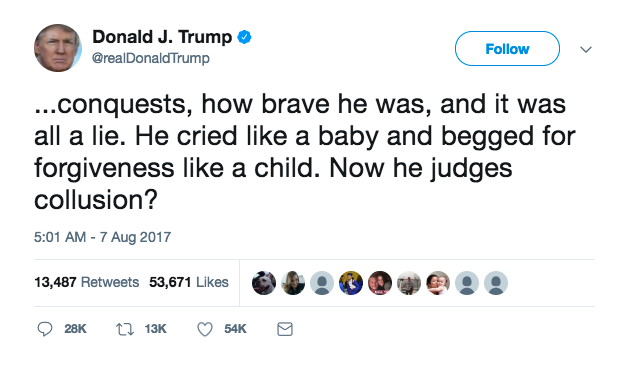 Blumenthal said in 2008 he "served in Vietnam" and implied on other occasions that he had been to war. While he did serve in the Marine Corps Reserves during the period, Blumenthal received multiple education and occupational deferments — which allowed him to avoid being drafted — and he was never deployed. He later apologized for exaggerating his military record.
The president continued his tirade against Blumenthal by inviting the senator to "take a nice long vacation in Vietnam" so he could "at least say he was there."
It was a pretty sick burn because, look, Vietnam is just horrible.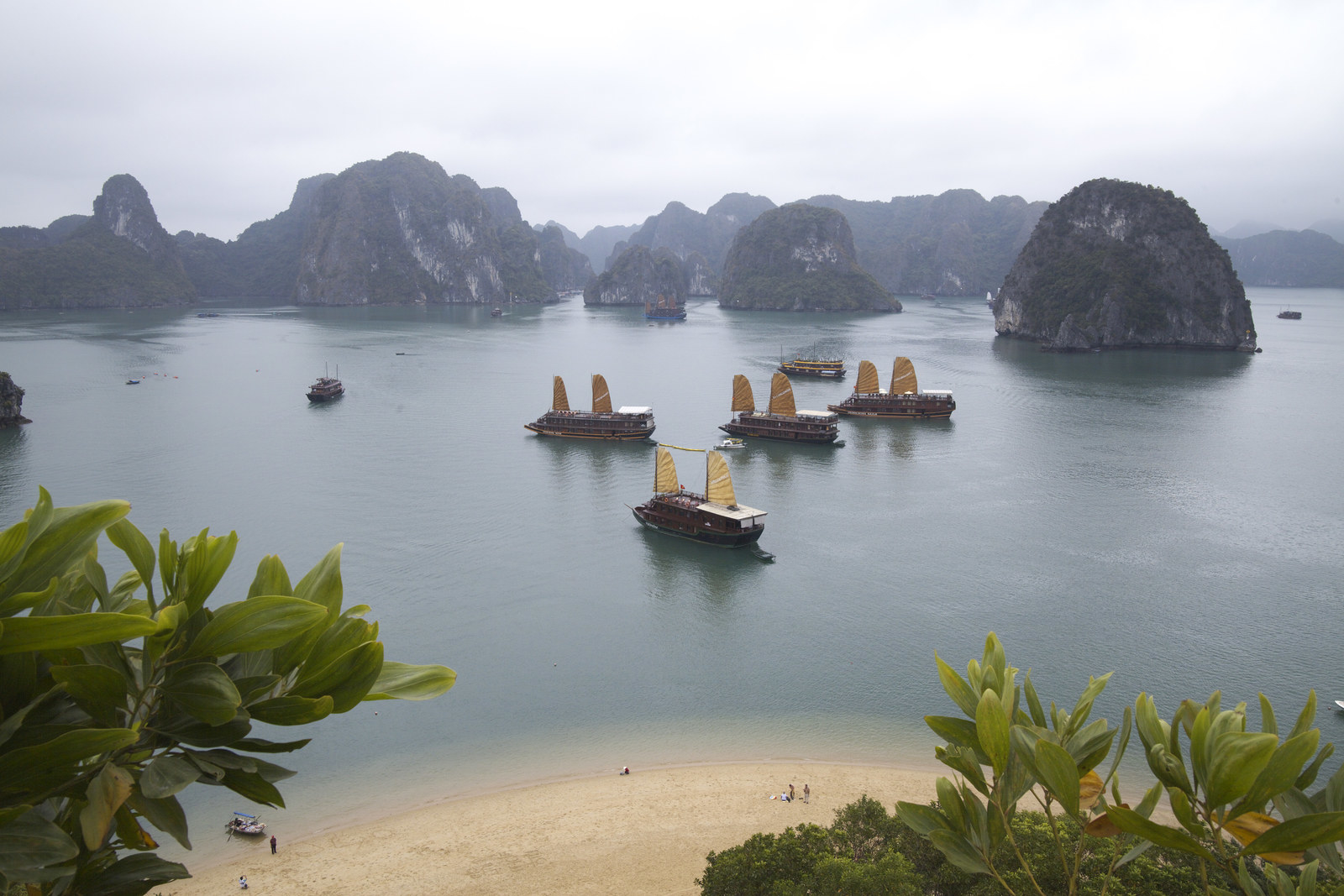 Like, you definitely don't want to take a "nice long vacation" to the nightmare that is Vietnam — especially when there are way better places to go, like New Jersey.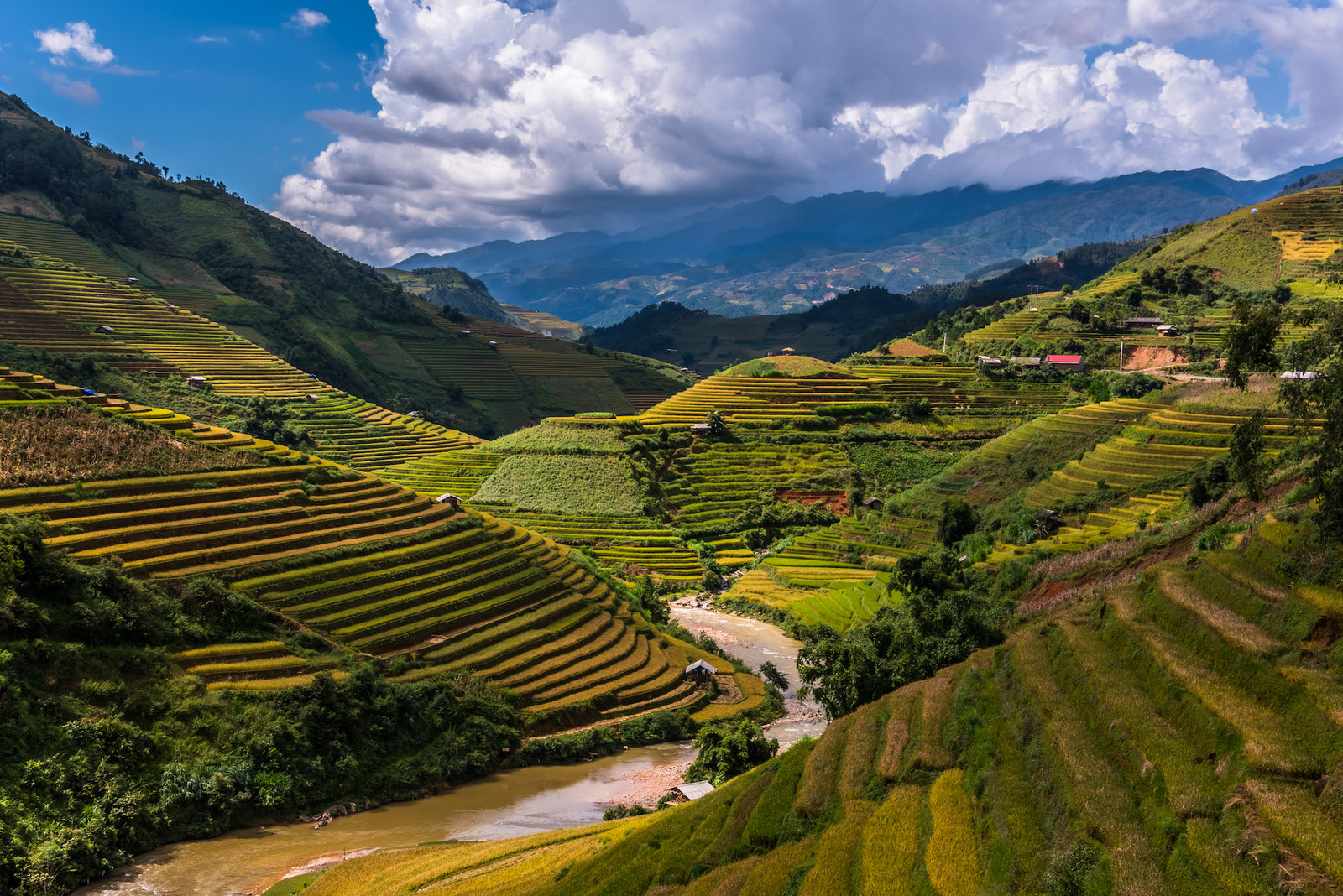 And there'd be no time for tweetstorms on a Vietnam vacation.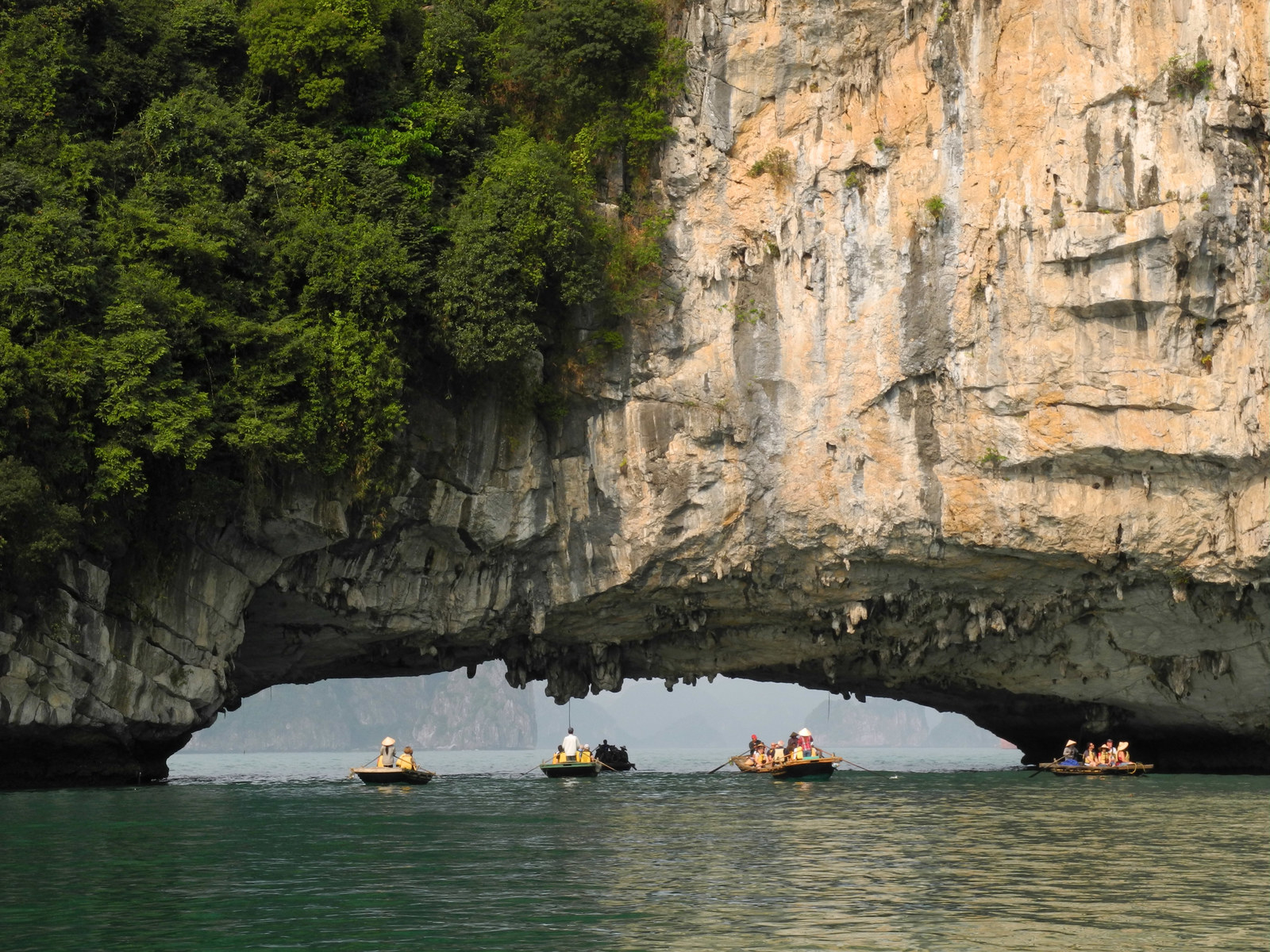 Vacationing aside, as Trump's attacks continued Monday, a number of people pointed out that the president also did not serve in Vietnam.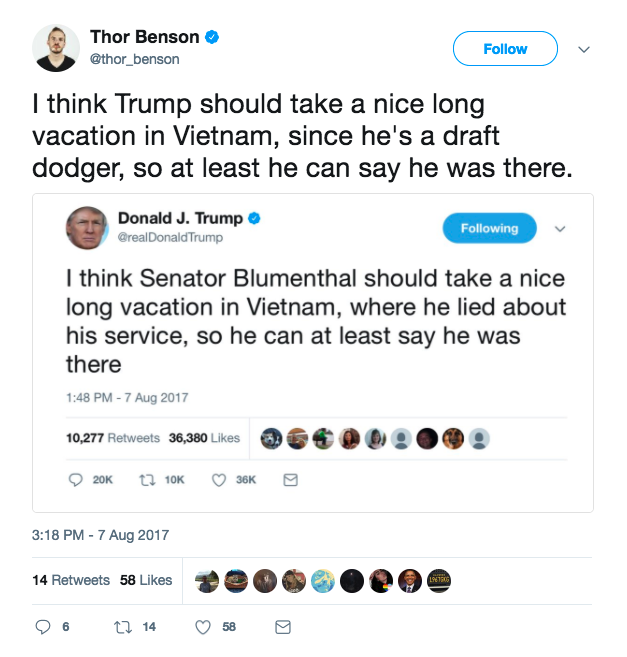 Trump's age would have made him eligible for the draft during the Vietnam War. But like Blumenthal, he received deferments in order to pursue his education. In total, he received four deferments for college.
Then in 1969, Trump graduated from college and snagged a fifth deferment for having bone spurs on his heels. The New York Times noted that up until that point, Trump's medical record had been "unblemished" and he seemed to be the "picture of health."
When asked about the medical deferment, Trump told the Times that he "had a doctor that gave [him] a letter — a very strong letter on the heels."
Vietnam draftees were selected using a lottery system, and in the past Trump has claimed that he avoided the war because the number he received for that lottery was "phenomenal" and particularly high. However, the Times reported that he got his medical deferment more than a year before receiving his draft number.
The Vietnam War was controversial, of course, and while some people avoided service via illegal means, such as burning their draft cards, deferments for school and medical conditions were popular legal methods to dodge deployment.
After the president's tweets Monday, Blumenthal responded on Twitter, saying Trump's "bullying hasn't worked before and it won't work now. No one is above the law."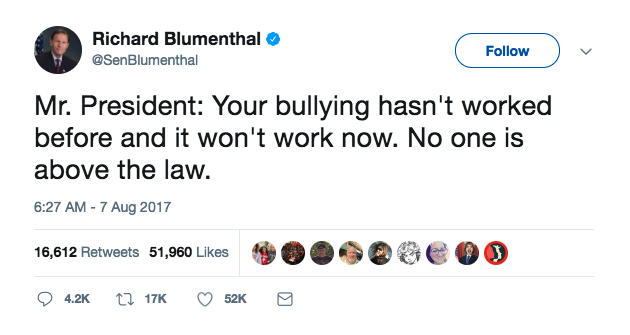 Tuesday, Sen. Blumenthal said on MSNBC that he is "determined not to be distracted" by the president's tweets about him.
"I think they are designed to distract, these bullying tweets," he said. "They only reinforce my determination to protect the special counsel, because [Trump] has used the same tactics in seeking to bully and intimidate the special counsel Bob Mueller," who is heading the investigation into Russian interference in the election.
The senator said that he "cannot explain the president's obsession with me or any of the other targets of his tweets" and that the country's focus ought to be on the fact that "our national security and the rule of law are at serious risk." Sen. Blumenthal further said that firing Mueller would provoke a constitutional crisis.
He did not, however, say if he would ultimately take a vacation in Vietnam.