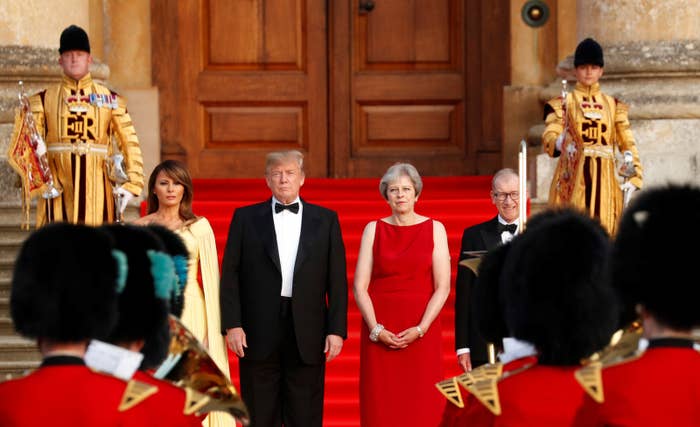 Hours after arriving on his first visit to the UK as president, Donald Trump was quoted sharply criticizing Prime Minister Theresa May's handling of Brexit, saying it could imperil any future trade deal with the US.

Trump's comments — unprecedented for a visiting US head of state — came in an interview with the British tabloid the Sun, in which he praised one of May's rivals, said the mayor of London has done a "terrible job," and suggested Europe was "losing" its culture due to an influx of migrants.
Trump's comments went public just hours after the prime minister urged the US president at a Blenheim Palace dinner to enter into a deal with the UK following Brexit.
But Trump told the Sun that May had been soft on the UK's exit from the European Union, adding, "I would have done it much differently. I actually told Theresa May how to do it, but she didn't listen to me."
Trump added that May did the "opposite" of what he would have done.
"She should negotiate the best way she knows how," Trump said. "But it is too bad what is going on."

The result of May's approach, Trump continued, was to "kill" any future potential trade deal with the UK. Trump said the US could instead cut a deal with the European Union.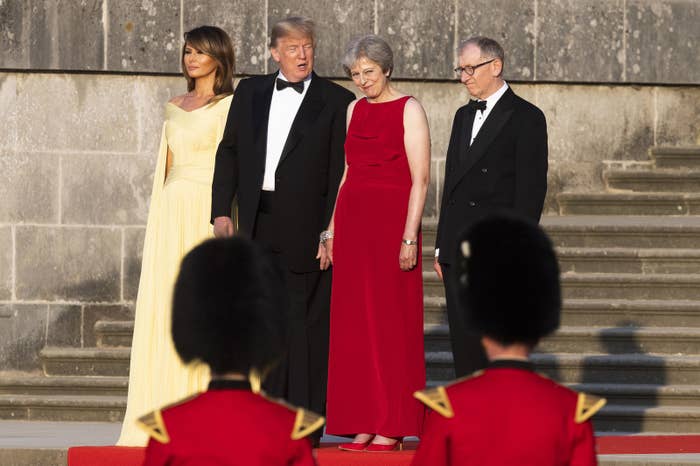 "You know, deals that take too long are never good ones," Trump added. "When a deal takes so long, they never work out very well."
May's office did not immediately respond to BuzzFeed News' request for comment but referred other media to a previous statement standing by the prime minister's handling of Brexit.
"We have come to an agreement at the proposal we're putting to the European Union which absolutely delivers on the Brexit people voted for," the statement said. "They voted for us to take back control of our money, our law and our borders and that's exactly what we will do."
Trump also waded into an array of other topics during the interview. He told the Sun that Boris Johnson, who resigned as the UK's foreign secretary on Monday over frustrations with the handling of Brexit, would "make a great prime minister."
"I have a lot of respect for Boris," Trump was quoted as saying. "He obviously likes me, and says very good things about me."

He also slammed London Mayor Sadiq Khan for having done "a terrible job" in addressing crime and terrorism.
"Take a look at the terrorism that is taking place," Trump said. "Look at what is going on in London. I think he has done a very bad job on terrorism."
The Sun also reported that Trump weighed in on the recent immigrant crises by saying that "allowing millions and millions of people to come into Europe is very, very sad."
"I think you are losing your culture," the president said. "Look around. You go through certain areas that didn't exist 10 or 15 years ago."

The interview also veered to the personal, with Trump — who arrived amid large protests over his visit — saying that he "feels unwelcome" in London. However, he also insisted people in the UK "love the president of the United States."
Despite the striking criticisms of leadership in the UK — the US's closest ally for generations — Trump denied that he was bored by May, calling the Washington Post "totally fake" and "just a lobbyist for Amazon" for publishing such reports.
"I think she is a nice person," Trump said of May. "I get along with her very nicely."
The White House did not immediately respond to BuzzFeed News' request for comment Thursday, but press secretary Sarah Huckabee Sanders issued a statement downplaying Trump's critical remarks.
"The president likes and respects prime minister May very much," Sanders said. "As he said in his interview with the Sun she 'is a very good person' and he 'never said anything bad about her.' He thought she was great on NATO today and is a really terrific person. He is thankful for the wonderful welcome from the prime minister here in the UK."