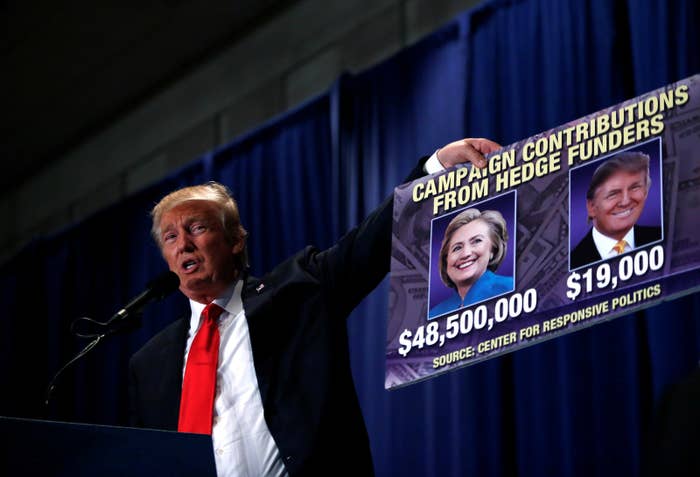 Donald Trump told a crowd Friday afternoon that the only way he could lose Pennsylvania in November is if Hillary Clinton cheats.

The Republican nominee made the comments during a rally in Altoona, Pennsylvania, where earlier in the day he had toured a factory. During the rally, he mentioned the region's economy and repeatedly suggested voter fraud could cost him the election.
"The only way we could lose, in my opinion — I really mean this Pennsylvania — is if cheating goes on," he said.

Trump then suggested Clinton "can't beat what's happening here," and reiterated that the only way he would lose Pennsylvania is "in my opinion, and I mean this 100%, if in certain sections of the state they cheat."
This week, multiple polls showed Clinton with double digit leads over Trump in Pennsylvania.
At recent campaign rallies, Trump has made railing against what he describes as a "rigged" system a key part of his speeches. Though he has been vague about specifics, the candidate has repeatedly taken issue with voter ID laws. During Friday's rally he hit the topic again, saying it is "shocking that you don't have" voter identification.
In interviews with BuzzFeed News at rallies in several states, Trump's supporters have generally agreed with the candidate's claims that the electoral system is somehow rigged.
During Friday's gathering, however, Trump went further, calling on both police and his followers to monitor polling places around the state to "make sure thats its 100% fine."
He did not elaborate on what his supporters might do if they suspect cheating is occurring, but urged them to do more than just vote on election day.
"We're going to watch Pennsylvania," Trump said. "Go down to certain areas to and watch and study and make sure other people don't come in and vote five times.

Also at Friday's rally, Trump read The Snake — a favorite poem of the candidate's about a "tender hearted" person who is bitten by a serpent — and said he hoped to emerge victorious after the November election.
"I hope I win," Trump said. "I'm going to feel very, very foolish if I don't win."