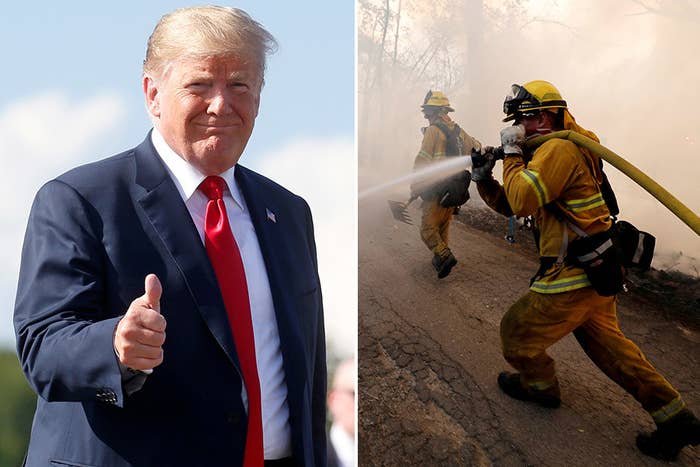 Two days after President Trump baffled the firefighting community by suggesting California lacked sufficient water to douse wildfires, his administration went one step further by issuing a directive to prioritize water for fire over other uses, concerning environmentalists who fear it could be a back door to eroding regulations.
The Commerce Department's directive, issued Wednesday by Secretary Wilbur Ross, describes California's ongoing wildfires as threats "to life and property." The directive adds that "federal agencies may use any water as necessary to protect life and property in affected areas."
California's wildfires have killed at least nine people so far this summer, and as of Friday had burned more than 980 square miles — larger than the combined areas of Los Angeles and New York City.
Trump responded to the fires on Monday by tweeting about California's "bad environmental laws," which he claimed don't allow "massive amounts of readily available water to be properly utilized."
But experts quickly refuted those claims, saying that while California is suffering from drought conditions, longer-term shortages have little impact on the relatively small amounts of water needed to fight fires.
"There's no crisis," Cal Fire Deputy Chief Scott McLean told BuzzFeed News. "We have good access to water. We have reservoirs and lakes around all the main fires."
McLean also said his agency relies on many techniques, such as clearing brush and bulldozing fire lines, that don't rely on any water at all.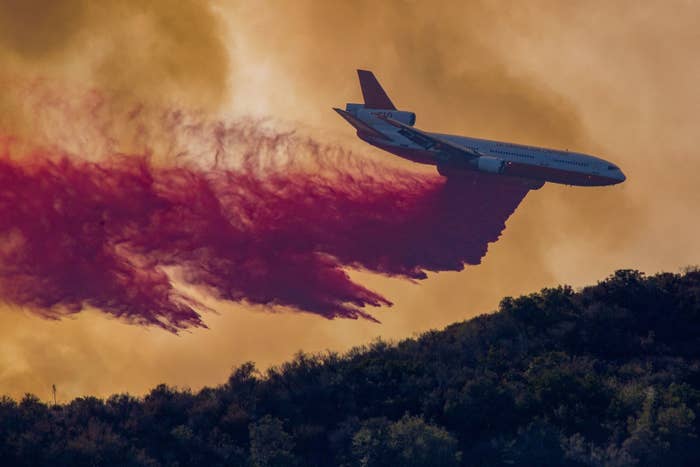 Despite the pushback, Wednesday's directive effectively turned Trump's tweets into policy, though there was little specific information on how it would be implemented.
However, Peter Gleick, a scientist and cofounder of the environmental think tank the Pacific Institute, told BuzzFeed News that the directive appears to be a "backdoor attempt to sidestep federal and state environmental protections."
California rivers are home to a number of endangered and threatened species, some of which require very specific conditions to thrive. Gleick said that when those conditions change, large numbers of animals can die off — something that happened twice during the state's recent drought when high water temperatures killed 95% of the Chinook salmon in the Sacramento River.
The state tries to manage the release of water from dams into rivers to avoid such events, but Gleick said that those kinds of regulations can sometimes mean less water for irrigation downstream. The issue is one of the many contentious subjects surrounding water in California, which has seen a growth in both population and farming even as its fragile water supply shrinks.
Gleick suggested that Wednesday's Commerce Department directive could result in officials releasing water into rivers in ways that benefit farm irrigation but harm river ecosystems. And diverting resources to help industry would certainly fit into Trump's broader agenda; in 2016 he promised California farmers he would "start opening up the water" after his election, and he has made slashing environmental regulations a cornerstone of his domestic policy.
Brett Hartl, government affairs director for advocacy group the Center for Biological Diversity, told BuzzFeed News that Trump was turning "California's frightening fire season into a political stunt," adding that the directive "robs wildlife of critical habitat and destroys the environment."
"This is a not-so-veiled attempt to exploit this summer's fires so that Big Agriculture can take more water and private companies can log more of our forests," he added.
The Commerce Department did not immediately respond to BuzzFeed News' request for comment Wednesday or say how the directive might impact either firefighting efforts or California's waterways.

However, Gleick said that the directive was "not logical" because firefighters and firefighting aircraft don't often rely on rivers — they typically dip into lakes and reservoirs — and because there aren't issues with access to water. As a result, he said, the target of the directive appears to be regulation.

"It's despicable," Gleick added. "And oddly, brilliantly evil."