Trump Falsely Claimed Muslims Were Prioritized Over Christian Refugees
There was never any rule or law giving Muslims priority over Syria's tiny Christian population.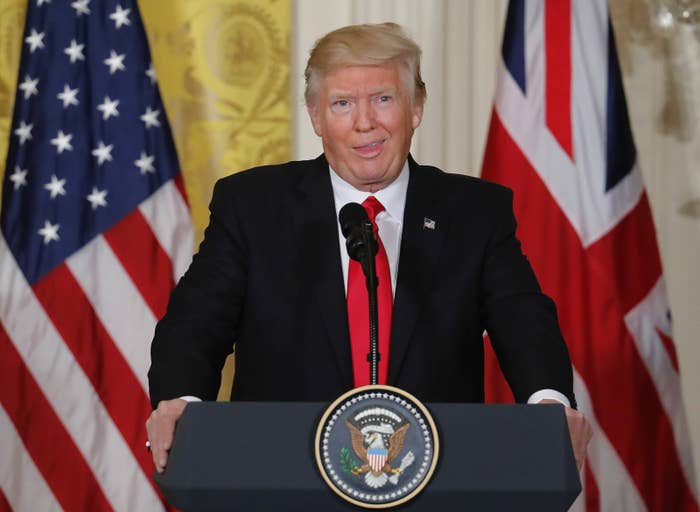 Donald Trump said Friday that it was "almost impossible" for Christian refugees fleeing violence in Syria to be admitted to the US, but that Muslims were free to come in.

That, however, is false.
Trump made the comments during an interview with the Christian Broadcasting Network. In a clip released Friday, Trump was asked about the US refugee program and if he sees persecuted Christians "as kind of a priority here?"
"Yes," Trump replied, adding a moment later that "if you were a Christian in Syria it was impossible, at least very tough to get into the United States."
"If you were a Muslim you could come in, but if you were a Christian, it was almost impossible and the reason that was so unfair, everybody was persecuted in all fairness, but they were chopping off the heads of everybody but more so the Christians," Trump said.
However, at least until Friday there was no religious test for refugees seeking to enter the US. In fact, former President Barack Obama previously called the idea of a religious test "shameful."
Bill Frelick, refugee rights program director at Human Rights Watch, told BuzzFeed News "the idea that Christians would be excluded just doesn't make any sense at all."
"That's just absurd," he continued. "I've been involved in this work for more than 30 years and there's just no suggestion in any way that Christians were precluded. It just is nonsense."
Trump's impression that some people got into the US more easily than others may stem from the fact that there were indeed more Syrian Muslims than Christians who entered the US in 2016.
In total during the fiscal year, the US accepted 12,587 Syrian refugees, according to government data. The vast majority of those refugees, 12,363 to be exact, were Sunni Muslims — which is the group fighting against the government in the ongoing Syrian Civil War. Of the remaining refugees, 34 were described as "Christian," 16 were Catholic, five were Protestant, four were Jehovah's Witnesses, and one was Greek Orthodox.
Small numbers of Yazidis and other branches of Islam were also among the refugees.
Religion does play a role in the refugee screening process. US law, for example, allows people to cite religious persecution as a reason they need to leave their home country. Experts also told Politifact that questions about religion are standard practice.

Still, that doesn't mean any one group was prioritized over another — as Trump's comment Friday implied — and the numbers likely reflect the fact that there are far, far more Muslims in Syria generally than there are Christians. (Studies put Syria's Christian population at between 5% and 10% of the overall total.)
There is a slight difference between the percent of Syria's overall population that is Christian and the percent of Syrian refugees admitted into the US who were Christian. An appeals court judge noted that difference in a decision last year, calling it a a "perplexing discrepancy."
One possible explanation for the discrepancy is that unlike Sunni Muslims, who are fighting the government, Syria's Christians have tended to back President Bashar al-Assad in the civil war. They've also historically held powerful positions in the government — a founder of the ruling Baath Party was a Christian — and, according to the BBC, some feared that the fall of Assad could end up making them, a minority, targets.
In any case, what is clear is that there was no policy, law, or regulation that mandated a discrepancy or required the US give Muslims preferential treatment.
"When refugees are interviewed for resettlement in the US," Frelick reiterated, "the idea that being Christian would preclude you doesn't make any sense at all."
In 2016, the US accepted nearly 85,000 refugees from around the world and they were almost equally spilt between Christians, at 44%, and Muslims, at 46%, according to the Pew Research Center.
And lest there be any doubt, in addition to calling the idea shameful, President Obama explicitly said in 2015 that "we do not have religious tests for our compassion."