Donald Trump on Wednesday met with Mexican President Enrique Peña Nieto in Mexico hours before he was to deliver a highly anticipated speech on immigration policy.

That much is known. But what was actually said regarding a key tenet of the Republican nominee's campaign — that Mexico will pay for a controversial border wall — was in dispute after both men gave differing accounts.
Appearing alongside Peña Nieto on Wednesday, Trump told reporters that he brought up his pledge to build a border wall, but that the two did not discuss who would pay for it.

"Who pays for the wall?" Trump said. "We didn't discuss that."

Hours later, however, Peña Nieto tweeted that they did indeed discuss payment and that he "made clear that Mexico will not pay for the wall."
In response to the conflicting accounts, Trump campaign spokesman Jason Miller issued a statement, calling the meeting "the first part of the discussion" and "not a negotiation, and that would have been inappropriate."

"It is unsurprising that they hold two different views on this issue, and we look forward to continuing the conversation," Miller added.

The controversy over who said what erupted following a Wednesday afternoon news conference in Mexico City with Trump and Peña Nieto. Trump's last minute visit to Mexico was prompted by an invitation from the Mexican president, who also reached out to Trump's rival, Hillary Clinton.
During the news conference, Trump was relatively subdued and praised Peña Nieto, saying it was "a great, great honor" to meet him. He also praised Mexicans, saying he has both employees and friends from the country and they are "spectacular, spectacular hardworking people."
The border wall — which Trump has insisted Mexico will pay for — came up at the end of the conference. The candidate provided few details beyond repeatedly saying he didn't talk about payment with Nieto.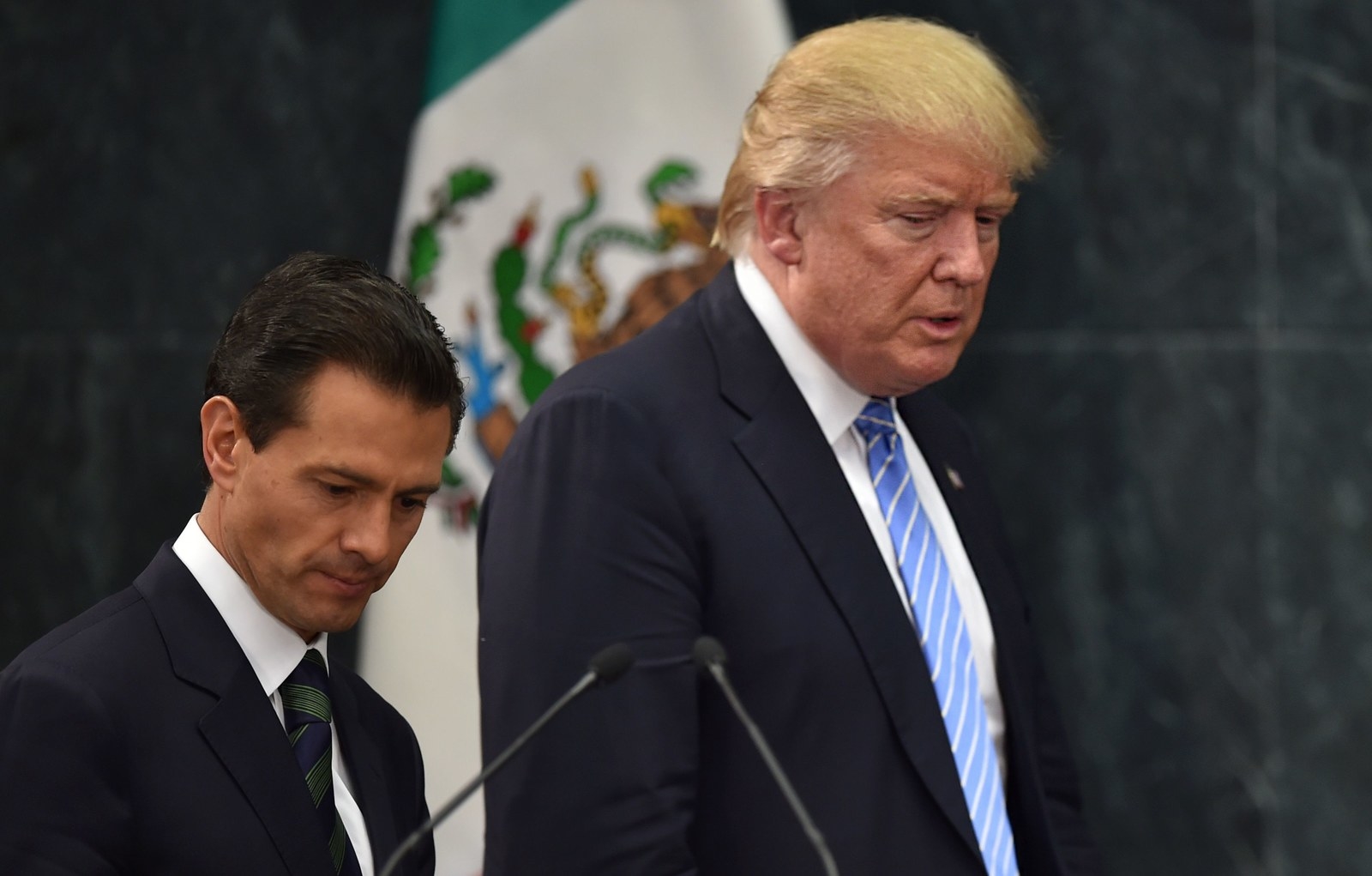 Mexico and border security generally have played a central role in Trump's campaign, with the candidate frequently blasting what he describes as a massive inflow of undocumented immigrants and the outflow of jobs. He has also said that some Mexican immigrants bring drugs and crime to the US, and are rapists.

Peña Nieto mostly avoided criticizing Trump, but did call out some of the candidate's remarks.

"The Mexican people have felt hurt by the comments that have been made," Peña Nieto said.
During an interview Wednesday night with Mexican news program Noticieros Televisa, Peña Nieto characterized his decision to meet with Trump as an effort to confront challenges and "address threats made against Mexico."
"Some of Donald Trump's positions are a threat for Mexico," he added.
Trump also touched on jobs Wednesday during his speech in Mexico City, but appeared to take a more moderate stance than he has become known for on the campaign trail. Though he said the North American Free Trade Agreement (NAFTA) "has been a far greater benefit for Mexico than for the United States," and that the goal should be to "keep jobs in our hemisphere."
He echoed Peña Nieto's own comments about secure borders being mutually beneficial as well.
"No one wins in either country when human smugglers and drug traffickers pray on innocent people," he said.
Trump went on to outline five points that he said would benefit both countries. The points included improving NAFTA, dismantling drug cartels, securing the border, and ending illegal immigration "not just between our two countries, but including the illegal immigration and migration from Central and South Americans and from other regions."
Earlier, Peña Nieto also mentioned border security, noting that "every year millions of dollars of weapons" come to his country from the US. He also noted that 1 million people move across the border legally every day — a statistic Trump himself later mentioned during his own remarks.
Trump concluded by saying that the "the bond between our two countries is deep and sincere."
"Both of our countries will work together for mutual good," he said, "and most importantly for the mutual good of our people."
Wednesday night, Trump continued his focus on immigration during a speech in Phoenix, Arizona. In the speech, Trump outlined a series of policies he said would stem the flow of undocumented immigrants into the US.
Trump's visit to and comments about Mexico tipped off a brief-but-contentious Twitter exchange with Clinton, who Wednesday afternoon slammed Trump for vilifying Mexicans.
Trump fired back, criticizing Clinton for not visiting Mexico or the flood-ravaged Louisiana, while also calling Mexicans "quality people."
But Clinton blasted Trump again, saying "diplomacy isn't as easy as it looks."

Clinton's running mate, Sen. Tim Kaine, also appeared to react to Trump's comments, tweeting Wednesday afternoon that "we should do everything we can to keep immigrant families together — not threaten to tear them apart."

The meeting between Trump and Peña Nieto also met with some criticism in Mexico. Wednesday afternoon, Mexican journalist Jenaro Villamil tweeted "not even Lopez de Santa Ana would have accepted and starred in the humiliation" experienced by Nieto.
Villamil's comment was a reference to the Mexican general who, after letting his soldiers rest during battle, insured Texas' independence from Mexico in 1836.